I am a gay Eagle Scout. I privately struggled to understand my sexual identity while the Boy Scouts of America publicly grappled with its own. The organization's journey shaped mine.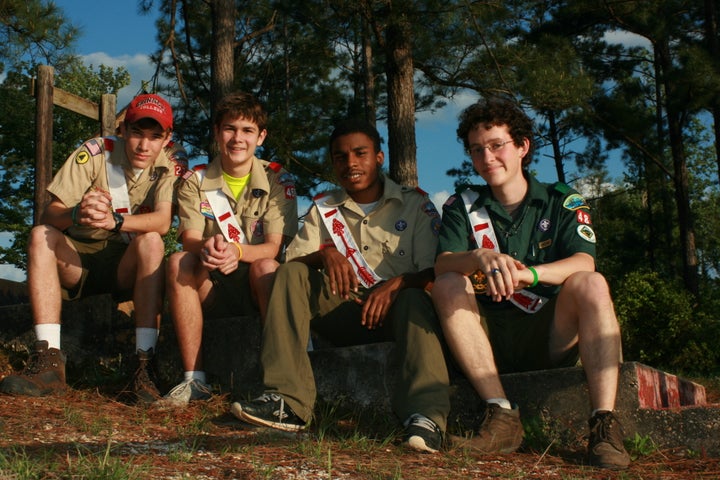 A Fateful Camping Trip
About a decade ago, my Louisiana Scout troop was traveling home from camp when a discussion about the BSA's membership policies began. A Scout asked about the ban on openly gay youth and adults. Without hesitation, my Scout leader emphatically replied, "It's a sin!"
It's been years since that conversation, but I recall his heated tone and the fear that consumed me when my I heard those words: "It's a sin!"
I had recently begun accepting my identity as a gay teenager. And now my Scout leader, who was like a father to me, was proclaiming God's disapproval. I was afraid, and not simply because I feared Hell. My Southern Baptist pastor regularly preached about my eternal damnation, so the church's rejection wasn't news to me. But my Scout leader's was. If I couldn't count on his support, could I expect anyone else to accept me?
I remained closeted for several more years.
Coming Out
I privately came out at age 20. A former Scout was among the first people I told. He identifies as gay, and the BSA had revoked his membership because of his sexual identity. I was comfortable telling him, because he'd lived my greatest fear: being removed from an organization that I'd participated in since the first grade.
I privately questioned both my sexual identity and my membership in Scouting. I experienced a painful form of cognitive dissonance. I'd been publicly acknowledged for my leadership, as evidenced by the Eagle badge on my uniform and my election as a youth national officer. Yet, the organization's policy had indicted me as a morally-deficient leader. Why was I investing so much in Scouting while Scouting was rejecting me?
That year, I watched Eagle Scout Ross Armstrong's "It Gets Better" video. "Someday you will determine that your need to be out and open with who you truly are is greater than your desire to remain in Scouting," he said. Ross affirmed what I'd felt: my double life was untenable.
I left Scouting in the fall of 2012.
To my surprise, the BSA voted for change on May 23, 2013. Gay Scouts no longer needed to fear being removed. The bans on gay adults and transgender youth would later fall, too.
Two weeks after the 2013 vote, I packed my bags and moved to Philadelphia, seeking a fresh start.
In the years since, I've found the courage to come out to my immediate family and many friends. I've been in a long-term relationship with a guy. And I formally rejoined the BSA as a volunteer earlier this year.
5 Years Later: Unfinished Work
Next spring will mark five years since the BSA's ban on gay youth ended. Anniversaries are useful only to the extent that they spur us to both celebrate progress and address the work that remains. It's worth asking if Scouting is demonstrably more inclusive of the LGBTQ+ community today than it was five years ago.
Does the bisexual teenager in North Carolina believe that his troop is accepting?
Does the long-time Scouting volunteer in Wisconsin know where to find the knowledge and resources that she needs to support the transgender boy who recently joined the troop?
Do LGBTQ-headed families in Arizona know which units will welcome them as parent volunteers?
Do Scout leaders understand the weight of their words?
In the years since that conversation with my Scout leader, I've wondered if I would've come out sooner had he been more compassionate. I'll never know for certain, but I'm willing to bet the cost of my therapy.
Popular in the Community