"No explosions, no violence, no profanity!" is the mantra behind every production backed by Brittany House Pictures, and the company's latest project, "Growing Up Smith," (formerly "Good Ol' Boy") is not exception. We had a chance to catch up with Anjul Nigam, president and founding partner of the company, who also plays a triple role in the film - that of actor, writer and producer.
You are the writer/producer/actor in this film, so how challenging was it wearing three hats on one project? Which role made you feel the most comfortable?

I would say the most challenging part of wearing three hats was time management. As a producer there were always fires to put out; as a writer, there were always last minute rewrites often based on those same fires (e.g. we lost a location and a scene had to incorporate a new setting); and as an actor, although acting has been my primary profession for nearly 25 years, I was often wrestling with keeping my headspace focused solely on the scene we were shooting while so many fires were ablaze around me.

The role I felt most comfortable with was producer. The role afforded me the opportunity (and responsibility) to assemble and collaborate with a team that shared the same vision of the movie as I had. We were all on the same page -- our director and my producing partner Frank Lotito, my other producing partner Steve Straka, our director of photography Thomas Scott Stanton, our production designer Sam Lisenco -- we were all making a heartfelt movie about first love, childhood heroes and growing up in Small Town, America.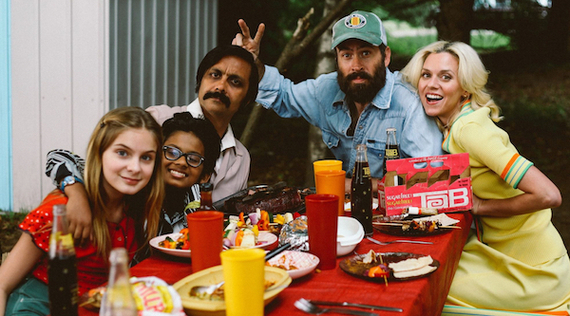 Cast Around Picnic Table. Photo: Ponca City.
What is it about this story that you think will appeal to audiences, especially given the recent immigration rhetoric in our country around Trump's election?

I believe there is a need for feel-good films that depict the human experience with humor and truth. We're in a period of time where people have become overly cynical and divided by rhetoric, one that does not honor humanity or the importance of truly understanding the other side. Our story is told from the lens of an immigrant boy from India, and it's Smith's innocence, charm and infectious desire to make America his home that speaks to us.

We follow his coming-of-age journey as he tries chicken for the very first time even though it's strictly forbidden in his vegetarian family, as he falls for the girl across the street, and as his girl's father takes him under his wing. And in doing so, we empathize with this awkward boy as we watch him desperately trying to fit in. The story, with Smith's bewildered joy and expectation, impacts us because we recognize that even though we may not all be the same, we have the same desires to be accepted members of the people we live amongst.
How long did this project take you to from start to finish? What has been the most fulfilling part of the journey thus far?

I first learned of the project in the Fall of 2000 when writer Gregory Scott Houghton had asked me to become attached as an actor to his original script, which he had based on his roommate Ramesh Raju's personal life experience growing up as an immigrant in Oklahoma. The project was in its embryonic stage so I optioned the property and sought out someone to collaborate with, but whom? Well, it just so happened after seeing and falling in love with a film called This is My Father , I had the fortune of meeting its writer/director Paul Quinn at a mutual friend's party. But unfortunately, I didn't have the courage to share with him my little project; I let the opportunity slip by, or so I thought.

As fate would have it, six months later I received a telephone call: "Hi, this is Paul Quinn, we met at Carlo's party several months ago. So, I understand you're selling your Mercedes 280SE?" That's right, I had a classic 1971 sedan and I needed to sell it. Paul came to look at it, didn't buy the car that I had listed for the sale price of $6,000 (good thing, as I ultimately sold it to someone for $600!), but I did manage to pass along the script for Growing Up Smith (at that time, known as Good Ol' Boy). Paul read it within a few days (a miracle in Hollywood time) and called me saying, "This needs to be made."

The story hit home for Paul: growing up outside of Chicago to Irish immigrant parents, Paul's brother was banished to Ireland as a youngster as his parents felt the child was becoming too Westernized for his own good. So, Paul came on board and he and I spent the next year rewriting the script, the one that would eventually make its way up on screen.

Then began the journey of bringing financing to the table. What I anticipated being a few months ultimately became nine years, as we hit one hurdle after another: the typical independent producer's journey where potential financiers are either not real or drag their feet indefinitely under the pretense of "we love the project!"

Getting the film made and showing it at the Woodstock Film Festival in the Hudson Valley, New York community where we shot the film was certainly one of the most rewarding moments so far! In the audience were much of the cast, crew, and champions of our little independent movie... it was quite exciting to see their joyous faces as they gave the film a standing ovation. But one thing that made that screening particularly fulfilling was that my father was in the audience at Woodstock (my mother passed away six years ago in the midst of our journey to get the film made).

My character of "Bhaaskar" is so deeply rooted in my perception of growing up with my father, that having him there was like coming full circle. It was bizarre and gratifying to see him watch me in this role where I'm preaching to my kids the values he raised my brothers and me with: respect, honor and virtue. The fact that he approved of the film (at least that's what he said in the Q&A!), made it personally rewarding.
This is a family film that touts no explosions, no profanity, no violence? What is the impetus for your production company making films that follow this formula?

Explosions, profanity and violence are everywhere in the world. We're bombarded with an endless stream of them in movies, in the news, in television, in conversations. There's so much of it all around us, we forget how rich life could be if we were simply compassionate and open to listening to what others have to say. The thing is, our exposure to explosions, profanity and violence has become such a fabric of our culture that we feel it's the only way to tell stories about our world.

At the risk of sounding cliché, I believe why not accentuate the positive -- we can accomplish so much greater good if we stop focusing on the negative. To me, movies should entertain and inspire. They should move us to improve ourselves and the world around us. They should leave us feeling good when we leave the cinema hall.
You have had quite a successful acting career as a South Asian in the U.S. Do you think it's getting easier for South Asian actors to find roles that are specifically written for them, with racial identity in mind?

When I moved to Los Angeles back in 1989, I had a degree in Drama from New York University and a SAG card that I had earned in New York by playing a young, naïve terrorist in "Hostage Crisis and Terrorist Management," a training film for the U.S. Army. Within two weeks of being in town, I booked a guest-starring role on "Growing Pains," which at the time was one of the most popular shows on television. And because the episode was about race issues, it received a good amount of media attention.

My character was "Raj," an employee of a convenience store where the character played by the show's lead actor, Kirk Cameron, was hired as a new employee and benefits from a bigoted boss (played by the late Dick Van Patten) who favored him over my character. So, yes, that was a role specifically written for someone like me. As were the numerous times in my career I've played a doctor, or a cab driver, or a tech wizard in roles with names like "Dr. Patel," "Sanjay" or "Vijay." And in the process, I've seen that we often misplace our focus on the profession or the ethnicity of the characters we're playing. Upon learning I'm an actor, I'm frequently asked questions like, "Do you find yourself being cast as an Indian cab driver?"

I know that if I were a cab driver, I'd be insulted to learn an actor finds such a role beneath them. The fact is, there are many Indians who are doctors, cab drivers and computer geniuses, and this has led to certain stereotypes being formed upon these truths. However, roles that perpetuate negative stereotypes are those that are on the fringes of the story and not developed. They are often caricatures. And so, the key lies in whether the character an actor portrays is three-dimensional and a relevant part the story arc? Does the role have a beginning, middle, and end?

Even some of our greatest actors find themselves playing certain stereotypes. How many times has Al Pacino played an Italian mobster? But upon taking a closer look at the roles he's played, it's clear they're multi-dimensional roles of significance. Similar to other ethnicities that have immigrated to America, South Asians have begun to emerge in all aspects of American society, including as storytellers. And as storytellers, we have the ability to create roles that reflect our community in roles that are central to the story... significant, substantial roles.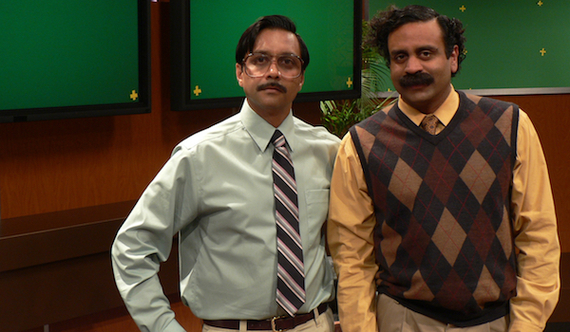 "Tech & Talk with Ranjit & Chad" commercials for MetroPCS.
Photo: The Richards Group.
During its festival run, what was it like watching this film with a live audience? Were you nervous about the response to the film?

While I was pleased that the movie had turned out as I had imagined it in the development phase, when we got ready to show the movie to festival audiences, I became nervous that maybe the story we're telling isn't engaging enough for today's audiences. I was worried today's viewers have become so accustomed to seeing content in snippets on a YouTube channel and other online platforms, that they would have difficulty with how we take time to let the audience absorb the story and breathe each moment. In many ways, our movie has the spirit of films like A Christmas Story and Stand By Me.

I've been able to attend almost all of the 25 festivals our movie's been invited to, and each time I've been there, I have enjoyed watching it in the cinema with the audience, seeing and hearing their reactions. It has moved me to see the audience react with laughter or tears, particularly in moments I hadn't expected them to. It has been great to greet the audience as they left the theater, and to hear them share how the movie evoked memories of their own personal lives. And it has been absolutely rewarding to hear them say "they should make more movies like this."
What is it that you hope people walk away with it after seeing this film when it releases? Does the producer in you want to see this film make money, or does the writer/actor in you want this film to be appreciated by critics and audiences alike?

I know it's a tall order, but I want people to leave the audience with a renewed sense of compassion for the world we live in. I want the movie to evoke people's emotions of times they remember with fondness. As a producer, I want our financiers to see a healthy return on their investment, and for to the film to realize a level of success that it doesn't take me over ten years to get the next one made. I'd be lying if I didn't say I want the film to be appreciated by audiences and critics alike.

On the festival run, we've been fortunate to receive such a response from both. An audience member who saw the film at our festival premier at the Seattle International Film Festival contacted us six months later to say the movie had stuck with her so much so that, half a year later, she was still thinking about it. As a member of the IMDb staff, she was kind enough to rank our film second on her list of Staff Picks of Top Ten Movies of the Year. That's certainly the kind of appreciation I would like.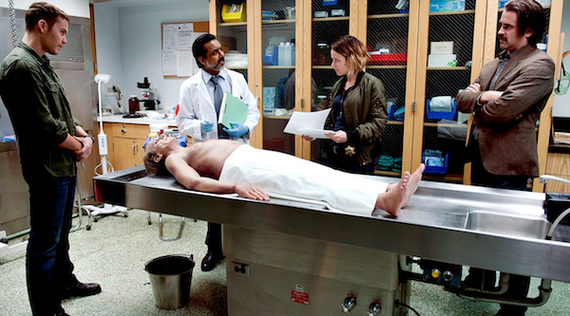 Anjul Nigam in HBO's "True Detective." Photo: Home Box Office.
What's next for you? I believe you have a film featuring a major Bollywood movie star? Can you tell us about that project?

I have two projects that are both looking like they may go into production soon. One is a political satire comedy called Mr. Sharma's Atom Bomb. It's about an unsuccessful immigrant salesman from India who's has been toiling away trying to achieve the American Dream. Just as he's about to move his family back to India, he wins a gas station sweepstakes family vacation to a remote island in Japan. But when they arrive on the island, the family discovers an unexploded ticking atom bomb from World War II. As they try to deactivate the device and get off the island, the Sharmas set off an international crisis. I'm producing it and a Bollywood star we'll soon announce is playing the title role.

The other project is The Last Day of April. Inspired by a true story, it's about a girl living on borrowed time, a boy who believes in magic, and a fugitive full of regret as they all come together on a tiny island where each of their lives will be changed forever. I am one of the two writers and the producer on it. And if we can hire a director who'll let me, I may also be an actor in it.
Finally, you can ignore this if you like, but: You have lived here since the age of two and are as American as I - what do you think of the election of Donald Trump as our President? How does his presidency impact Smith's Small Town America - as well as the world in general?

Being a professional in the entertainment industry, I work with artists in creating content and, specifically as a producer, I'm often engaged with wealthy entrepreneurs for financing. And while I may have opinions about the political landscape and the great divide that was created in this past election, I truly believe that by listening and making an effort to understand the other side is the only way for us to come out of this gorge alive. I'm not saying we need to agree with the other side. I'm saying we need to understand their perspective, understand what needs and fears are driving their point of view. And it's so important to be mindful of the fact that based on our needs and fears, over the course of our lifetimes, our views about things will change. Sure, our essence remains the same.

A compassionate human being will remain as such, and an ego-maniac will always be interested in taking care of his wishes even at the expense of others. And both kinds of people exist on both sides of the coin. Smith's Small Town America will be the little utopia that we had the privilege of experiencing and we'll share with our kids. Just as our parents shared their childhood utopia. See, that's the wonderful thing about memories, we can shape them any way we'd like. Even if we're living in cynical times.
Watch the trailer here. Growing Up Smith also stars Jason Lee (My Name is Earl), Brighton Sharbino (The Walking Dead), Hilarie Burton (One Tree Hill), Poorna Jagannathan (HBO's The Night Of) and introduces Roni Akurati as Smith. It opens in select cities, including New York, New Jersey, Dallas, Santa Francisco and Chicago, on February 3rd. It will expand its theatrical release nationwide February 10th. To purchase tickets in your city, visit www.amctheatres.com.
Calling all HuffPost superfans!
Sign up for membership to become a founding member and help shape HuffPost's next chapter