Remember when President Jimmy Carter visited the blighted south Bronx, with the result that images of burned-out houses and trash-stewn lots flashed across TV screens all over the nation? That visit and the movie, The Taking of Pelham One Two Three created an indelible image of the Bronx as a hopeless borough riddled with crime and despair.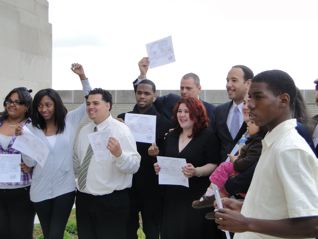 Enter Steve Ritz, a teacher at Discovery High School (the tall fellow pictured in the center of the photo above) who figured out a way to help turn all that around by teaching his students to grow vegetables on walls. Yes, vegetables on walls.
Ritz has figured out how to grow good food, good jobs and good citizens by tapping into one of our greatest wasted resources--urban youth. And he's doing it in Hunts Point, a quintessential "food desert" that, ironically, just happens to also be one of the world's largest food distribution centers; 2.7 billion pounds of fresh produce from 49 states and 55 foreign countries passes through Hunts Point's New York City Terminal Market annually on its way to more affluent neighborhoods.
On June 3 Ritz is orchestrating a huge "School Garden to School Cafe" event where the teens will be cooking and serving 450 healthy organic meals with vegetables grown by them from seeds on classroom walls and in containers. Well, that's one mighty fine way to make sure that high quality vegetables get eaten right in the Bronx! No surprise that Ritz was recently awarded an EPA Environmental Quality Award.
How did Ritz manage to grow truckloads of organic vegetables indoors with virtually no equity but sweat equity? One thing he did was partner with a for-profit enterprise called Green Living™ Technologies, a pioneering developer of cutting edge urban agricultural systems. George Irwin, CEO of Green Living™ Technologies and a man with a big heart and a vision as huge as Ritz's, contributed all of the building materials for the grow wall.
As Ritz points out, before they started growing their own on classroom walls, these teens had no easy access to fresh vegetables. And when kids grow their own vegetables, they want to eat them--so improved nutrition is a built-in bonus when teens become vegetable gardeners.
And there are other bonuses as well: Gardening not only improved class attendance from 40 % to 93%, but has also resulted in the startling fact that 100% of the gardening teens achieved passing grades on the state Regents exams in math and science.
On April 27th, at the magnificent Art Deco Bronx County Courthouse, I was privileged to witness Bronx Borough President, Ruben Diaz, Jr. present ten of Ritz's students with graduation certificates for completing the Green Living™ Technologies training program in green wall and green roof maintenance and installation. The training was co-sponsored by Boston Cityscapes and held in Boston. According to Irwin, "These students are the youngest in America to obtain such living wage certifications by GLT in an emerging and green industry."
At the graduation ceremony, Ritz talks about how he and the teens made this all happen and shows some slides of the process.
Before handing out the certificates, Bronx Borough President Ruben Diaz, Jr. talks about his passionate vision of greening the Bronx.
Up on the beautiful green roof of the Bronx County Courthouse, President Diaz receives a "shelf" of green-wall-grown lettuces from Steve Ritz:
Popular in the Community