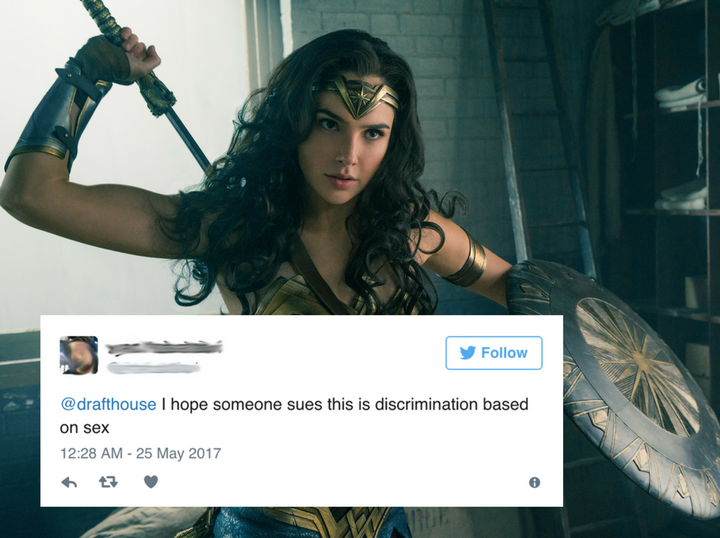 An Austin-based movie theater has angered men for offering a women-only screening of the upcoming "Wonder Woman" film.
"The most iconic superheroine in comic book history finally has her own movie, and what better way to celebrate than with an all-female screening?" the announcement reads. "Apologies, gentlemen, but we're embracing our girl power and saying 'No Guys Allowed' for one special night at the Alamo Ritz."
Like clockwork, angry men of the internet responded by calling the theater sexist for hosting a women-only screening of a movie that's empowering for women.
One man commented, "Apparently 'equality' is only selective nowadays ... How about a 'men's only' showing of a movie or is that not how equality works?" Another offended gentleman said that it was "wrong," and that he will "never set foot in [the] theater again."
Check out some of the comments below.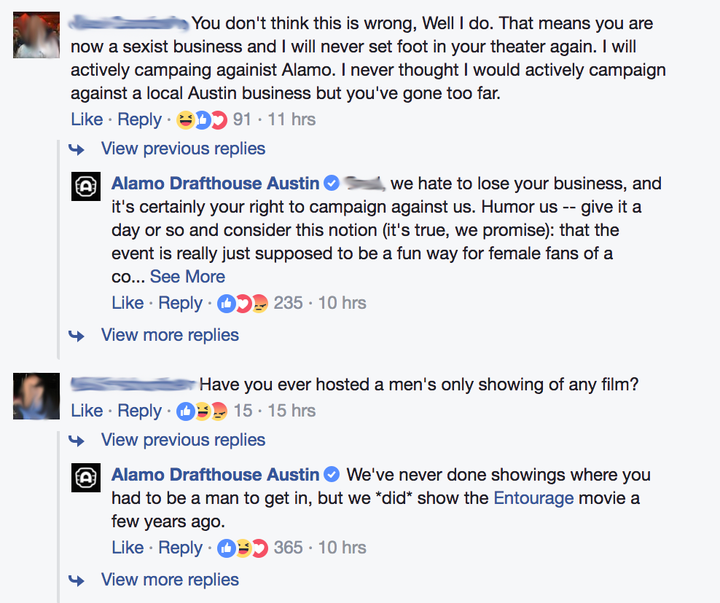 And regardless of the fact that the theater is hosting dozens of other screenings for the film, some men on Twitter were also quick to take offense.



We hate to lose your business, and it's certainly your right to campaign against us. Humor us ― give it a day or so and consider this notion (it's true, we promise): that the event is really just supposed to be a fun way for female fans of a comic book character that's important to them symbolically to see a movie they're excited about. There's no political agenda intended, honest.
Another Twitter user pointed out that the men's complaints were futile ― the original women-only screening has apparently already sold out, prompting the theater to add more shows.
In a statement to HuffPost, Alamo representatives were enthusiastic about the screening and inspired by the "wrath of trolls" to continue providing an exciting experience for women ― and Alamo now plans on expanding the women-only screening options in its theaters nationwide.
"We are very excited to present select, women-only Wonder Woman screenings at Alamo Drafthouse," said Morgan Hendrix, Alamo Drafthouse creative manager, in the statement. "That providing an experience where women truly reign supreme has incurred the wrath of trolls only serves to deepen our belief that we're doing something right. As a result, we will be expanding this program across the country and inviting women everywhere to join us as we celebrate this iconic superheroine in our theaters."
Representatives for Alamo also told HuffPost that proceeds from the ticket sales for their D.C., Austin and Dallas screenings will be donated to local women's charities.
Popular in the Community