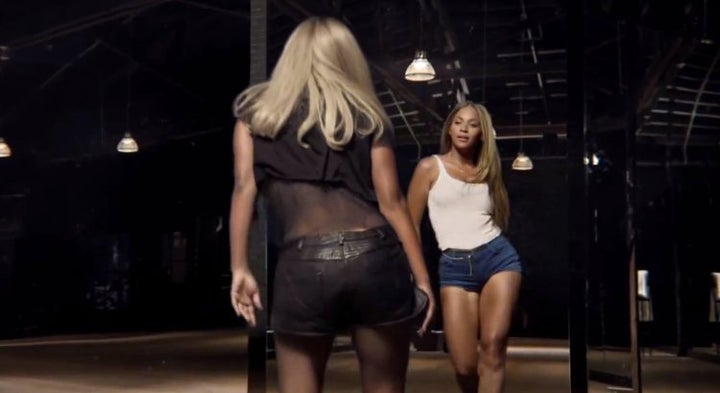 Timbaland produced the song, which makes it slightly curious that Pepsi decided to title their spot "Mirrors," given that Justin Timberlake's just-released album, "The 20/20 Experience," features a song by the same name. Timbaland produced all of Timberlake's disc.
A number of big-name songwriters and producers are involved with Beyonce's album, including The-Dream.
In the ad, B is seen dancing in front of a mirror, as multiple incarnations of herself appear. There's the Destiny's Child-era Beyonce in a pink "Bootylicious" getup, the "Crazy in Love" Beyonce in a white tank and jean shorts, the "Single Ladies"-style hair and unitard and, of course, the modern B. (Scroll down for a gallery of stills.)

"Embrace your past," she says at the end, "but live for now."

In a seconds-long YouTube video posted Wednesday, Beyonce is shown as new music plays in the background. Text then appears and directs users to pay attention at 9 am on Thursday, offering up the hashtag #BeyHereNow as a guiding light.

Pre-announcement speculation had many thinking the singer would unveil information about her album. Rumors of a new single have been percolating for some time, so a song, album title and release date were all plausible.