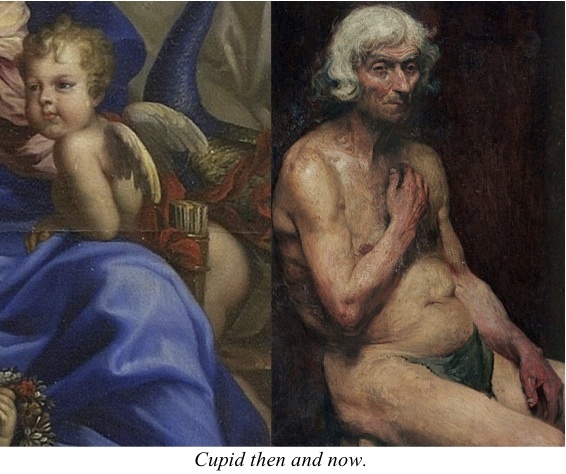 The lovable arrow-slinging boy -- once known for cherubic looks and igniting romance, now known for alternating stints between jail and rehab -- faces yet another arrest, this time for assault with an arrow and indecent exposure.
Though generally deemed a pariah and a public nuisance, a few longtime friends have come to Cupid's defense.
"The public just sees the gossip shows and tabloid covers," one friend said. "Cupid was a working child-deity. He missed out on a normal childhood. No sleepovers. No football games. He did make it to prom but sat in the corner and played with his own harp the whole time. Heartbreaking."
"He's awkward and lost but well-intentioned," another friend added. "Cupid has no other skills. He's trying to rekindle his career by doing the only thing he's ever known. Cut the guy a break."
However, one critic echoed popular sentiment regarding Cupid's downward spiral: "Immortals have to change with the times more than anyone. Tinder, Match, hell -- even Farmers Only -- the romance biz is covered. Move on. Besides, the whole 'hit-with-love's-arrow' thing is super-duper creepy in a post-Cosby age, and do I really have to say anything about wearing a diaper in public? Gross."
Cupid declined comment but his attorney did say that he had plans to sue OKCupid for copyright infringement.
Calling all HuffPost superfans!
Sign up for membership to become a founding member and help shape HuffPost's next chapter