Is growth hacking simply a trendy buzz word or is there more to it? Just how does the job description for a growth hacker differ from a "regular" marketer? Or is this actually a fancy way to describe a marketing professional? Let's take a look at the growth hacking phenomenon and how it will revolutionize the industry in the future. 
Definition of Growth Hacking and How It Differs from Traditional Marketing
To put it simply, a growth hacker is basically a marketer employed through an Internet start-up company as opposed to a traditional production or service company. In other words, growth hacking is "the art and science of creating awareness, traction, adoption, and advocacy using unorthodox and surprising means. It's quite literally a hack for traditional processes to accelerate business."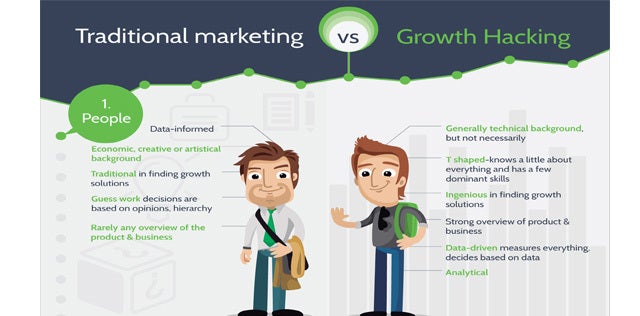 There are, however, several significant differences between a growth hacker and a marketer, including but not limited to the following:
High Marketing and Sales Targets Met in a Relatively Short Period of Time
Marketers often operate on a developed and saturated market with a high degree of penetration. For that reason, their goals usually include growth by single percentage points or sustaining their market shares at a minimum. In the meantime, a successful start-up is designed for aggressive growth, measured in double digits or more at the least. That's because corporations can allow temporary financial under-performance, while a start-up needs dramatic increases in revenue in order to break even, bring profits, and ultimately become truly successful, which is the goal of any new company.
A growth hacker is usually challenged by low marketing budgets and limited access to external data and paid research. This amplifies two major results. Firstly, effective growth hacking requires a high level of creativity and open-mindedness. It means constantly searching for new and efficient, low-cost methods of expanding and maintaining business. Secondly, it creates the need for constant data gathering, measurement, and analysis, conducted internally on a regular basis. Since you can't really outsource data collection and analysis, you need to become an expert yourself. The well-being of your start-up depends on your ability to draw valuable conclusions and gather enriching business insights from the data you have access to, so it is critical to learn to find resources that suit your needs.
Strong Focus on Innovation
Growth hacking can also be defined as working within a highly innovative company environment. It demands interdisciplinary and high-tech knowledge and expertise in areas such as search engine optimization, digital marketing strategies, content management tools, technical writing, webmastering and even many forms of web/Internet coding.
Agility and the ability to adjust and respond to a fast changing environment is crucial for a successful growth master. His role is to challenge the status quo, to evangelize change and constantly search for business opportunities. It is included in his responsibilities to make risky, intuitive decisions, often while also facing uncertain circumstances. 
Working for an internet start-up means targeting characteristic KPIs, which most commonly include, among others:
increasing traffic

gaining leads

acquiring new customers and engaging said clientele

conversion rates
In summary, one can say that these KPIs are linked to building and further accelerating a sales funnel. It's worth mentioning that Customer Relationship Management is also an important part of the funnel. An effective growth hacker needs to assure his clients' satisfaction to encourage them to come back and therefore potentially profit from word of mouth recommendations.
Growth Hacking Tactics and Tools
The main tools incorporated and utilized by growth hackers:
It is a no brainer that a well-maintained blog is a valuable asset for a growth hacker. It can be a hub of your inbound marketing strategy, attracting users to your company website and product via creating high quality, in-depth content. Blogging is not a new online marketing technique and the question is not whether to blog but how to make it even more effective. One of the most tested and efficient methods is guest posting. Writing for other blogs allows you to interact with members of the blogosphere. You can share your expertise, receive inbound links to your blog, and gain exposure to a new and far broader potential audience. It goes both ways, so inviting an influential author to post on your blog may also bring advantages in terms of reach and traffic.
2. Social Media Utilization
Social media is an entire area of expertise within the digital marketing industry. It brings undeniable and nearly unlimited profit potential. Building online communities allows for winning more traffic and conversions as well as creating buzz and igniting viral marketing. Social media campaigns involve two-way communication with the viewers, which creates an opportunity for gaining precious input and feedback and may become a useful CRM tool as well. Due to a wide variety of social platforms and their own respective specifics, you would need a separate article (or, more likely, a set of articles) to receive a thorough look into the subject. Nevertheless, there is no doubt that social media expertise is a must for a successful growth hacker in today's market.
3. Marketing Automation Tools
Marketing automation techniques essentially focuses on moving users down your sales funnel from the top to the bottom, from prospects to customers, by the use of messaging, e-mail marketing and social platforms. When creating a sales funnel, a growth hacker plans the entire automatic communication at every stage in order to optimize the process.
4. Ongoing Optimization Tools
Effective search engine optimization requires incorporating tracking and analyzing online statistics into your everyday tasks. It may be challenging for a beginner growth hacker due to several reasons:
The measurements have to be reliable and accurate.

There are multiple sources of information that must be analyzed and integrated into overall actionable insights.

Tracking and data gathering must be conducted on regular basis.

The conclusions should be translatable into actions.
This may be overwhelming and time-consuming, but analysis allows a growth hacker to assess the results of his online marketing efforts. It is crucial to identify the channels that bring the most traffic, and the content that generates the most links and site views. Furthermore, it's essential to distinguish valuable traffic and what brings the highest conversion rate and ultimately accelerates your sales funnel. Only then is it possible to optimize actions and investments.
It is a smart solution to make use of existing SEO tools, which provide accurate and up-to-date measurements for keyword positions, traffic trends, and conversion rates for specific keywords. Moreover, with these tools you measure and rate the quality of your inbound links so that you know exactly who is writing about your product and what they say. These tools also track your competitors' SEO—they automatically reveal, analyze, and help you outrank your business competitors' websites. Thanks to this, you can have all the necessary data in one place, presented in an intelligible and user-friendly way.
This is the area where a growth hacker actually has an advantage over "traditional marketers". It has been said that a fast pace and need for quick reactions are essential to growth hacking. At the same time, it's important that a growth hacker can actually react quickly. Comparing to e.g. a manufacturing corporation, testing and launching a new communication campaign or a new product takes months of consumer and market testing, legal and/or quality alignments, as well as bureaucracy and costs. In the case of a start-up business, you can conduct A/B testing on almost every aspect of your communication, whether it's your landing page, logotype, e-mail messaging, or display campaign. It takes relatively little time and allows you to improve your effectiveness almost overnight. To achieve this goal:
It's crucial to keep in mind that every stage of the sales funnel has separate KPIs and different objectives. The graphic below is a good example of this case. It reflects the variety of goals at each step of the funnel. Funnel optimization requires analyzing each of the stages separately while not losing sight of the ultimate objective—the sale.
Calling all HuffPost superfans!
Sign up for membership to become a founding member and help shape HuffPost's next chapter
This post was published on the now-closed HuffPost Contributor platform. Contributors control their own work and posted freely to our site. If you need to flag this entry as abusive,
send us an email
.