As the rain drizzled down last Tuesday afternoon in northwest Crown Heights, local residents gathered to say goodbye to the Crow Hill Community Garden on Franklin Avenue. Tucked into the sole vacant lot on one of Brooklyn's most rapidly changing blocks, the garden, launched in 2009, had become a community fixture, a gathering place for neighbors of all ages and races. The previous weekend, two local organizations, the Crow Hill Community Association (CHCA) and Save Our Streets Crown Heights, had teamed up to screen The Interrupters under a canopy of colorful zip-tie handcuffs built by local design firm Ground Up Designers. Intended as a kickoff for a summer of programming, including art and performance classes for youth as part of the Art Not Arrests project, the screening became the last event of its kind when the owner of the lot -- which had been vacant for nearly two decades -- announced that it had been bought. While the gardeners always knew that they were cultivating on private property and borrowed time, the sale nonetheless represents a turning point in a neighborhood that has struggled valiantly to make rapid changes work for a wide variety of residents.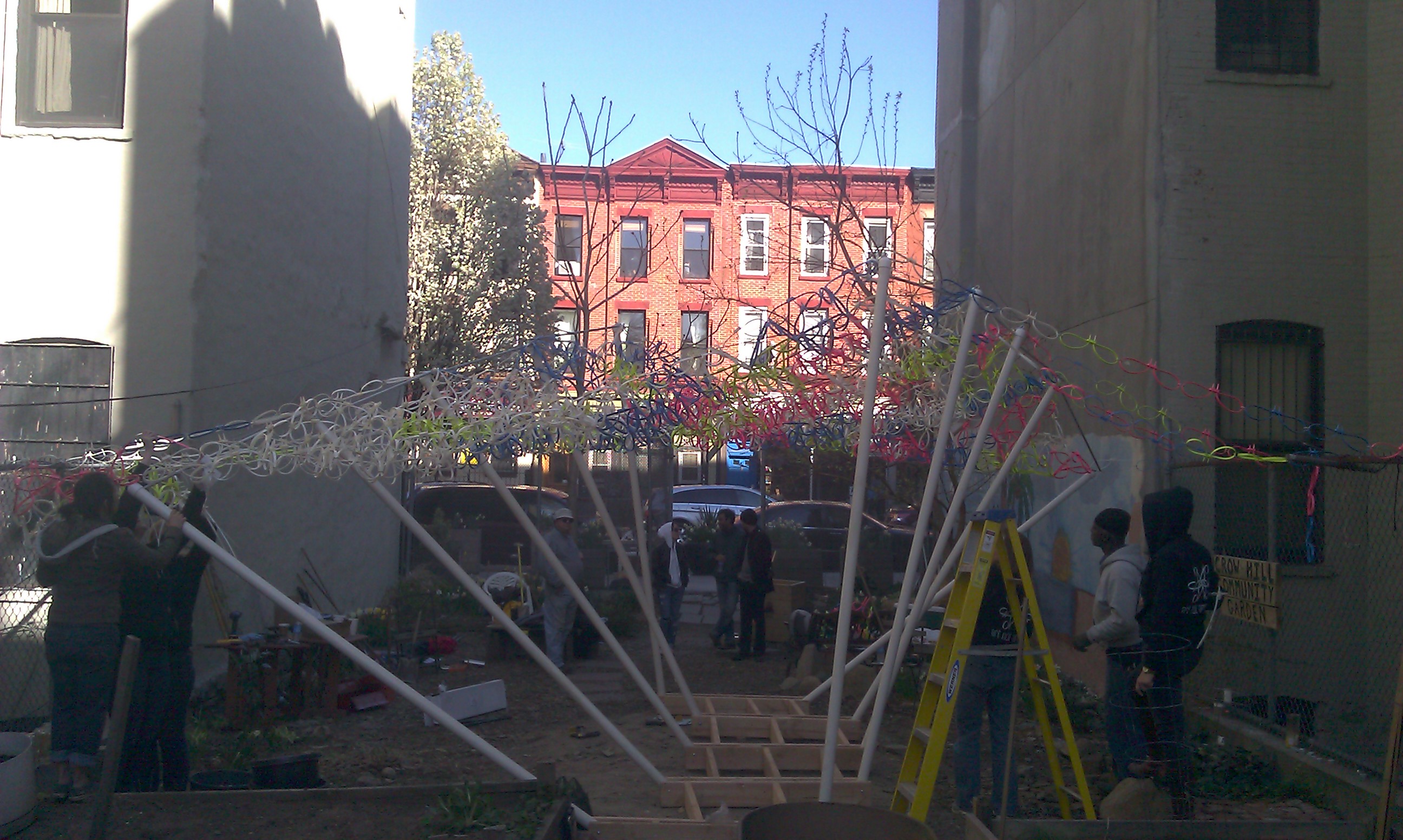 Faced with the melancholy task of dismantling three years of hard work in the rain, many residents remained upbeat. A new home had been found for Art Not Arrests and their canopy at a nearby community garden, and many gardeners had already secured new plots. Stacey Sheffey, the leader of the CHCA's greening efforts, admitted that it was a sad to lose the garden, but observed that it had successfully served as a base for beautifying Franklin Avenue, and that these efforts would continue. "We're going to keep working," she said. At the CHCA meeting that night, others allowed more frustration to show. "It's a shame to lose that garden," said Evangeline Porter, the president of CHCA, noting wryly that their efforts, which included hauling away over 25 bags of garbage, had likely made the lot easier to sell. One resident stood to propose a fight against the development -- a four-story, eight-unit residential development is planned -- but others shook their heads in resignation.
The general mood was one of ambivalence. The CHCA, now in its 27th year, has worked tirelessly to improve their corner of Crown Heights, planting trees, installing lights, building planter boxes, painting murals, and the like. As the neighborhood has boomed over the past five years, they have formed a dues-paying Merchants Association that has worked to attract new investments while supporting existing small business owners. Local organizations like the CHCA and SOS have successfully reached out to new residents -- the younger, creative-class, largely-white crowd who are ubiquitous in changing New York City neighborhoods -- and harnessed their energies for programs like Art Not Arrests. When the New York Times' Liz Robbins suggested that locals were uneasy about gentrification because Crown Heights was "scarred earth," it was these efforts that suggested Robbins had got the legacy of the riots exactly wrong: Crown Heights was handling gentrification as well as anywhere precisely because community organizations and leaders were battle-tested builders of inter-racial, cross-class dialogues.

And yet, it was hard not to feel the limits of these efforts last Tuesday night, when the uncomfortable truth that neighborhood beautification can sow the seeds of its own displacement was so apparent. Losing the garden does not cripple community-building efforts, of course, but it does eliminate an important public space for dialogue and exchange in the heart of the neighborhood. The block of Franklin where it was located, between Sterling Place and Park Place, has seen 13 new businesses open since 2008, with two more on the way this summer. Many of these businesses would fit well in a caricature of gentrification (a baby store, a cozy pub serving microbrews, a "general store" offering artisanal pickles and bowls made from warped LPs), but to dismiss them as such would be to ignore the ways in which these merchants, many of them longtime local residents, have come together in spaces like the garden to support an inclusive vision of community (many donated hundreds of dollars to Art Not Arrests, for instance). Still, the trend is clear, as captured by comments on local blog I Love Franklin Ave (which this author edits). "No garden" read one, "but more bars, restaurants, and places to buy things. Is this really what makes a neighborhood worth living in?"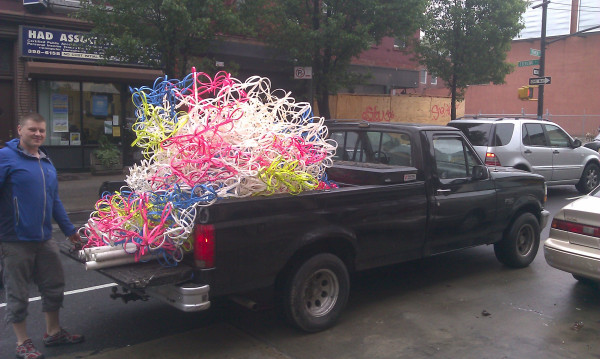 Why consider the loss of a garden a turning point, especially when a) change has clearly already come to Franklin Avenue and b) no community programs were actually lost and local businesses and organizations are otherwise thriving? Because "change" is not all the same, and change on Franklin appears to be changing. Most of those 13 new businesses on Franklin's busiest block opened in storefronts that had been vacant for years, and quite a few of the units that new arrivals were moving into over the last five years were also the product of renovations and conversions in a light-industrial zone nearby. Displacement has clearly been taking place for some time: members of Occupy Wall Street recently protested outside a real estate office that has purportedly engaged in harassment of low income residents just steps from the garden, and the Daily News reported last week that Northern Crown Heights lost over 10,000 African-American residents in the last census. Still, it was possible, until recently, to suggest that a lot had been added to the area without an equivalent amount being lost; that changes, such as were taking place, were benefiting a wide range of residents and not just new arrivals.

Today, however, there is not a single vacant storefront on Franklin between Park and Sterling, and there are precious few available nearby. Rents have skyrocketed, and several enormous projects, including one that attracted a $25 million investment from Goldman Sachs, are slated for construction in the next year, which will only accelerate these trends. To some residents, it is beginning to feel as though the area is entering a new phase of change, one that will be driven by the imperatives of big capital, and which will involve a lot more displacement and competition, and perhaps a lot less collaboration and camaraderie, as places like the garden, or the local businesses that supported it, are pushed out. When change is as fast and furious as it has been along Franklin, it is easy to throw up one's hands and say "change happens." But community-based changes are very different than those driven by supersize developers. Crown Heights's community organizations have managed the most recent wave of change with savvy and some success, but how they will respond to the next wave, or if they even will be able to, is an open question.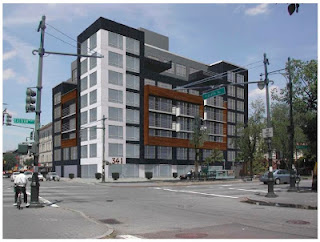 Wednesday dawned bright and clear with another communique from the CHCA. The mural they had painted on the fence around an inactive construction site -- another neighborhood beautification project -- was coming down as work finally got underway on a six-story, 62-unit condo tower at Eastern Parkway and Franklin Avenue. Adjacent panels depicting Bob Marley and the golden crown of the Moschiah that is a symbol of Chabad-Lubuvitch Judaism came down, replaced with fresh plywood bedecked with a large sign reading "Pinnacle Realty Group."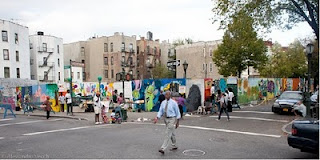 Ready-made metaphors can be easy to find in changing neighborhoods. Watching their removal, one longtime local resident remarked, "I'm glad that hole is finally getting filled, but I hope whatever comes in makes some sense for the neighborhood." The current plans for the development designate 870-square-feet for "community facilities." It remains to be seen whether that will be enough to house the portions of the local community that may soon be in need of a home.
REAL LIFE. REAL NEWS. REAL VOICES.
Help us tell more of the stories that matter from voices that too often remain unheard.