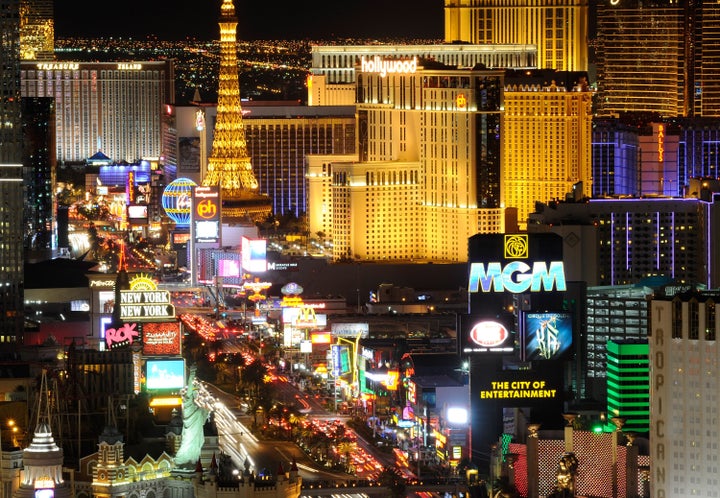 WASHINGTON -- Potentially problematic and certainly embarrassing video of the General Services Administration's infamous $820,000 Las Vegas conference has been obtained by The Huffington Post, showing well-dressed employees singing Frank Sinatra, downing margaritas and making light of lavish spending.
Video of the 2010 party, provided by an administration official on Friday, shows GSA employees in colorful tuxedos, putting on magic shows and enjoying mock Vegas-style entertainment -- all in the name of team-building.
The footage follows the release of a video clip featuring a GSA employee named Hank Terlaje at the same convention strumming a ukulele and belting out an ode to high-spending office culture. That video, like the new batch, was part of an awards ceremony meant to be light-hearted and satirical, but clearly at odds with the President Barack Obama administration's message of fiscal belt-tightening. Several GSA officials have already lost their jobs because of the convention.
"These videos reinforce once again the complete lack of judgment exhibited during the 2010 Western Regions Conference," Greg Mecher, a GSA spokesman, said in a statement to The Huffington Post. "Our agency continues to be appalled by this indefensible behavior, and we are taking every step possible to ensure that nothing like this ever happens again."
Lavish spending at government-run conferences is hardly unique to the Obama administration. As POLITICO reported on Friday, "spending on the biannual General Services Administration Western Region Conference ... first soared nearly 250 percent during the Bush years."
Unfortunately for the Obama White House, spending during the presidency of George W. Bush wasn't subjected to the same scrutiny as in today's heated debate over out-of-control government spending. And with congressional Republicans having pledged to rein in Obama administration excesses, the 2010 Western Regions Conference is an easy and obvious target.
This week, GSA chief Martha Johnson resigned before the release of an inspector general's yearlong investigation detailing extravagant items purchased by the GSA, whose functions include managing property and procurement for other federal agencies.
Among the report's findings, GSA spent $95 per person for a dinner reception at the M Resort Spa and Casino in Henderson, Nev.; $75,000 on a bike-building training exercise (the bikes were later donated to the Boys' and Girls' Club); $19 per person for an "American artisanal cheese display;" $7,000 in sushi; $3,200 for mind reader; $3,700 for T-shirts; and more than $2,500 on water bottles. The new videos obtained by HuffPost on Friday afternoon before a holiday weekend provide the first long visual evidence of the excess.
One clip features a red carpet entrance into a conference room gathering, during which GSA officials discuss what designer clothes they are wearing. Acting GSA Administrator Jeff Neely, who reportedly encouraged event organizers to make the conference "over the top," tells the camera he's donning all Armani, before urging people to "dispense with the notion that what's done in Vegas stays in Vegas." Later, a female employee with a self-described "talent for drinking margaritas" is handed a massive goblet filled with the beverage. Terlaje himself makes a cameo without his ukulele, during which he jokes that the board of directors should get a raise.
Another clip features GSA officials destroying office property in a scene inspired by the movie "Office Space." The song "Push It To The Limit," from the movie "Scarface," blares in the background.
In another video, an "angry clown" -- either a GSA employee or a professional hired by the organizers -- talks about making work more challenging for other people. "Meetings are good to have in between breaks," the clown declares. "Government -- if you think the problems we create are bad, just wait until you see our solutions."
Among the other clips, there is a performance by the Green Man group -- a variation of the Blue Man troupe -- that uses recyclable material for beat-making. Additionally, GSA officials, donning black tuxedos with colored vests, perform their own rendition of "Luck be a Lady."
There are silly magic tricks and an on-stage contest to see which attendee can blow the most bubbles through hula hoops.
Employees were encouraged to submit videos for a talent show contest, which Terlaje won. Among other entrants was one featuring Gumby on a motorcycle, as employees flashed dollar bills and rapped about the world travel and government pay raises they were getting.
"Not trying to get all touchy-feely, but I have to give props to my man [Acting Regional GSA Administrator] Jeff Neely," they sing.
"I'm thrilled to be doing this," Neely says in a separate clip, calling the conference the "culmination of a huge and impressive talent contest."
The new videos seem likely to further inflame the back-and-forth between the administration and House Oversight Committee Chair Darrell Issa (R-Calif.) over the GSA's spending. The California Republican has suggested that the White House tried to hide evidence of lavish spending by sitting on the inspector general's report for 11 months.
The GSA inspector general "briefed the Obama administration 11 months ago on its factual findings of waste and wrongdoing at a lavish Las Vegas convention," Issa spokesman Frederick Hill, told POLITICO. "Rather than taking immediate action to suspend or dismiss those identified by the IG at this briefing as responsible, the administration instead let them have bonuses. Despite their efforts to manage the story, the administration only took real personnel actions when there were no more options for delay."
Administration officials have scoffed at Issa's charge, noting that proper protocols were followed to investigate the conference spending and that, once it came to light, officials who were responsible resigned or were fired.
With Reporting By Amanda Terkel and Brad Shannon
Popular in the Community