If we told you at first that we weren't a little apprehensive to go on tour with Rihanna, we'd be lying.
We were already in Italy when we got the Skype call from our manager, Stevie, who told us that Rihanna's manager had invited us to embark on a 30+ show European tour with the biggest pop star in the world, playing arenas and stadiums which ranged in capacities from 14,000-85,000 every night, and that we started 10 days later.
Of course it was a monumental opportunity, a once-in-a-lifetime chance, but how would we sort the logistics? How would her crowds react to our very different sound and how would our creative process change writing music whilst being away from home for two and a half months?
With over 115 people in the touring party, it was hard to find our place amongst the chaos when we first arrived in Bilbao, Spain for our first show. Amidst the swarms of people setting up Rihanna's unique stage, we met the amazing team of people involved with making sure the show goes off without a hitch. As DJs, we've never seen anything like it. With most of our production being Permanent LED walls in clubs, we were blown away by the amount of equipment, people and time it takes to move the whole rig from A to B. Somewhere around 10 buses and 15 trucks going back and forth between every show if we remember!
Our operation was much smaller. Traveling around Europe for two and a half months in a Volkswagen van, we followed those trucks and buses and covered nearly 8000km and played in some of the most amazing cities in front of seas of people. There was the sold out Stade de France in Paris, the two sold out shows at Twickenham in London and countless more throughout Germany, Portugal, Austria, Denmark and Sweden. All of them were unforgettable. As two kids from the suburbs of Miami, this was an incredible adventure and it was crazy to see how music could bring people together in various places all over the world.
When we reached the end of the European leg in August, we were ecstatic when Rihanna asked us to finish the rest of the world tour, this time going to Asia, Australia, New Zealand, Africa, the Middle East and the Caribbean. During this stint we played incredible shows at the Formula One in Singapore, the stadium in Johannesburg, South Africa where the World Cup was held and Tel Aviv, where the crowd of 55,000 was the most tickets sold by a woman performer in Israeli history. We were so thankful to get the opportunity to share these moments and experience so many cultures and to share our music with them.
Getting to hang out and work around a star of Rihanna's magnitude was of course intimidating at first. But truthfully, what we appreciated about her most once we finally got to know her a bit better is what you see is what you get. She's a bad-ass, strong chick who plays by her own rules night in, night out whilst putting on an amazing show. The fact that she does this with grace and elegance, in spite of her hectic schedule, is an inspiration and this resonates with her legions of fans at each show.
The tour ended three weeks ago, and after some down time, we are on a plane back to Australia to play a festival. To think that a year ago we were only hoping to play clubs in our own city is surreal. After six months, 55 shows, 30 countries, five continents and over a million people, we finally get to step back and realize what an impact this has had on our career, and indeed what an impact one person's music can have on the entire world. This is what we hope to achieve with our music.
We realized somewhere around the end of the first leg of the tour that the initial apprehension was probably just fear. But looking back we're better in so many ways for what we've accomplished. We have met so many amazing people and were able to play in front of crowds we could never have fathomed and are stronger for it now. The next time we get a call like that we'll be ready for it, and we hope it will be to come out and play a show for you and your friends, wherever you are on the map.
Check out some of the photos below from the trip!
Page 1 (left to right top to bottom)

1. This is the first photo Stevie (our manager) snapped of us on the first day of the tour in Bilbao, Spain. It feels so long ago and we've grown so much since then.
2. Eating dim sum at some locals' spot in Singapore. We've met so many amazing friends around the globe and it's great to go somewhere that you'd never find in a book or on a blog.
3. This is us in front of the city walls of Old Jerusalem in Israel near the end of the tour. We went to the Wailing Wall and walked a lot of the same roads as Jesus did. It was crazy to be in the place most people consider the center of creation.
4. Julio enjoying some new facial hair during the tour wrap party after the European leg in a little bar in Norway.
5. Julio getting inked in Cape Town, South Africa.
6. Just a couple of buds floating in the Dead Sea in Israel. This was one of the most surreal feelings ever!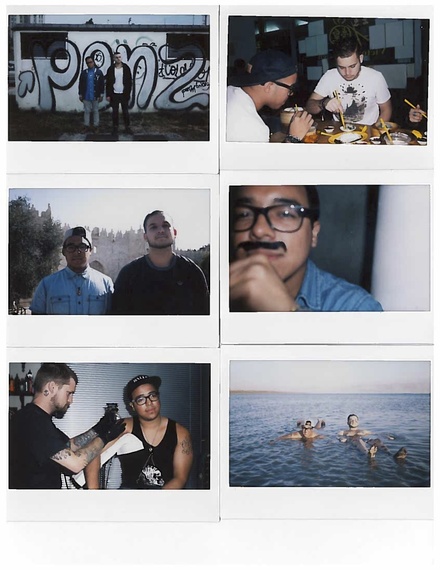 Page 2 (left to right, top to bottom)

1. Hurry up and wait is something any touring artist can associate with. Portugal.
2. More waiting, different distraction in Lyon, France.
3. Stevie really got into the spirit of the Dead Sea activities and took the opportunity to exfoliate with their special mud and get some much needed rest and relaxation.
4. Julio made some new fans on the tour including Rih's dancers!
5. Hanging back stage with Claudia Leitte, a huge Brazillian pop star. Hopefully we'll get to work with her soon.
6. DJ'ing the European tour-wrap party with guest appearance from Evan Rogers, Rih's personal filmer and videographer.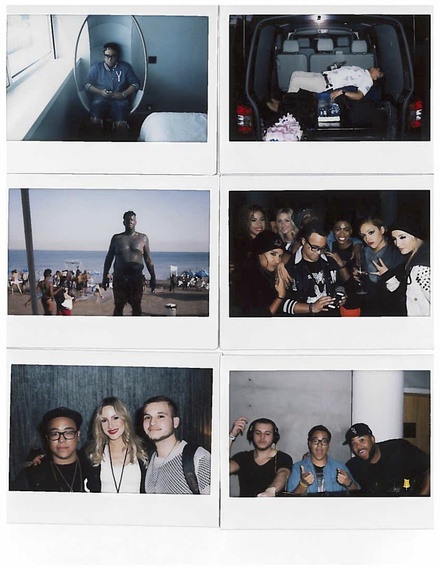 Page 3 (left to right, top to bottom)

1. Sometimes the road is exhausting, but we'll sleep when we're dead : )
2. Super duo Hudson Mowhawke and Lunice aka TNGHT came to check out the show in Adelaide while they were touring Australia.
3. Hanging at the Triple J studios in Sydney after doing an interview and mix with the lovely Nina Las Vegas and Emoh of What So Not.
4. Last dressing room for last show in Puerto Rico was an old camper van tucked underneath bleachers of a baseball stadium. We loved it.
5. Another group show in Barcelona, Spain. Julio accidentally bashed Matt in the eye with a flight case while packing up after the set giving him four stitches just above his eye. Matt can see and made a full recovery!
6. Julio spending some quality time with the fans in Sunderland UK much to the approval of Joe the Driver, who escorted us around Europe.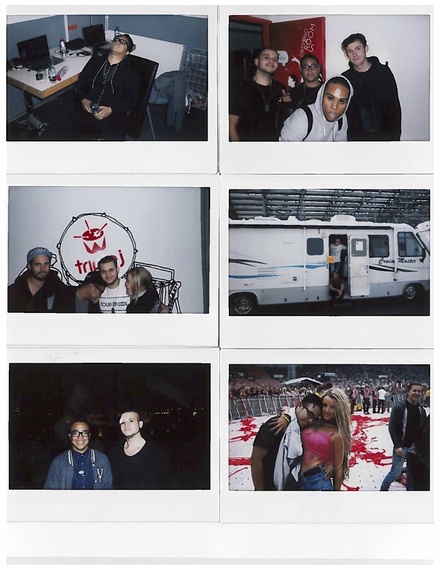 Calling all HuffPost superfans!
Sign up for membership to become a founding member and help shape HuffPost's next chapter