 "Breaking Bad's" Walter White may be famous for pushing meth rocks, but it turns out he may be equally effective when it comes to slinging guac'.
Garduño's of Mexico, a restaurant chain based in New Mexico, says it's seen sales of its tableside guacamole dish increase by around 5 percent at one Albuquerque location featured on the AMC show last Sunday, The Wrap reports. The chain's Winrock Mall location has become somewhat of a mecca for fans of the show after a tense scene between main character Walter White (Bryan Cranston) and his in-laws was shot there. Despite a fictional waiter's failed attempts at getting the characters to order the tableside guacamole during the episode, patrons have flocked to the location, even mentioning the show as they order the dish.
"We had a lot of people coming in to to take pictures of the area used in the scene," Garduno's manager Samantha Giovenco told The Huffington Post. "We had a couple of waiters who were recognized from the show, which they were ecstatic about."
While the show aired, Garduño's also offered a blue crystal margarita to patrons watching from the restaurant, in reference to the methamphetamine that plays such a central role in the drama, Giovenco said.
Indeed, the restaurant's cameo on the show certainly hasn't been lost on residents of the city, who are not strangers to seeing
"Breaking Bad" shoots over the show's five seasons, Garduño's Corporate General Manager Warren Gaustad told TheWrap. One Yelp user going by the name Hank S., an apparent reference to character Hank Schrader (Dean Norris), who plays Walter White's DEA agent brother in-law, gave an account of his evening at Garduño's: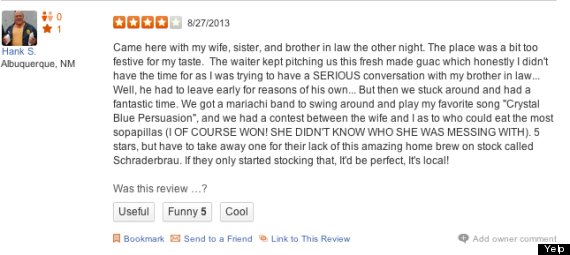 Popular in the Community