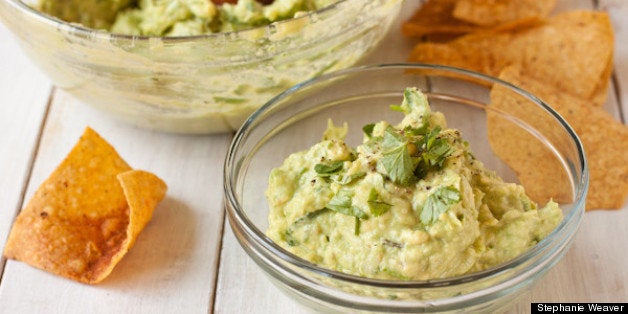 Many guacamole recipes call for raw onion and jalapeno, which I feel overpowers the delicate avocado flavor. So using salsa verde -- made from roasted tomatillos, chiles and onions -- is the perfect answer. While you can use red salsa in a pinch, your guacamole will have a less-than-appealing color.Check out this post from Mimi Avocado for a primer on choosing and ripening avocados; her family grows avocados for a living.
Tips: Avocados don't ripen until they are picked, you can't "soften" them if you cut them open too early, and sometimes you get a bad avocado that has hard spots inside. The trick is to ripen them naturally on the counter, or by putting them in a paper bag. Refrigerate them to hold them at the ripe stage for up to three days. If you add an apple or banana to the paper bag, they can ripen faster, as apples and bananas give off ethylene gas as they ripen.
Check them every day. If you want guacamole on a particular date, buy your avocados seven to 10 days early. If you want guacamole for Cinco de Mayo, buy your avocados ASAP.
2-3 beautifully ripe avocados
1/4 C. salsa verde*
Fresh cilantro
1 lime, juiced
Freshly ground sea salt and black pepper to taste
Peel* or scoop out the avocado flesh, reserving one pit. Mash with a fork until soft.Add the salsa verde and the lime juice, stirring well.Finely chop the cilantro and stir in.Season with salt and pepper to taste. Add the pit back to the bowl to keep it from oxidizing. Store covered in the refrigerator.Notes: Peeling the avocados is best, as the highest concentration of nutrients is in the greenest part next to the skin. I like the Herdez brand of salsa verde, which is available at grocery stores in Southern California. It doesn't contain distilled vinegar (which is made from GMO corn). One small can makes two batches of guacamole.