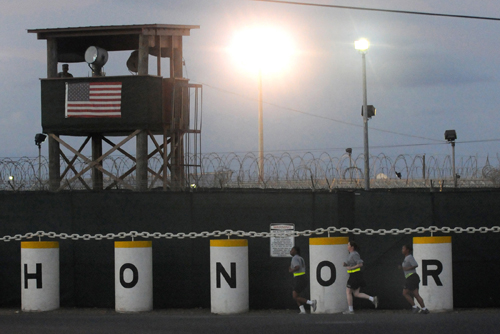 Entrance to Camp Delta Guantanamo, US Navy Photographer Joshua Nistas
The specter of dying hunger striking detainees and the public reaction to the draconian methods of force-feeding the prisoners appears to be what prompted President Barack Obama to once again initiate an effort to close the Guantánamo prison. But what may be a surprise to some is the fact that he isn't the first President to try to close Guantánamo after being confronted by hunger striking detainees who desperately tried to call attention to being held indefinitely, and he may not be the last.
If you guessed the honor of being the first President to try to close GTMO belonged to George W. Bush, you'd be wrong. It was President Bill Clinton and this summer marked the 20th anniversary of his release of Haitian refugees in the wake of their hunger strike and the initial closing of GTMO.
Liz Sevcenko wants to correct this historical amnesia around a site, "people know so little about and feel so much about," through her work as the Director of the Columbia University based Guantánamo Public Memory Project. She and her staff have built a coalition of partners including historians, civil libertarians, lawyers, former military personnel and 16 universities across the country, who are attempting to bring historical context into the current debate and push the conversation toward looking at the choices we should be thinking about regarding GTMO's future.
"Our concern is that the public discussion about GTMO is held in a historical vacuum," she said. "If you think of GTMO as a place that (President George) Bush conjured up after 9-11" to send detainees we scooped up off the battlefield, "and don't know it was open for more than 100 years before that, then you can't understand why it's so hard to close."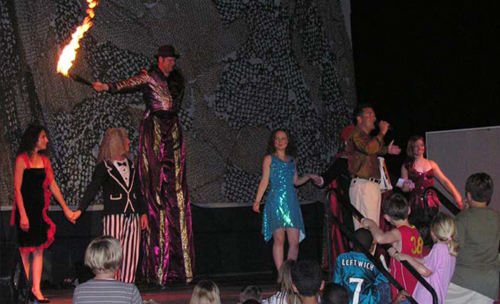 Circus Performs at Guantanamo Bay, courtesy Guantanamo Gazette
I'd originally contacted the Guantánamo Public Memory Project because of a documentary "Guantánamo Circus" I co-produced with Christina Linhardt about a small circus troupe entertaining the families and soldiers who are stationed at Guantánamo. I was surprised by the glaring contrast of the domesticity of the residential side of the base juxtaposed with the notorious prison holding the detainees. But like many others I'd forgotten the history of GTMO and hadn't thought about its future.
Sevcenko reminded me that several Presidents have grappled with GTMO for different reasons and have found it at times to be both a burden and useful.

"It's not just some evil invention of the Bush administration. We try to bring a longer view," she said.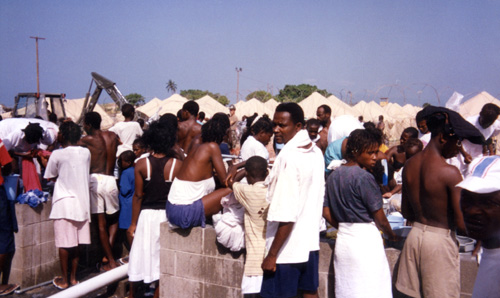 Haitian Refugees Waiting for Food at Guantanamo, Photo by Merrill Smith
Most have forgotten that President Clinton campaigned on closing GTMO but once elected, maintained the right to keep it open. He only closed it after a US District Court judge ordered him to, and after a deal was struck with the Justice department to release the individuals held there while maintaining the government's right to hold people there indefinitely in the future.
It had been holding Haitians indefinitely who'd escaped persecution after supporting the first democratically elected President, Jean Bertrand Aristide, who was deposed by a military coup. The departures of the last 233 refugees had been blocked in 1992 because they, or members of their families, had tested positive for HIV. They were in limbo because of a federal law that said people with HIV can be denied the right to enter the United States even if they are qualified for political asylum. A court order condemned GTMO as an "HIV prison camp" and paved the way for the release of the Haitian refugees.
Clinton emptied the camp but realized it was convenient to have a facility that could hold people outside of the United States so they couldn't claim asylum or seek citizenship. He ordered his Justice Department to vacate the court order that condemned GTMO and defend the right to keep it open.
Which meant the court ruling couldn't set a precedent in future cases. While these individuals were freed, the United States retained the right to hold others in the same place indefinitely.
To be fair, President Clinton inherited the Haitian refugees from his predecessor, George Herbert Walker Bush, who had housed them at Guantánamo after they were interdicted on their way to the United States. Like President Obama, Clinton was trying to clean up a festering problem.
That didn't keep him from having his own detainee controversies. In 1994, one year after Clinton ordered the Haitian camp closed, Cuban President Fidel Castro announced he wouldn't interfere with people trying to leave Cuba. This triggered a mass exodus and the US Navy and Coast Guard interdicted over 30,000 Cuban refugees. They were taken to GTMO to give them what Clinton called a "safe haven" without admitting them en masse to the US. "Clinton had seen public backlash against previous influxes of Cuban refugees, and the political damage it could do," said Sevcenko.
At GTMO they were held in hastily erected facilities with inadequate housing, sanitation, fresh water and food, including Camp X-Ray that later became the prison used for the initial detainees from Afghanistan. By the middle of 1994 most of the Haitian refugees had been returned to Haiti and by 1996 the last of the Cuban detainees were gone. Unlike the Haitians, the majority of Cubans held at GTMO were ultimately admitted to their original destination, the United States. The ability to house people there and not afford them the right to seek asylum or citizenship encouraged Clinton to propose in 1999 to have up to 20,000 Kosovar refugees transported to GTMO. Some saw this as a bold humanitarian effort but others worried the refugee camp that was being billed as a "safe haven" was too much like a prison. A concerted effort by activists who had worked to end the previous detentions revived the public's memory and called attention to this plan which made it politically unpopular enough that Clinton abandoned the idea of a Kosovar airlift. "It's a great example of the policy impact of public memory," said Sevcenko.
What concerns some today is the existing "nearly empty" $17-million Migrant Operations Center (MOC), a 2006, $385 million contract to (KBR) to build detention centers if there is an emergency, and other new facilities that have been built or upgraded in the last few years that can potentially accommodate thousands of refugees. This building and modernization spree, combined with a military exercise held this Spring simulating a wave of Caribbean migrants sailing to the Guantánamo naval base, indicates that if there is a need, such as climate change induced mass migration, the U.S. military and security agencies will be ready to fill GTMO's camps again.
The reality of global climate change and the impact it's having now, and will have in the future, is still vehemently denied by some. But it's clear the military is acting on the scientists' predictions that Caribbean countries like Haiti, already suffering from severe environmental problems, will only see their situations get worse due to climate change. This change will trigger political instability, food shortages and severe weather, such as hurricanes, all of which will increase migration. The likely destination is the United States.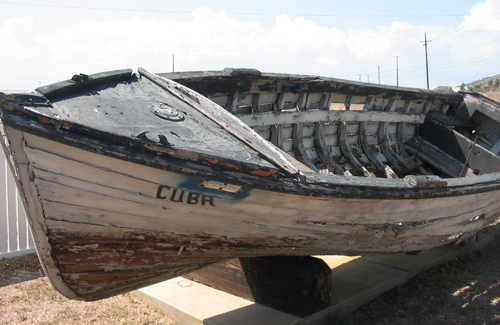 Migrant Boat Abandoned at Guantanamo, Photo courtesy, Robert Miles
The interdiction of refugees, while designed to keep people from landing on US soil, is a laudable humanitarian effort. The evidence of these past efforts was discovered by our Circus group at a refugee boat graveyard on the base. These, small dilapidated, wooden boats, built to hold maybe six people - often seen overflowing with up to 30, are a haunting reminder of the harrowing experience of the people who risked their lives hoping to find freedom.
"It's heart wrenching. But it's important to note that the US Coast Guard rescued people when other countries have watched through binoculars as people drown," said Sevcenko.
The United States is not alone in seeking to have an offshore safety valve that can hold an anticipated influx of refugees. Australian Prime Minister Kevin Rudd has made a firm commitment to send asylum-seeking refugees to Nauru and Papua New Guinea. He made it clear that they will have no pathway to entering Australia, let alone citizenship.

Guantánamo is a convenient facility that's close enough to the United States for us to conveniently maintain control; but since the 1903 lease with Cuba declared it sovereign Cuban soil, it offers detainees limited Constitutional protections, but not the right to seek asylum. As we've seen with Edward Snowden's travel difficulties, brought on by his need to physically be in a country to claim asylum and the Dream 9's ability to use the Courts to halt deportation while their asylum claims wend their way through the system -- location is important. It's clear a succession of Administrations have decided that GTMO is a useful piece of real estate.
But Sevcenko thinks the real questions are, "what does it mean for our democracy to have a permanent space where its rules don't apply? Does it strengthen our system to have a place where we're free to experiment with new solutions to problems we haven't faced before? Or does it undermine the principles that hold our democracy together?"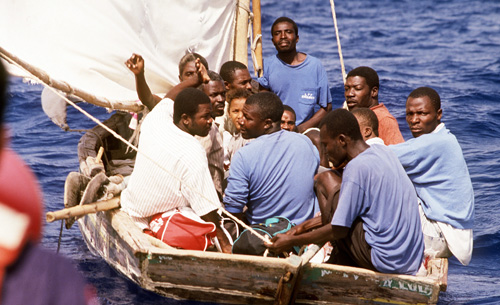 Haitian Migrants Headed for Guantanamo, US Coast Guard
The story of Haitian and Cuban refugees at GTMO -- and our failure to remember these episodes -- provide critical lessons for the efforts to close Guantánamo today and for charting a course for the future as we seek to answer those questions.
The current debate in Washington over "closing Guantánamo" leaves the base wide open for future uses: it focuses on the current detainees, but does not address the government's right to interdict and indefinitely detain people there in the future.

Sevcenko believes we need to have a vigorous public debate about GTMO's future, and its implications -- for the people on the base, and for all of us here at home. Who -- and what -- will Guantánamo be used for next? Should we keep the base open for detention, but close its legal loopholes? Should we reimagine it, as many have, as a center for Caribbean-wide cooperation on hurricane evacuation, or medical crises? Or, should we give it back to Cuba?
There is a growing sense among lawmakers that something needs to be done. Representative Adam Smith of Washington State, the top Democrat on the House Armed Services Committee, sent a letter to President Obama in May outlining his reasons for supporting the closing of Guantánamo. He wrote, it remains "a symbol of unjust efforts to avoid the rule of law that undermine the country's moral standing when defending our professed values and protecting human rights" while giving violent extremists a tool to attract adherents to their cause.
But as we've seen closing the base or dispersing the current detainees is just the first step. We also need to look at its future.
"We all should be involved in shaping its future. We need to take responsibility for what happens next at GTMO," said Sevcenko.
Popular in the Community