Emad Abdullah Hassan, a Yemeni inmate at Guantanamo Bay, introduced a historic lawsuit on Tuesday against the U.S. military prison's force-feeding of detainees on hunger strikes.
The case marks the first legal challenge requiring a federal judge to oversee an inmate's testimony on Guantanamo prison conditions.
Hassan, who has reportedly engaged in a continuous hunger strike since 2007, was turned over to the U.S. by Pakistani security forces for suspected affiliation with armed groups, but was cleared for release in 2009.
Reprieve, a London-based human rights organization representing Hassan, contends that its client has been "abusively force-fed" more than 5,000 times in the past seven years in an effort to end his hunger strike. As a result, "he suffers from serious internal injuries," according to a Reprieve press release Tuesday.
"All I want is what President [Barack] Obama promised -- my liberty, and fair treatment for others," Hassan, who has been held without trial since the age of 22, said in a statement. "This is not a life worth living, it is a life of constant pain and suffering. While I do not want to die, it is surely my right to protest peacefully without being degraded and abused every day."
A U.S. Court of Appeals for the D.C. Circuit decision in February that allowed federal judges jurisdiction over cases reviewing Guantanamo prison conditions opened the door for Hassan's lawsuit on Tuesday.
Reprieve's founder and director, Clive Stafford Smith, is representing 34-year-old Hassan in his lawsuit against Obama as the chief defendant.
In an Al Jazeera op-ed Tuesday, Stafford Smith described his client's grievances:
They started using the restraint chair to strap Emad down while using pressure points on his neck to prevent him from struggling. The prisoners call it the torture chair, and an advertising flier recommends its use for "interrogating prisoners"…

When liquid is forced into him at excessive speed, he vomits on himself. The feeding process starts again, but the vomit remains. With the nutrient mix comes the forcible administration of medication to counteract his inevitable constipation. The most humiliating aspect of the whole process, he says, is when he defecates on himself and is forced to remain seated for an hour or more before being returned to his cell -- where he will be refused clean clothes.

While a Defense Department representative would not address a lawsuit involving the president, Lt. Col. Todd Breasseale attacked the lawsuit's credibility, blaming biased inmates for misinformation.
"Both the detainee and Reprieve have a specific agenda," Breasseale told Al Jazeera. "That agenda may not comport with the truth or reality."
In September, the controversial prison camp ended its policy on releasing daily numbers on hunger strike inmates and those being force-fed.
One month later, Justice Department lawyer Daniel Lenerz portrayed force-feeding, or "enteral feeding," as a justified response to the disruptive effects of hunger strikes on camp operations.
While the Pentagon calls force-feeding a "medical response to [Guantanamo] detainees who hunger strike," according to a March 2013 Joint Task Force Guantanamo memo, the American Medical Association and the World Medical Association oppose the practice as a violation of medical ethics.
"In my clinical experience, the rapid infusion of liquids and enteral feedings induces pain and considerable discomfort," Stephen Xenakis, a retired 28-year Army medical corps officer, said in legal documents obtained by Al Jazeera.
A preliminary injunction to prevent further force-feeding by military staff will be filed in the U.S. District Court for the District of Columbia on Monday.
Before You Go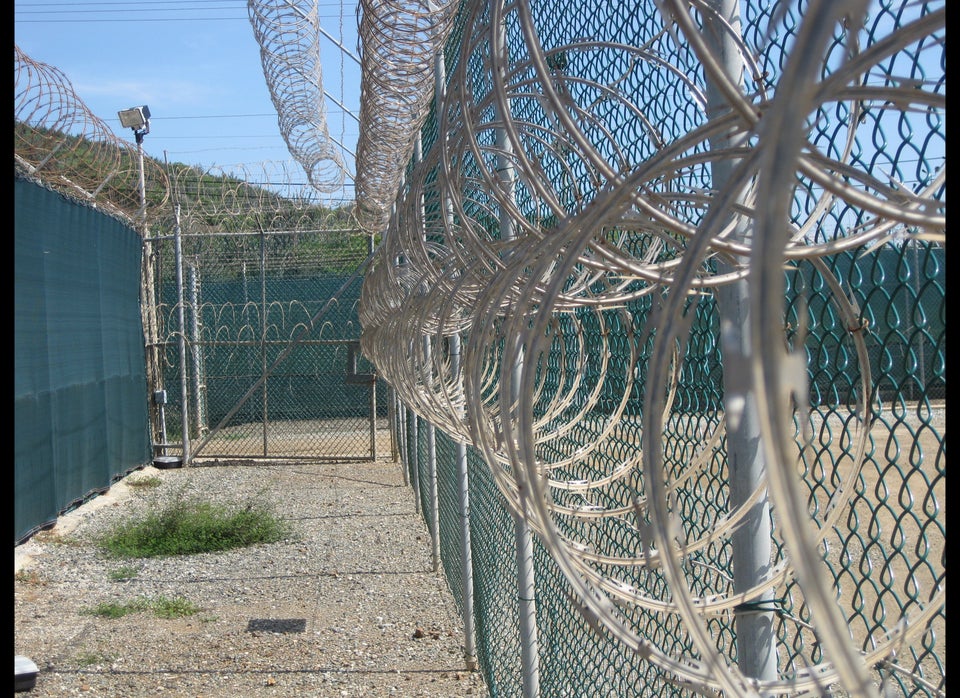 Inside Guantanamo Bay
Popular in the Community