GUANTANAMO BAY NAVAL BASE, Cuba -- It is 5:45 a.m. on Thursday morning and the detainees on Bravo block of Guantanamo's Camp Five are beginning their morning prayers. Two guards, wearing face shields to protect them from being "splashed" by urine and feces, are walking around in circles, checking on the eight detainees inside their individual cells.
Unaware that a small group of five reporters are quietly observing from the end of the block, the detainees are going about their business. A toilet flushes, then another, then another. Two of the detainees, a prayer caller and a prayer leader, led the ritual through "beanholes," the slots guards pass meals through.
As prayers wind down, the breakfast cart is wheeled in and placed in an empty cell. A detainee in a cell to the right requests water; a detainee in the left cell knocks on his door and has an extended conversation with a guard. Reporters are later told he wanted a translator and was told he'd have to wait a few minutes.
Suddenly, guards run down the hall. There's a "code yellow" in block Alpha. Reporters are told to gather up their stuff and leave.
Outside the center a female U.S. Army captain, who would only be identified as the officer in charge, explains what happened.
"Someone didn't wake up or wasn't showing enough movement for the guard to verify, so we called in a medical response," she says. "Recently, it's been happening fairly, very frequently."
Guantanamo is currently in the midst of a hunger strike that has grown to 59 of the 166 detainees being help at the prison, the military said Thursday. That number, up from 52 Wednesday, includes detainees that have skipped at least nine consecutive meals or lost substantial body weight. Of the 59 currently recognized as hunger strikers, 15 are being force-fed; four are hospitalized.
The detainee that prompted the code yellow was okay, military officials later tell reporters. He was feeling dizzy and faint. Medical professionals checked him out and left him in his cell.
It remains unclear whether the detainee may be part of the hunger strike, but because of the code yellow, reporters didn't get a chance to see if the detainees refused meals. Breakfast today consists of scrabbled eggs, tomato, onion, a cheese slice, French coffee cake, stuffed green olives, yogurt, honey and hot sauce.
"They offer it to them, they have up until lunch to accept their breakfast," the OIC says. "It's available until the next meal arrives. They might not want it now, but they might want to take a nap and after the next prayer, they might want it."
Army Col. John Bogdan, who took charge of the detention center in June, said Wednesday that officials intend to slowly transition back to communal living in Camp Six, which had been intended for more compliant detainees. That detention center was raided on Saturday after detainees reportedly refused to unblock cameras that had been covered for months.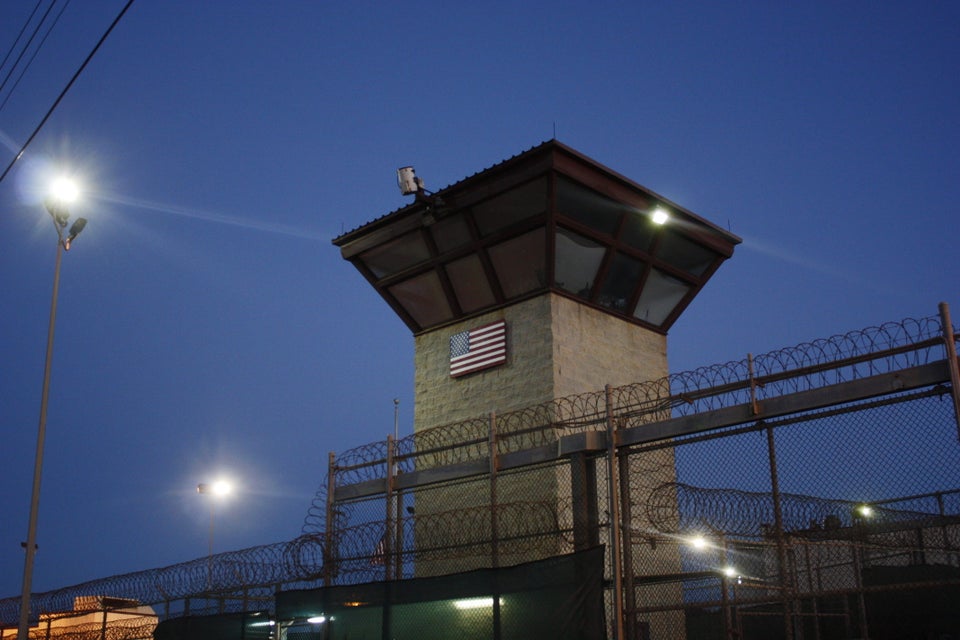 Inside Guantanamo's Prison Facility
Popular in the Community