WASHINGTON ― This year's 4th of July "Freedom Fest" at Guantanamo Bay featured a live music performance by a band whose music was used to interrogate detainees at the Naval base.
The heavy metal band Drowning Pool played a show for U.S. troops at Guantanamo Bay on Tuesday before the fireworks display, the Miami Herald's Carol Rosenberg first reported. Years ago, interrogators blasted the band's song "Bodies" as part of an effort to break down prisoners' will and keep them awake during extended interrogation sessions.
In a 2006 story in Spin about using music as a tool of torture, David Peisner wrote that almost every interrogator and soldier he spoke to mentioned "Bodies" as their preferred song for "psyching out enemies and captives."
Years later, the Senate Armed Services Committee confirmed in a report that military interrogators used "Bodies" during interrogations with Mohamedou Slahi, a Mauritanian detainee.
Slahi, who was transferred from a CIA black site to Guantanamo in 2002, was released last year after 14 years of detention. He was never charged with a crime. While in prison, he hand-wrote a diary, chronicling his experiences being subjected to interrogation techniques that have since been banned. A redacted version of Slahi's diary was published in 2015. In it, Slahi wrote that he "might never forget that song."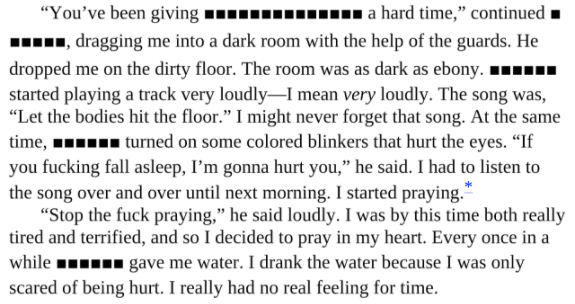 The chorus of "Bodies" includes the line, "let the bodies hit the floor," a reference "the brotherhood of the mosh pit," the band has said.
Slahi told the Miami Herald that he still has hearing problems because of lengthy exposure to loud music during interrogations. "I love art and good music and feel much pain for music to be used as a tool of torture," he wrote in an email published by the Herald. "This is so twisted on many levels. Because music is supposed to make you happy and make you a better person; sometimes."
A 2005 internal review of alleged prisoner abuse at Guantanamo found that loud music was part of a "futility technique" designed to break down prisoners' ability to resist answering questions. "Futility technique included the playing of Metallica, Britney Spears, and Rap music," the report read."On a few occasions, detainees were left alone in the interrogation booth for an indefinite period of time while loud music played and strobe lights flashed."
Southern Command spokeswoman Army Col. Lisa Garcia told HuffPost that because the event was planned by the Naval station's recreation office and not the joint task force that oversees the prison at Guantanamo, "the link between past interrogations using music was not on the forefront on the planners' minds."
"It is likely that leadership was not informed of the potential for negative connotations because individuals were more familiar with the song 'Let the bodies hit the floor' than the name of the band that performed it or its past history with detainees," Garcia wrote in an email.  
Some bands have objected to the military using their music as part of interrogations. "Just as we wouldn't be caught dead allowing Dick Cheney to use our music for his campaigns, you can be damn sure, we wouldn't allow him to use it to torture other human beings. Congress needs to shut Guantanamo down," The Roots said in 2009.
A manager and a spokeswoman for Drowning Pool did not respond requests for comment, but one member of the band has said in the past that he was not concerned by the military's use of his music. "People assume we should be offended that somebody in the military thinks our song is annoying enough that, played over and over, it can psychologically break someone down," bassist Stevie Benton told Spin in 2006. "I take it as an honor to think that perhaps our song could be used to quell another 9/11 attack or something like that."
Benton later posted an apology on MySpace and said his comment was taken out of context.
Before their performance at Guantanamo, the band went on a tour of the Naval base. "Words can't describe what an honor and privilege this is," band manager Paul Gargano posted on Instagram. Another post by Gargano shows the band performing before an enthusiastic crowd.
The metal band regularly performs shows for and to benefit members of the military. Days before the show at Guantanamo, Drowning Pool played at Soto Cano Air Force base in Honduras. They are scheduled to perform in the Rock the Troops concert next month in Colorado Springs.
This story has been updated to include comment from Southern Command.
REAL LIFE. REAL NEWS. REAL VOICES.
Help us tell more of the stories that matter from voices that too often remain unheard.