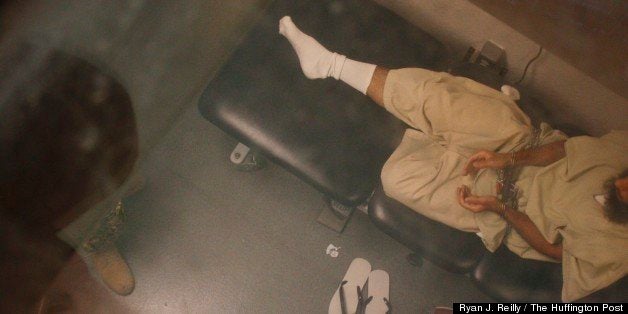 WASHINGTON -- A federal judge in Washington, D.C., on Thursday denied the federal government's request to seal the courtroom for a hearing on the force-feeding of a detainee on hunger strike at the U.S. military detention center in Guantanamo Bay, Cuba.
U.S. District Judge Gladys Kessler ruled Thursday that the public should be allowed to witness arguments in the case, specifically pointing out that Justice Department attorneys waited "less than two weeks prior to the start of the long-scheduled hearing" to make their request.
Closing the courtroom for the entire hearing on a preliminary injunction, she wrote, would be an "extraordinary step," which she called "deeply troubling."
Kessler noted that the case of detainee Abu Wa'el Dhiab has "received a good deal of publicity in the press" and that there was a lot of interest in the topic of Guantanamo Bay in general.
"With such a long-standing and ongoing public interest at stake, it would be particularly egregious to bar the public from observing the credibility of live witnesses, the substance of their testimony, whether proper procedures are being followed, and whether the Court is treating all participants fairly," she wrote in her ruling.
Kessler wrote that the government "seems to have forgotten the words of the Supreme Court" when it ruled in 1984 that openness "enhances both the basic fairness of the ... trial and the appearance of fairness so essential to the public confidence in the system."
Cori Crider, an attorney for Dhiab with the group Reprieve, said in a statement that "sanity prevailed" in the case and that they were looking forward to making their arguments in open court.
"This was a brazen attempt by the Obama Administration to shut the American people out of their own courtroom. And how sad to see the Justice Department deliberately undermining one of the central pillars of our democracy: open justice," Crider said. "This has been a rather poor showing from what was supposed to be the most transparent administration in history."
This story has been updated to include a statement from Cori Crider.
Calling all HuffPost superfans!
Sign up for membership to become a founding member and help shape HuffPost's next chapter