WASHINGTON -- The dozens of Guantanamo Bay detainees refusing solid foods are "more determined than ever to achieve their goals or die trying," a lawyer for several of the hunger strikers told The Huffington Post Monday.
David Remes, a lawyer who represents about a dozen Guantanamo detainees he says are hunger striking, spoke to two of his clients by phone on Friday afternoon.
"Both of them are hunger striking; both had lost a substantial amount of weight; both confirmed that the hunger strike is still going strong and that the men are more determined than ever to achieve their goals or die trying," Remes told HuffPost.
But the military and Guantanamo defense attorneys differ greatly on the number of detainees currently taking part in the hunger strike in Camp 5 and Camp 6.
As of Monday, military spokesman Robert Durand said there were 39 hunger strikers, with 11 of the strikers being fed cans of Ensure via a tube inserted into their stomach through their noses.
Carlos Warner, a federal public defender, told HuffPost that defense attorneys are "very confident" that over 130 of Guantanamo's 166 detainees are on hunger strikes. That number comes from Shaker Aamer, one of the best known Guantanamo detainees, who told lawyer Clive A. Stafford Smith that he could "see the bones" in his chest and that his body "has taken a lot of shock."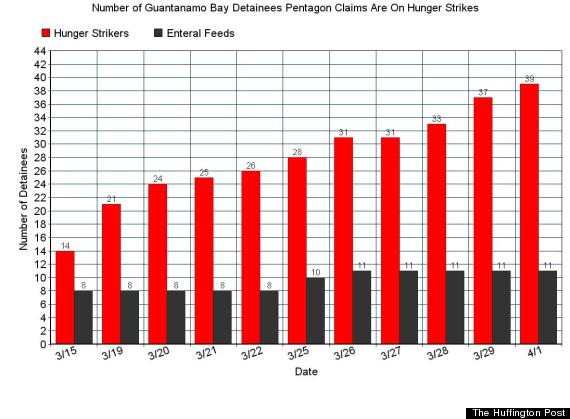 In a letter detainee Yasin Qasem Muhammad Ismail sent to Remes on March 11, Ismail said he had lost 41 lbs. and was down to 109 lbs. He claimed 28 people had lost consciousness, and that the air conditioning unit made it very cold and difficult to sleep.
"In general, everything is going toward the worst," Ismail wrote, according to a translation provided by his attorney. "I believe I am going to die in this hunger strike and this might be my last letter, or today is probably my last day in this world."
There are currently 13 Red Cross staffers, including a doctor, in Guantanamo, Simon Schorno, a spokesman for the International Committee of the Red Cross, told The Huffington Post.
President Barack Obama pledged to close Guantanamo within his first year in office, but faced a number of hurdles imposed by Congress that have prevented the camp from being shut down during his first term. The administration still claims it wants to shut down the facility, but that prospect is looking increasingly unlikely as the Pentagon moves ahead with trials for a small number of the detainees.
Both the Defense Department and defense attorneys acknowledge that the motivation for the hunger strike is tied to a sense of hopelessness among Guantanamo detainees, many of whom have been cleared to be released. The U.S. has designated 86 Guantanamo detainees for release, including 30 from Yemen, but either can't or won't find a way to free them.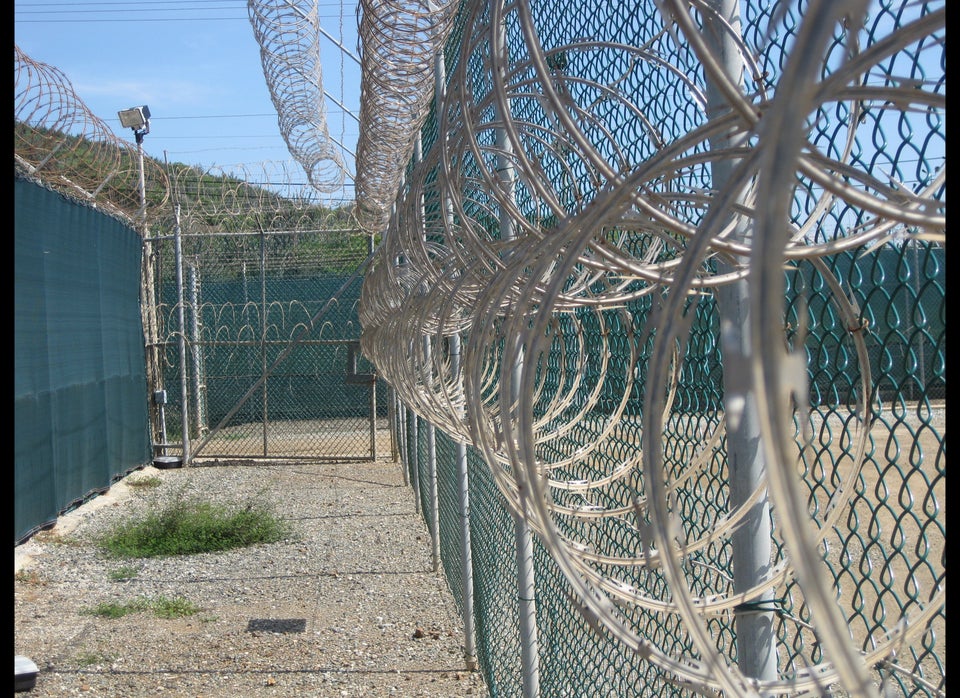 Inside Guantanamo Bay
Popular in the Community