WASHINGTON -- A Guantanamo detainee who had been on a hunger strike for 43 days tried to kill himself in solitary confinement in March, his lawyer told The Huffington Post.
Adel Bin Ahmed Bin Ibrahim Hkiml, 48, of Tunisia, has been held at Guantanamo for more than 11 years. "I haven't seen him in a while. I haven't been able to talk to him," Cori Crider, the legal director of Reprieve, told HuffPost of her client. "But he had a really hard time back in Kandahar back in the days, and I think was never really the same."
Crider had no details on how Hkiml tried to commit suicide, while a Department of Defense spokesman said there had been "no recent suicide attempts." (Full statement below.) In a letter dated March 19 that was just cleared, another Guantanamo detainee told his lawyer who later informed Crider that Hkiml made the suicide attempt in March.
"He was in solitary confinement, yet his attempts failed," the detainee wrote in the letter. "He is from Tunisia and he made his suicide attempt while in Camp V. He was taken by the ambulance and we don't know his whereabouts and whether he died or not. And as of the date of this letter, we still don't know anything about him."
The prisoner hunger strike, in which Hkiml was participating, began in February at Guantanamo, although it was not made public until March. On Monday
the United States government began informing lawyers that their clients were on a hunger strike or had been force-fed. As of Monday, 42 detainees were considered on a hunger strike under the military definition, which means they skipped at least nine consecutive meals. Of that group, 11 were being force-fed.
Hkiml reportedly worked as a butcher, a private in the Tunisian army and a fruit vendor previously. A 2007 U.S. government report stated that he "tries to portray himself as a relatively minor participant in Islamic extremist activities," but said that he was a "significant participant" and that he had "changed details of his cover story numerous times."
Another Guantanamo detainee also informed his lawyer, who relayed the information to Crider, that fellow detainee Samir Naji al Hasan Moqbel had a "minor heart stroke" while being tube fed on March 19 and was sent to the hospital.
"All clients report several people 'falling' daily because of low blood sugar and having to be taken away on stretchers. There is a real risk someone is going seriously to be hurt before this is over," Crider told HuffPost. "Every client we've spoken to says that while the Qur'an started this mess, indefinite detention of cleared men like them is what keeps it going."
Clive A. Stafford Smith spoke to his client Younus Chekkouri, a detainee who is also participating in the hunger strike, on Tuesday. "'Really, now it is just pain everywhere,'" Smith said, recounting Chekkouri's observations in a statement. "'I don't want to die in Guantánamo.'"
Smith said Chekkouri told him that his cell "looked like Hurricane Katrina had just been through" after soldiers searched it in February, setting off the hunger strike.
Chekkouri, who Smith said is one of the most cooperative detainees at Guantanamo, is now only eating Metamucil, he told Smith. "'When I eat it, it feels like the best food in the entire world. I am addicted to the small pieces of Metamucil,'" Smith's statement said.
"'The nightmare has started again. For some time, things had got a bit better here, some of the guards were acting like human beings. Even if we were treated like sheep, at least we were not always mistreated. But now it has changed again,'" Smith's statement said. "'And now 86 of us have been cleared for release and we are still here. Let us leave Guantánamo with clear hearts, and without hatred. Hatred is evil, and it harms the person who is hating as well as the person who is hated.'"
UPDATE: 8:03 p.m. -- U.S. Navy Capt. Robert Durand, a military spokesman, made this statement:
We don't comment on individual detainees' medical or hunger striker status. However, we have had no recent suicide attempts.

We do not consider hunger striking a suicide attempt, but an act of protest. No hunger striker is currently in medical danger, including those receiving enteral feeds. Enteral feeding is a nutritional intervention done before a patient is at risk of experiencing health consequences, and generally returns a patient to 100% ideal body weight in a short period of time.

We take seriously our mission to ensure the detainees' health and safety, and take all suicidal ideations (expressions of intent to harm self or futility), suicidal gestures (hoarding pills, making ropes/nooses) seriously, and intervene to preserve life if we encounter a suicide attempt (actual acts or near-acts of self-harm).
Before You Go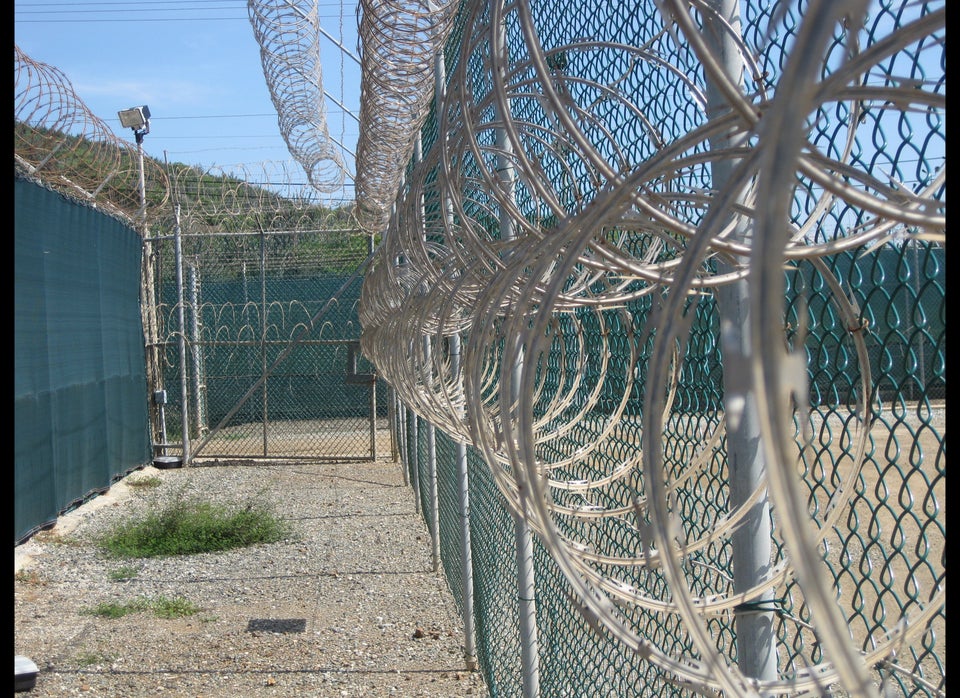 Inside Guantanamo Bay
Popular in the Community