GUANTANAMO BAY NAVAL BASE, Cuba -- Military officials said Tuesday they used appropriate force during a prison raid Saturday that hurt two guards and five inmates, which they said was aimed at stopping detainees from blocking cell cameras.
The officials defended the raid, a minutes-long sweep during an ongoing hunger strike, as necessary to restore cameras that guards use to make sure prisoners aren't harming themselves. Authorities forced prisoners from communal areas into single cells during the raid.
The officials, during a 45-minute briefing with reporters on Tuesday and during an hour-long tour of a prison camp, disclosed two suicide attempts -- one on Friday before the raid, and one on Saturday after the raid.
The officer in charge of Camp VI, who agreed only to be identified as Capt. John, told reporters that prisoners had been using sticks to poke at guards during communal settings before the raid. He described the situation as out of hand.
"I've never been in a civilian prison that looked anything like the communal here, because in a civilian facility, you'll have some level of control," John said as he stood in a cell block with just a few detainees locked into their cells on the upper floors. "And if they live in communal, it really is compliant, they lock down when you tell them to lock down. They move when you tell them to move. But not necessarily here."
John said that in the communal area, guards "had no control over whether their behavior was good or bad." John, who said he previously worked as a prison guard in Louisiana and took over the camp in January, said things had been "pretty quiet" since the raid. "They don't like us. That's the basic mood," John said.
Detainees have been losing hope they'd be able to leave Guantanamo soon, officials said. Many of the detainees have been cleared for release.
"If you read the newspapers, and the detainees have access, they see the political climate … Let me take that word back. They see what's in the news media about some of their possible future stays within the Gitmo facility," said Rear Adm. John W. Smith.
When reporters visited the facility on Tuesday afternoon, guards were watching on video monitors as skinny-looking detainees either sat or lay on beds. A few detainees paced back and forth in cells. Downstairs, in the medical facility, a hollow-faced detainee was handcuffed to the bed and receiving physical therapy.
Before the tour, Navy spokesman Robert Durand showed reporters weapons confiscated after the raid, including shivs made of metal and sticks made of broom handles that had been used to clean communal cells. Officials said during the briefing that two guards were struck in the head during the raid, but were wearing helmets and suffered no serious injuries. One returned to work immediately, the other was given light duty for the day.
Five detainees were wounded. One captive, who officials said purposefully banged his head on the wall, required three sutures. Another had rubber pellets removed from his flank. One had a swollen elbow. Two had slight abrasions.
Officials said they expected the number of hunger strikers to rise from the 45 who were counted on Monday. Attorney David Remes said he was informed on Tuesday morning that guards were force-feeding his client Yasein Ismael. "I am asking you here to save the lives of your clients in Guantanamo Bay," Ismael wrote in a letter to his lawyers.
Before You Go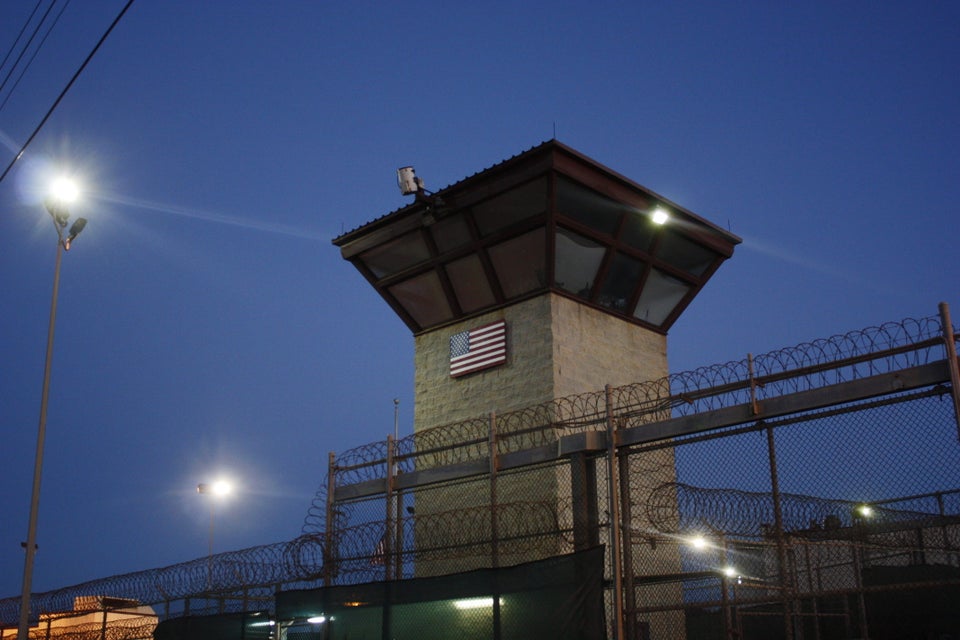 Inside Guantanamo's Prison Facility
Popular in the Community