WASHINGTON -- Though newly minted Sen. Tom Cotton (R-Ark.) would ideally like to see the Guantanamo Bay detainees "rot in hell," he views the harsh conditions at the prison camp as an acceptable alternative. It now appears that he's so dedicated to keeping the remaining detainees there -- regardless of whether they actually pose a threat to U.S. interests -- that he's willing to torpedo the complex web of U.S. foreign relations to do it.
The Huffington Post has learned that Cotton last week suggested cutting U.S. assistance to any ally that helps resettle Guantanamo detainees whom the government has cleared for release. It was not clear whether such sanctions would also apply retroactively to countries that have already taken detainees.
In a closed-door Senate Armed Services Committee meeting about a new bill restricting the Obama administration's efforts to move prisoners out of Guantanamo, Cotton floated his idea as an amendment.
The amendment failed, but the bill was voted out of the Republican-controlled committee last week. The proposed legislation is a clear threat to the White House's plan to shutter the prison -- which the senior-most military official in the U.S. has blamed for a "psychological scar" on the nation -- or so empty the facility that alternative confinement becomes more economical. (Keeping a detainee at Gitmo costs $2.7 million per year.) In January 2009, President Barack Obama promised to shut down the prison within a year. His administration has transferred scores of detainees after clearing them for release, though it has faced criticism for not moving faster. It maintains that Congress has made that difficult.
Dozens of U.S. allies have already taken in detainees judged to be nonthreatening and have won praise from the administration for doing so. If Cotton had his way, the new bill would significantly up the stakes for any ally weighing whether to accept future transfers.
Analysts note that Cotton's proposal would have affected U.S. foreign policy around the world. Multiple countries, ranging from critical counterterror partners in Western Europe and the Middle East to former Soviet bloc nations still building ties to the U.S., could have faced a painful decision: keep their aid and frustrate Obama, or sacrifice some assistance to help with a White House priority.
"Even in the world of bad ideas on Guantanamo policy, proposing to punish some of America's closest allies for agreeing to resettle cleared detainees from Guantanamo would cause grave harm to American foreign policy," said Chris Anders, senior legislative counsel for the American Civil Liberties Union's Washington Legislative Office. "It's good to know that the Senate Armed Services Committee has some line somewhere that they're not willing to cross in their partisan attacks on the president's Guantanamo policy."
The failure of Cotton's proposal may be a sign that the freshman senator, despite his previous one term in the House, could use a crash course in legislative affairs: The Huffington Post has learned that his amendment was kept out of the committee's final bill when other members noted that it affected U.S. programs not under the Armed Services Committee's jurisdiction. Foreign assistance, which Cotton envisioned using in carrot-and-stick fashion to make it harder to release Guantanamo inmates, is overseen by the Senate Foreign Relations Committee.
Cotton's defeat is a small victory for the White House in its greater struggle to defeat the Hill's Guantanamo hawks. The Oval Office has blasted the Armed Services Committee bill and made clear that the president will veto the bill if it ever reaches his desk.
A White House spokesman declined to comment on Cotton's proposal given that the committee did not publicly discuss it.
Human rights advocates were less cautious about making their views known.
"Without having seen the amendment, an attempt to bar aid to any country that accepts Guantanamo detainees just is absurd. It's a collective punishment against a group of individuals ... many of whom shouldn't even be in Guantanamo to begin with," said Laura Pitter, senior national security counsel for Human Rights Watch. "It doesn't make any sense."
An Iraq War veteran, Cotton has made no secret of his disdain for the Guantanamo detainees. In an early appearance on the Senate Armed Services Committee, he made waves with an impassioned speech declaring that the Gitmo prison population should "rot in hell." Just weeks into his Senate tenure, he has solidified a reputation as an unapologetic hawk, comparing the current nuclear negotiations with Iran to appeasement of Nazi Germany and saying the more bombs dropped on Islamic State militants, the safer the U.S. is.
"We should be proud for the way we treated these savages at Guantanamo Bay," the senator said last week about a facility where detainees have undergone force-feeding and sleep deprivation.
"In my opinion," he'd said earlier in February, "the only problem with Guantanamo Bay is that there are too many empty beds and cells there right now."
UPDATE: Feb. 19, 7:30 a.m. -- Cotton's office told The Huffington Post Thursday morning that the amendment proposal didn't technically "fail" because it was never given a vote.
"He didn't ultimately offer the amendment," said Caroline Rabbitt, Cotton's communications director.
Before You Go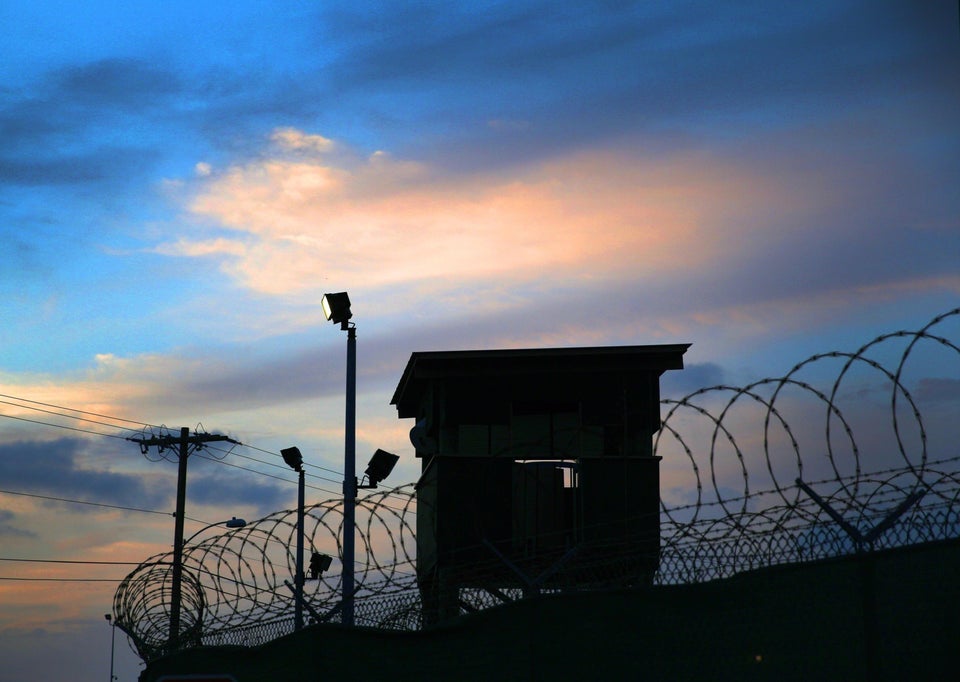 Inside Guantanamo
Popular in the Community