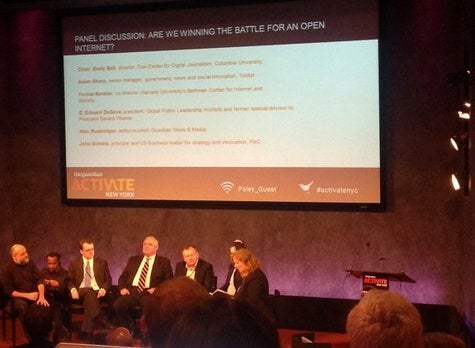 On Thursday, May 3, the Guardian held a media and technology summit in New York, bringing together thought leaders with the theme: "through the use of technology and the Internet, we can make the world a better place."
Speakers included LinkedIn co-founder Reid Hoffman, Google's Alfred Spector, Twitter's Adam Sharp, Facebook's Andy Mitchell, Om Malik of GigaOm, Guardian Editor-in-Chief Alan Rusbridger, media thinker Clay Shirky and HuffPost's own Arianna Huffington.
There were a number of interesting insights shared at the event, held at The Paley Center for Media, but for those who missed it and are crunched for time, here are 10 key takeaways for the news business.
(Scroll down for a more comprehensive overview on the day's events through Storify and click here for analysis from the Guardian's Adam Gabbatt.)
(1) It's time to engage more with our readers/viewers. Rusbridger said that the Guardian wants to "reevaluate the relationship between professional journalists and our readers." He said media companies would benefit from readers feeling they're jointly creating the news. BuzzFeed's Jonah Peretti added readers don't just want to consume news, they want to be part of it, comment and share.
(2) There's a big opportunity for a journalism platform. Hoffman said that news organizations should think about creating open platforms, where its users can both create and discover content. He said a successful platform can lead to rapid growth and innovation, as well as monetization which can be re-invested into the platform.
(3) Social is everywhere and this is just the beginning. Hoffman said we're in the early days of social, it will become even more developed in all that we do at a deeply emotional level. Peretti added that "social is taking over the world."
(4) The process of old doesn't work anymore. While we can blend traditional journalism practices into digital journalism, we have to be careful of obsessing over the process of old. Shirky noted that process comes about as a reaction to prior stupidity, but the future isn't like the past anymore. As an example, he cited the Associated Press holding off on Occupy Wall Street reports while it was being scooped by Twitter.
(5) The future is now. It's time to experiment, innovate and do all that we can to develop new business models and better content experiences. As Hoffman said, "The future is sooner and stranger than you think." John Sviokla added that he believes the media industry is going to see a level of entrepreneurship we haven't seen since the steam engine.
(6) Opportunities exist in data. Spector noted that Google ingests an enormous amount of data and looks at it smartly to spit back results in seconds. He added that technology is constantly improving and new ways to use data effectively are being discovered all the time. Sharp added Twitter is a real-time index of what's going on in the world, and that data can be tapped into for stories like the 2012 elections.
(7) Storytelling is the master of all mediums. When you walked into the summit, a giant poster could be seen: "Great content lasts forever." Over and over, powerful stories were emphasized as the best of content. Sharp added that journalists can use tools like Twitter to tell stories in real-time and to find story ideas.
(8) We're too short-term focused. American companies are obsessing over the right now, and losing sight on creating meaningful, lasting companies over the long term. Sviokla added that career changes are more likely for people these days because they're living longer than companies. Malik added, "Short term thinking is pervasive throughout American society and business."
(9) Don't forget about text messaging. Nancy Lublin of DoSomething discussed how it can be a powerful way to reach people, especially young people. Texting has a "100 percent open rate" (email does not). Lublin said that the 'update your status' campaign had 40 times more sign ups on texting than Gmail.
(10) The Web's getting better at personalization. And news organizations have to figure out what this means for them. Reuters' Felix Salmon said in the #guardianchat panel that Twitter is his No. 1 news source now. Between Twitter and other services, like a startup called Percolate that Salmon uses, he says more and more of the Internet is "allowing you to spend the time you want to spend on any given subject." Eli Pariser, author of The Filter Bubble, noted that effective personalization engines can deliver "news that matters to me."
Support HuffPost
The Stakes Have Never Been Higher
Related
Popular in the Community