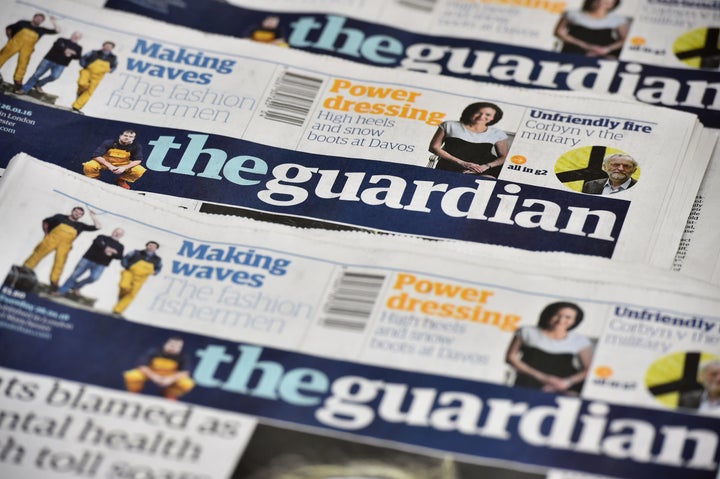 NEW YORK ― The Guardian is scaling back its U.S. operation through a staff reduction of 30 percent, according to a source with knowledge of the plans.
The Guardian, a 195-year-old British newspaper and global news site, has struggled financially as print revenue and circulation collapsed throughout the industry. Earlier this year, The Guardian announced plans to cut costs by 20 percent over three years, and nearly 270 employees in the U.K. operation took buyouts in June.
Now the U.S. operation, which was launched in 2011, is grappling with what Guardian Media Group CEO David Pemsel described Thursday in a staff meeting as a "course correction." Guardian US chief Eamonn Store informed staff the company was facing a $4.4 million budget shortfall, thereby necessitating major cuts.
In a separate memo, Pemsel and Editor-in-Chief Kath Viner said that the U.S. staff will be reduced to approximately 100 people and that "the impact will be spread across all departments and the priority is to protect Guardian journalism."
"We will maintain streamlined newsrooms in New York, Washington DC and San Francisco, protecting our ability to deliver the diverse news reporting, analysis and digital content that our readers expect and ensuring that the Guardian remains a fully round-the-clock global news service," they wrote.
Management will consult with the News Media Guild, which has represented the Guardian US staff since it unionized last year.
While newspapers such as The New York Times and Washington Post built paywalls in recent years to bring in digital subscription revenue, The Guardian focused on growing a global readership online. The company launched an Australian edition two years after the U.S. site.
But digital advertising, which brings in a fraction of what print does, couldn't offset losses even as the publication's traffic and reputation grew in the U.S. More recently, Guardian executives have sought additional revenue through a membership model, a plan that's been met with skepticism in the newsroom.
Alan Rusbridger, who led The Guardian for two years, earning worldwide acclaim for coverage of the British phone hacking scandal, stepped down last year to become chairman of the Scott Trust, the nonprofit company that owns the paper. But in May, amid reports about The Guardian's financial woes, it was announced Rusbridger would no longer get the job.
The full staff memo from Pemsel and Viner is below:
Dear all,

In January we launched a three-year business plan in response to the changing media landscape and the volatile advertising market. Since then we have made difficult but necessary changes across the business, including successfully running a voluntary redundancy programme in the UK, to reduce costs and help position GMG for long-term growth.

Alongside the implementation of these UK measures we have been assessing the health of the US business which, back in January, we said needed to break even in 2017/18 and to make a financial contribution thereafter.

The Guardian has seen strong US audience growth in the first quarter of this year. It is now among the top five digital newspaper platforms in America. Our growing readership base reflects a strong appetite for the Guardian's independent, progressive journalism.

However, US news publishers are facing conditions as challenging as those of the UK. Many of them are falling short of their stated financial targets and are having to reorganise as a consequence. Meanwhile, companies such as Facebook and Google are growing in dominance – by some estimates, 85c in every new dollar of digital advertising revenues is going straight to them. It is inevitable that such seismic shifts in the business model are adversely impacting our revenues despite the Guardian's strong US brand recognition.

We need to adjust to these new realities of the US market by revising our forecasts and addressing the costs of the Guardian's US operations.

The proposed cost and resource reductions – which are being outlined to US staff today – will allow us to continue to produce serious, independent journalism and break important stories but will begin to rebalance and diversify the revenue mix, as we focus on creating a business model that is less reliant on advertising and more focused on direct client relationships, membership and philanthropy.

We are also proposing to reduce the overall size of the Guardian's US operations to approximately 100 people. The impact will be spread across all departments and the priority is to protect Guardian journalism. We will maintain streamlined newsrooms in New York, Washington DC and San Francisco, protecting our ability to deliver the diverse news reporting, analysis and digital content that our readers expect and ensuring that the Guardian remains a fully round-the-clock global news service.

Other savings will come from freezing recruitment and reducing spend in areas such as marketing, consultancy, travel and general expenses. We will also look to consolidate agency sales around core growth accounts and agencies and to optimise the commercial team to support our membership and philanthropic efforts.

We will be making the necessary headcount reduction in line with standard practices in the US market and will offer fair terms to all affected by the changes. We will be consulting with the News Media Guild on how the plans will affect editorial staff in the US.

The full impact of these changes will bring Guardian US closer to its target of break even in 2017/18 and provide a clearer financial framework for Guardian US for the years up to 2021 and beyond. However, as in London, we will continue to take the necessary action to manage the cost base in a volatile market in order to protect Guardian journalism in perpetuity.

Eamonn Store and Lee Glendinning have outlined these plans in more detail to the US team today. We will both be working very closely with them and everyone affected during what will inevitably be a tough and challenging process.

David and Kath
Related
Popular in the Community