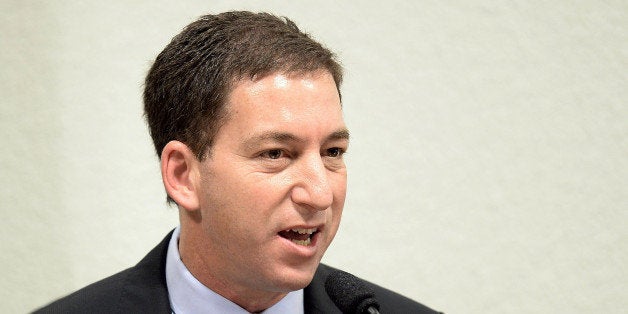 The Guardian has mounted a staunch defense of its national security reporting after a rival newspaper penned a remarkable attack on its decision to publish some of the secrets leaked by Edward Snowden.
It is a rare thing to see one newspaper go after another as viciously as the Daily Mail has gone after the Guardian this week. The two titles are diametrically opposed in their politics, and the Guardian is often seen as something of a pariah for its exposure of News Corp's phone hacking, but the scale of the Mail's campaign was still surprising. After Britain's new spy chief said that the Snowden leaks had damaged national security--something spy chiefs almost always say after secret information is revealed to the public--the paper published two front-page splashes in a row with headlines like "PM backs spy chief's attack on Guardian."
On Thursday, the Mail went one further, with an editorial titled "The paper that helps Britain's enemies."
"We have always argued that a line needs to be drawn between the civil liberties we treasure and the interests of national security," the editors wrote. "We believe the Guardian, with lethal irresponsibility, has crossed that line by printing tens of thousands of words describing the secret techniques used to monitor terrorists."
The Guardian struck back on Thursday night, publishing 27 separate comments in support of its reporting from the editors of some of the world's most prestigious outlets, including the New York Times, Le Monde, El Pais and Der Spiegel.
It also published an editorial of its own. The piece read in part:
The Mail's leading article must be read in the context of a fervent discussion about press regulation in which it is leading the charge for journalists to be both free and trusted. But Thursday's editorial argues the opposite. It is a statement of anti-journalism: editors, it says, cannot be trusted. They must defer to the state. We sent the Mail's editorial to two dozen of the most respected editors in the world - many of whom are quite familiar with the exercise of using their best editorial judgment to balance issues of security against the wish to inform their readers on matters of high public importance. Virtually unanimously they reject the Daily Mail's concept of journalism, as expressed in Thursday's editorial.
REAL LIFE. REAL NEWS. REAL VOICES.
Help us tell more of the stories that matter from voices that too often remain unheard.