The day opens with stunning spring weather in Los Angeles. We board the shuttle and half an hour later; we're at The London West Hollywood Hotel, located in the old Bel Age Hotel, From the stars on the reviews, it's posh. However, the stucco building isn't much to look at from the outside.
As we approach the entrance, the luxury begins to whisper.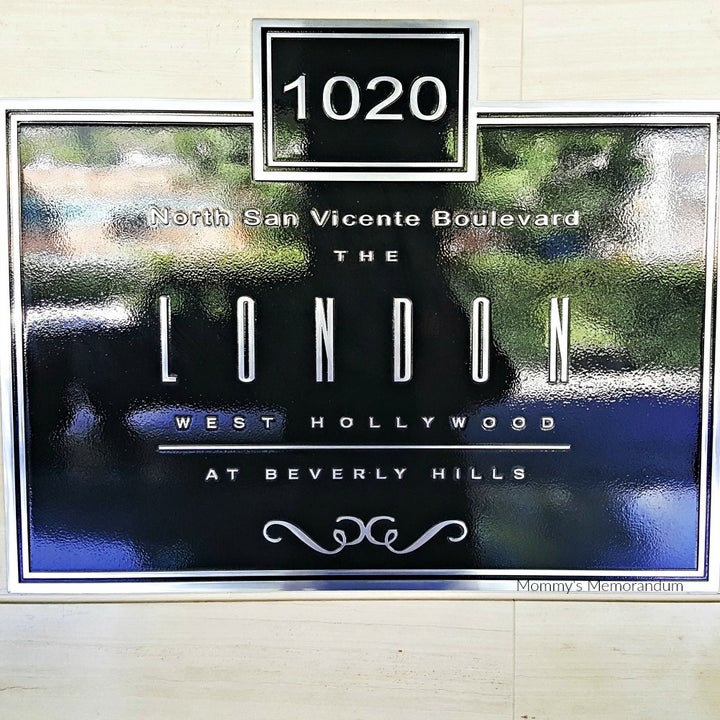 The buzzing driveway seemed to fade as we entered the grand foyer. The high ceilings, lovely florals, and glittering mosaic floor bring the elegance to view.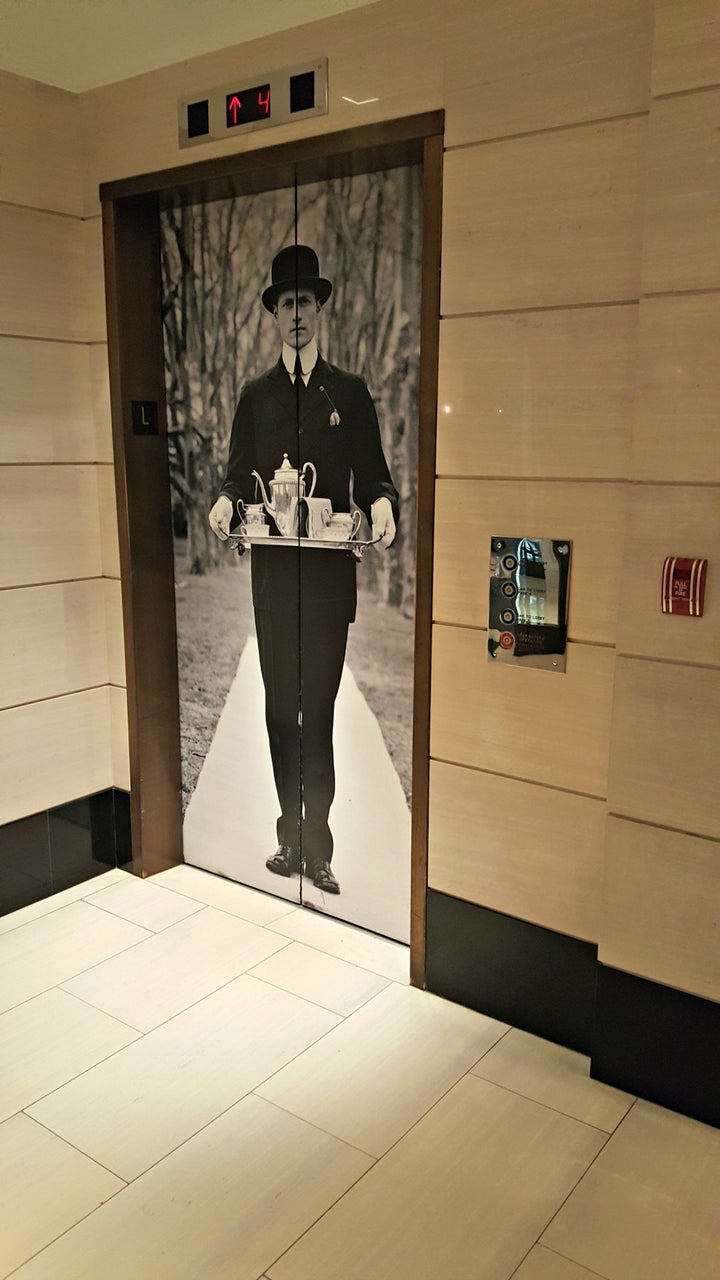 We step into the elevator lobby, and I love the life-size black and white print of a man in a bowler hat carrying a tea-set that adorns the sliding doors of the ground-floor elevator. There are two other elevators with more whimsical embellishments adding to the beauty of this hotel.
It's old Hollywood with modern Hollywood glitz.
Off the elevator and we file into our interview room. It's recognizable by the black sharpie spelling out "Bloggers" on an 8.5"x11" piece of paper hanging on the wall
It's a small room, with a window that has a sweeping view of the Los Angeles skyline. The view seems flamboyant against the muted colors of the room.
One wall is parquet veneer that is a pattern of rectangles forming squares. The colors wash out the room. An ivory paint with a silver wallpaper printed with a less-silver damask design. In front of the room, a small table covered with ivory linens is the centerpiece. Chairs await our guest.
He enters the room as you'd expect a Star-Lord to enter.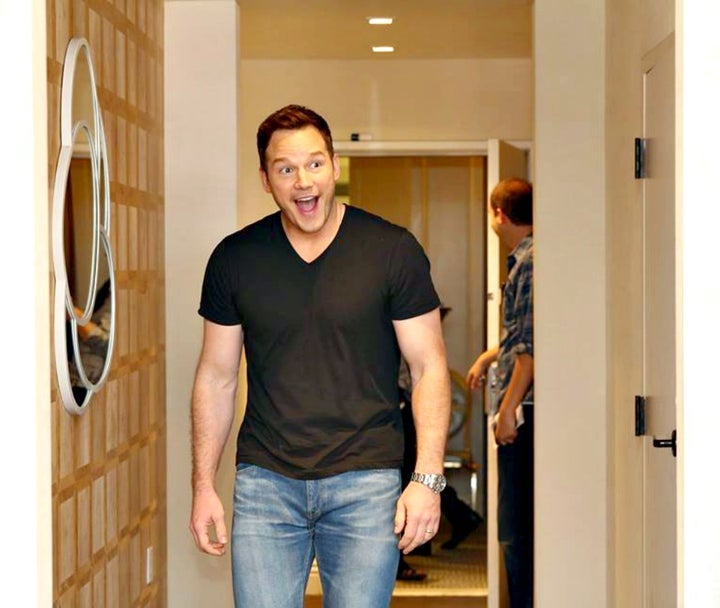 The room is a rumble of applause. Chris Pratt, known for his roles in Jurassic Park and Guardians of the Galaxy, has arrived. Star-Lord or not, his presence is known. Standing at 6'2", Pratt welcomes the recognition.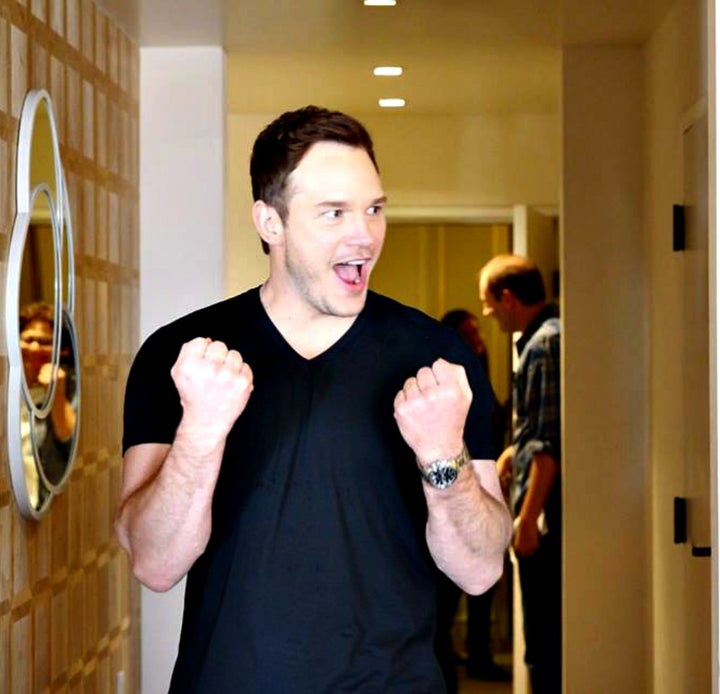 "What a nice welcome I need that from everyone. I love this! Hi, Guys." His voice is enthusiastic and warm.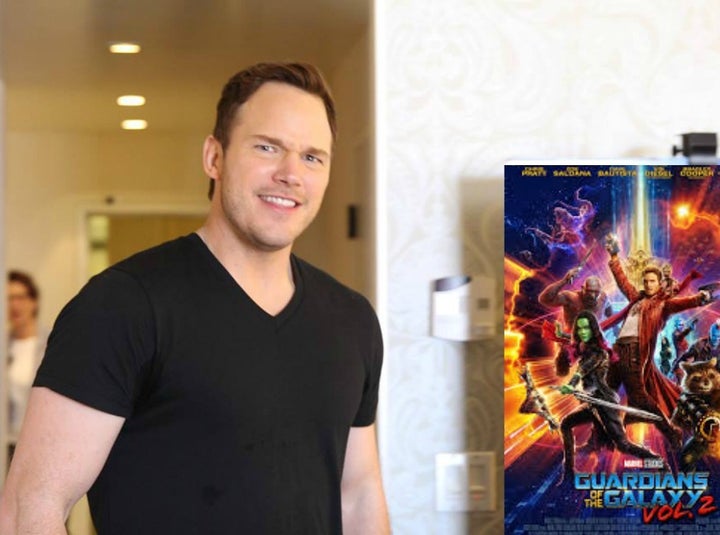 "I saw it about a week and a half ago for the first time, and last night was the second time. I was so relieved when I saw it because I knew the script. The movie is exactly how the script read. When I read the script, I knew it was good. But there's so much stuff that can happen between reading the script, and then watching the movie, you know? There's so many moving parts, some of which I'm responsible for. So, I when I went to see it, I said, "Please still be good." I was just relieved to see that the movie was as good as the script."
His nose scrunches as he speaks.
He punctuates sentences with a smile.
Then he moves on to discussing his thoughts on his role as Star-Lord and how it transitions from the original to Guardians to Guardians of the Galaxy Vol. 2.
"The idea was mind blowing. It was next level to me. And, understanding the nuances I was allowed to play as this character, which is different from the first movie. I mean, there were certain emotional tones in the first movie with Peter Quill with his mother,Meredith, with that side of his origin. But this new story, feeling the reality of his biological father, and this guy that he's built up in his mind. It's a very contemporary story, and there are a lot of kids that will relate to his character. Kids whose dads weren't around. Kids who have another man in their life who's been responsible for raising them. How can take relationships for granted that aren't those relationships we have built up in our mind. James (Gunn) told me the whole script when we sat down a couple years ago. I was the first person to hear it. I was crying at the end."
In Guardians of the Galaxy, we hear Peter Quill talk often of finding his biological father. If you've followed the buzz around the #GotGVol2Event, you know that Kurt Russell was cast as Peter Quill's dad, Ego.
It might be the most perfect casting in Hollywood. Ever.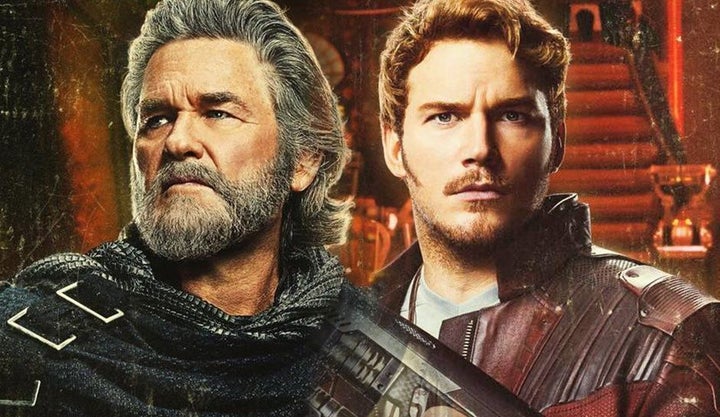 Chris Pratt talks about working with Kurt Russell on and off the screen.
"Ah Man; everyone on my team, everyone who's been hanging out with him, they're commenting, "He's such a great dude." And, he really is. I've heard a few people say, "It really feels like you guys could be father and son." We share a lot of the same passions. He's a really cool guy. He's a really open book. Definitely, you know where you stand with him. He tells it like it is. And, I really like that."
And then there is a pause. The nose scrunches, the smile widens and Pratt reveals he's like everyone else.
"Kurt Russell. Obviously he's this iconic dude, who I've known about for decades before he ever knew I existed. There's always that strange moment when you meet someone and you're a big fan. You feel like you have to tell him, because otherwise you try to build a friendship and it's a little inauthentic. You just say, "Listen, I have to get this part out of the way, but I love you SO much. You're the best. You're the best. You've always been the best." And Kurt says, "Yeah, I know. Thanks."
The Guardians of the Galaxy Vol. 2 follows the original with quirky characters and hilarious humor. Star-Lord has some of the funniest lines of any superhero. Like Star-Lord, Chris Pratt is hilarious. He shares scenes that made it into the movie that was not written but ad-libbed.
"James really knows my voice. Especially in the second movie he wrote the script in a way that it sounds like stuff I would improvise. There are a few jokes that I improvise that made it."
He did tell us one particular joke, but I don't want to spoil it!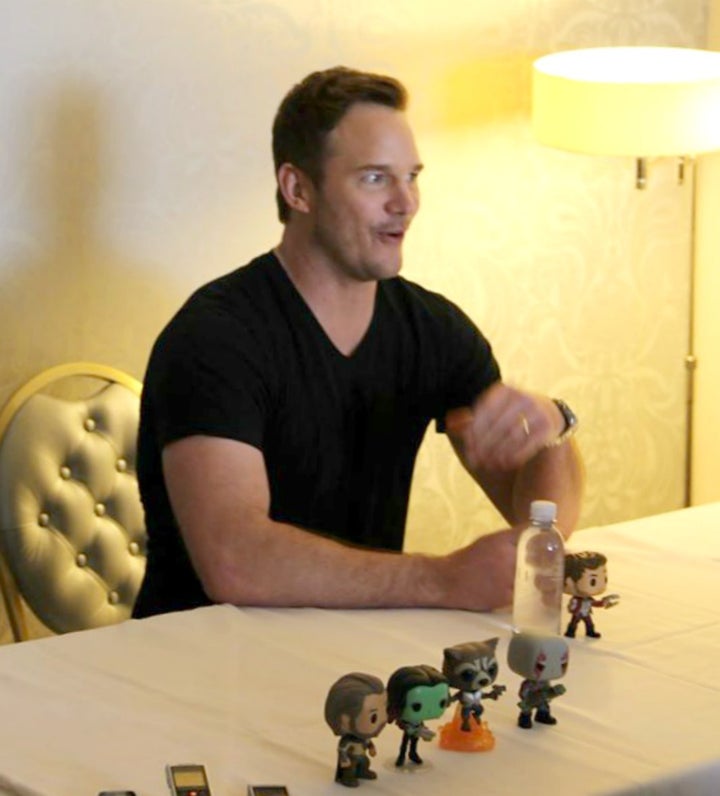 "I was talking to James about that today, on the day it happened, it wasn't that funny. We had done the scene a bunch of times, and they had to do it again because they needed to get something else. I knew they already had whatever the line that was written. They already had it. I knew when they already have it, then that's my room to play. They're going to throw this take away so I am going to say whatever I want. I said it and James said, "Yeah, yeah, yeah. That wasn't funny." Then he put it in the movie!"
If you follow Chris Pratt on Instagram, you know that it doesn't get much more authentic. He openly shares who he is when not behind a character in a movie. He's an ordinary guy, living life one day at a time as the rest of us. One of the bloggers asks a question from her children who follow Pratt's Instagram.
He's invited to discuss Peter Quill's favorite snack and then Chris Pratt's favorite.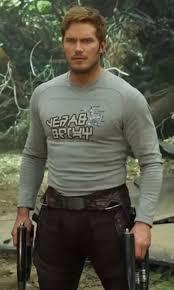 "I'm glad that they asked that, and thanks for following me on #WhatsMySnack Snack Nation. Peter Quill's shirt in the movie, if you see that...that's his favorite snack.
It's actually a label from, this is a little Easter Egg, but from the first movie, there was some candy on the table. I think I'm eating some of the candy. James (Gunn) really loved the label, the art department had gone the lengths of creating this language, and created a label for some candy. He put that label on the shirt. That's the snack Peter Quill likes to eat. That's probably his favorite snack."
"Man. I like cheese and crackers and Crudités, that kind of thing. Cheese, crackers, and mustard and that kind of thing. If I could I'd just live on that. I'd get fat and Doritos with my face on it I should say."
I remember Chris Pratt from Parks and Rec as Andy Dwyer. He was a little more chubby, compared to his now incredibly fit body. Obviously.
It's something he's made fun of in the past.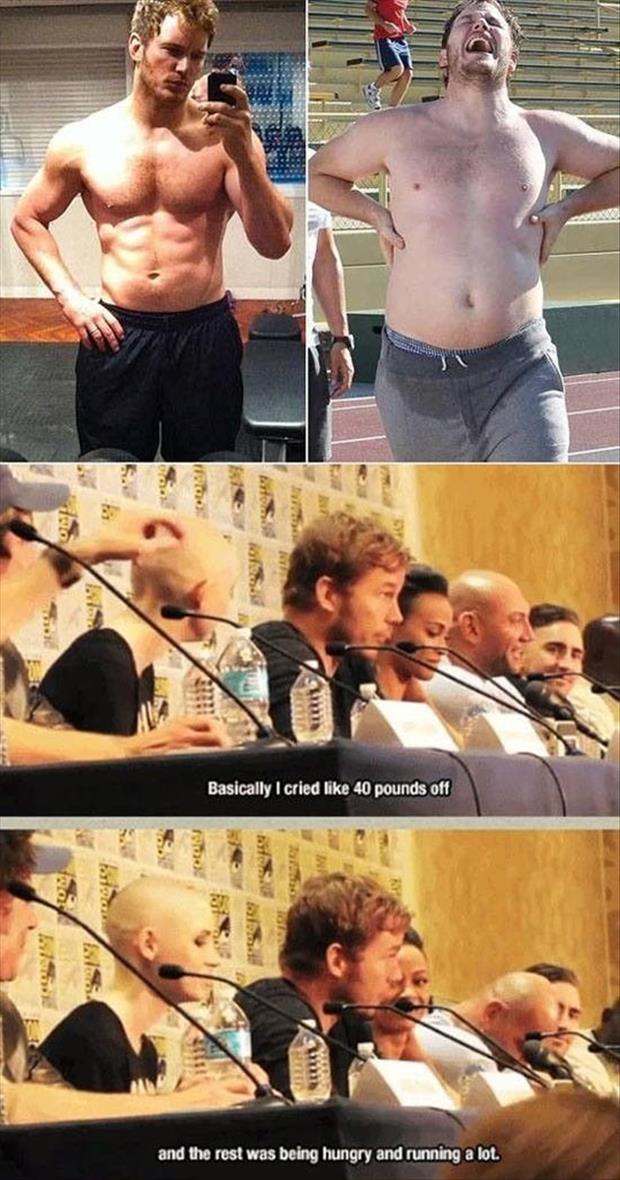 How exactly does Pratt keep the weight off and his physique up?
And here's where we all fall in love with Chris Pratt again.
"If I'm going to be fully authentic--I'm pretty careful about when I reveal myself to the public. I do it in a way to make you think that I've kept it off the entire time, but I haven't."
"Seriously, I keep close to what I need to be, but I have to live my life as well. So, when I do a shirtless scene, or I do a magazine cover, or I do a photoshoot that I know is going to get a lot of press, I then dial it in so that I can take a good picture. All my eating habits and diet fitness habits are, and it's very shallow of me, but hey, they're very much based around how I'm going to put myself out there."
He understands the weight struggle and gives diet advice: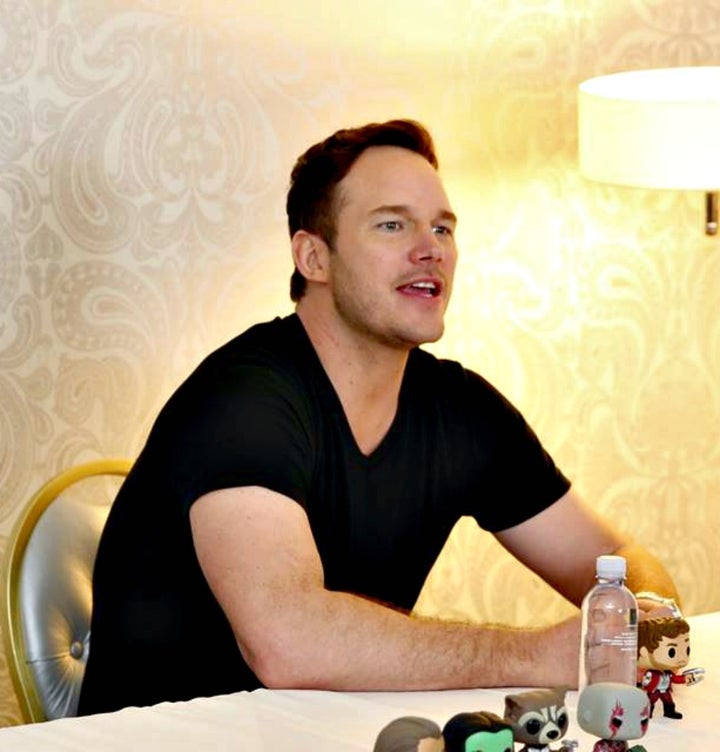 "Don't be hard on yourself if you can't lose weight and can't keep it off. That's just really natural. I think the best thing, the best way to think about it, is not to have a weight goal. Do you know what I mean? It's not to say my goal is 225 pounds. That's not my goal. My goal is six months. It's six months of consistency. Go to the gym, or do something every day for six months. See if I can do that. Make the goal, a consistency. Build up a bunch of consistency and make it more of a lifestyle, rather than seek out a weight goal."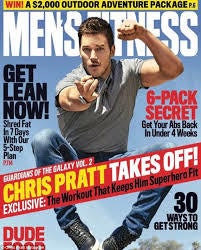 "I just did it a couple weeks ago. I had like a photo-shoot for Men's Fitness or something, and I made that my goal. I worked hard for weeks and weeks and weeks. I got in great shape. I felt good. I did the photo. Three days later I put on 20 pounds. Just because I was so goal-oriented! You hit that goal and you're like, "Nailed it! Let's eat! Let's eat just a little bit, and then six weeks have passed and I'm, "What did I do? Why did I do that?" So, it's natural to kind of go up and down."
Chris Pratt is very philanthropic. It's one of the things you may notice about him when he's not acting.
He was born in Virgina, Minnesota and as a child, his family moved to Northwestern Washington State. He gives back to his community; he visited a Children's Hospital. He has worked with March of Dimes, Malaria No More. He delivers it with a boy-next-door kind of style. He's referred to as the "Russell Wilson of Hollywood."
"I actually credit Russell Wilson. I think I saw how he did it, and this guy's awesome! He's open about his faith. He is a superstar quarterback, and, I have a pretty healthy and not that secret man crush on him. I saw how he did it, and what he did at Seattle Children's Hospital. It was about the same time that I got Guardians of the Galaxy. I remember thinking to myself, 'if this thing does what it could potentially do, and there's a world where it would mean something for me to go do that, I'll definitely do it.' I follow, and I get that from Russell Wilson, but I think if I credit Russell Wilson, he wouldn't take the credit. He'd give the glory to God. He would say that..."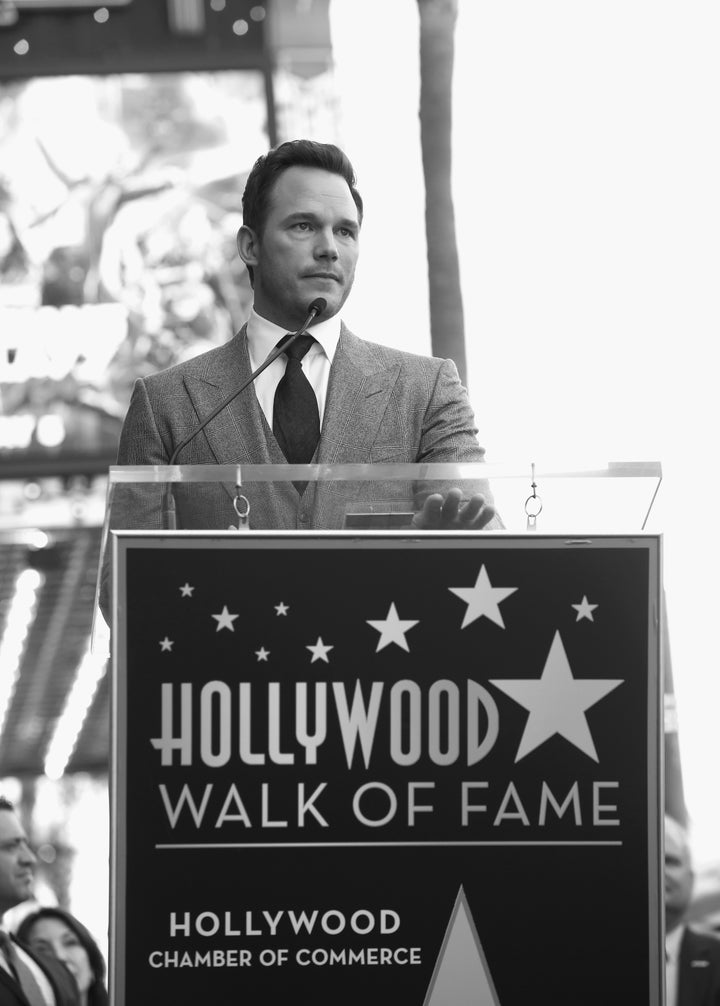 "Thanks for asking me that question. That's a good question. I know Anna gets asked that question all the time, and she's like, "How come no one ever asks you that question?" I think it's not easy.
It's real. A lot of communication. We have help. We have just to plan everything. Everything has to be planned. You manage it by just making sure everyone is doing what they need to be doing. You check in with everyone. I have a staff of people who work for me, and it's their jobs to make sure that I'm where I need to be.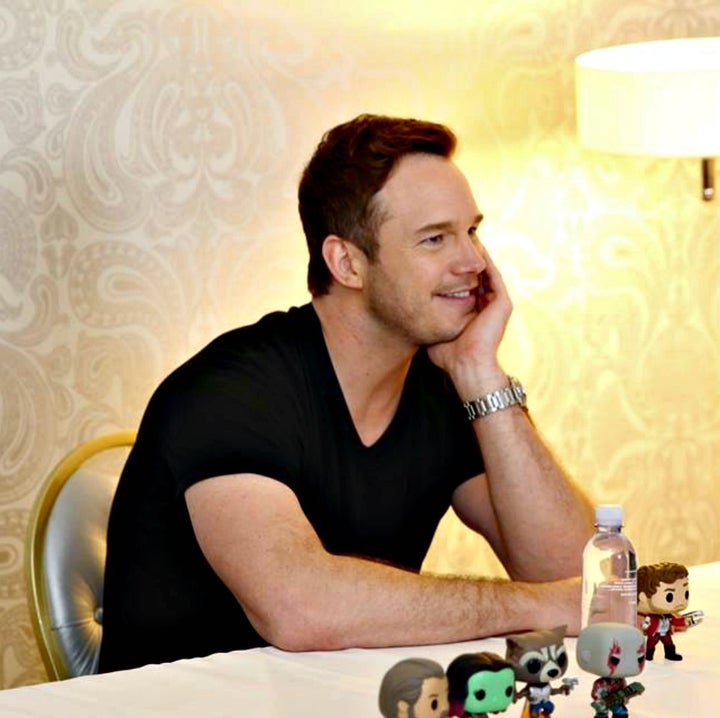 If I did all the administration in my life, I'd never have time to do anything. I told my publicist, 'I'm like a parcel. I don't even travel; I just get shipped everywhere.'
I just focus on what I can do. I think you don't have to be present to be a presence, and with technology now, Facetime, little tricks, little things like that. Checking in every day, and nurturing your relationship with your spouse, and not making it just about the kids is important.
We were just in London filming, and I hadn't seen my family in a while. They came to visit me, and stay with me for a few weeks. Anna and I took a weekend trip for ourselves to Paris and left Jack behind. As much as we were enjoying ourselves, we were still saying, "It'd be really fun if Jack were here."
It was good for us to be out there by ourselves, and do that. Just prioritize, work on it, make lists, and probably you're going fail; some of the time. Just do your best."
See Chris Pratt as Star Lord in Guardians of the Galaxy Vol. 2 in theaters every where May 5th.
Support HuffPost
The Stakes Have Never Been Higher
Related
Popular in the Community