LOS ANGELES, (Variety.com) - And just like that, Star-Lord and his band of super buddies are back on top of the box office.
"Guardians of the Galaxy Vol. 2" blasted into domestic theaters this weekend to kick off the summer box office to the tune of $145 million at 4,347 locations. The latest from Disney and Marvel was expected to make $140 million, but possibly more by some analysts considering the studio's track record and enthusiasm that the first go-around generated.
"We feel great. It is a spectacular number, period," said Disney's distribution chief Dave Hollis. "This is such a fresh and exciting film ... it's the kind of event that gets people excited about going to theaters."
Returning to deliver more bright colors, wise-cracks and another groovy soundtrack, James Gunn directed and scripted the movie starring Chris Pratt, Zoe Saldana, Dave Bautista, Vin Diesel, and Bradley Cooper as the titular guardians. The film also features expanded roles for Karen Gillan and Michael Rooker, as well as prominent new characters played by Kurt Russell and Pom Klementieff. The movie functions as an escape thriller, and an origin story for Pratt's Peter Quill (aka Star-Lord). Gunn is already attached to write and direct the third "Guardians" movie.
"Guardians 2" came into its opening domestic weekend with well over $100 million in the bank from international ticket sales. It made more than $106 million in its first weekend at 58 percent of overseas territories. This weekend the movie earned an estimated $124 million abroad after opening in several more major foreign markets including Korea, Russia and China. That raises the global weekend total to about $269 million and the movie's total global take so far to $428 million.
The latest addition to the Marvel Cinematic Universe entered theaters with high expectations. When the original was released in 2014, it was a relatively unknown property that managed to smash records for the month of August when it opened to more than $94 million domestically (still modest by Disney/Marvel standards). But word-of-mouth kept building, and by the end of its theatrical run, it had raked in $333 million domestically and $440 million overseas.
"The strength of the brand is a license to take risks," Hollis said, noting that the "Guardians" films are the perfect counter to any notion of superhero movie fatigue. "These films have never just been superhero films, they are genre films. Each of these movies feels wholly and uniquely different."
Now the rag-tag group of heroes has entered the public consciousness. "Guardians 2" was struck with the double-edged sword of familiarity ― the original spawned a fondness and a fandom for the characters and their world (that led to a much larger opening for the second installment), but a sequel is hard-pressed to recreate or recapture the same type of surprise and enthusiasm that struck audiences in 2014.
"It's all about strategy when it comes to Marvel and with 'Guardians Of The Galaxy Vol. 2,' the notion of moving what was an August release for the first film to the key summer kick off spot in May clearly paid huge dividends for Disney," said Paul Dergarabedian, senior media analyst at comScore. "For this 'Guardians' to post the sixth best bow for the month is incredibly impressive given the Cinderella story of the title's ascension from being a little known question mark of a movie, to a global phenomenon."
"Guardians 2" enjoyed the widest Imax opening ever ― 1,088 screen in 69 markets. The film made $25 million on Imax screens including $13 million in North America. $174 million of the movie's global earnings this weekend came from 3D ticket sales, according to RealD, which was responsible for about $72 million of the take.
There isn't much of note at the box office this weekend apart from "Guardians." Universal's "Fate of the Furious" cruised into second with $8.5 million at 3,595 theaters. The film now has over $207 million at the domestic box office. "The Boss Baby," from Fox, took third with $6.2 million from 3,284 locations. Pantelion's "How to be a Latin Lover," which seduced its way past "The Circle" last weekend to post strong numbers and a second place finish, slides into fourth with $5.3 million from only 1,203 spots. And Disney's other box office animal "Beauty and the Beast," rounds out the top five with $5 million at 2,680 locations ― the movie is now in its eighth weekend of release.
In limited launch, the Orchard's "The Dinner" made $669,000 from 509 locations. The new release is a thriller toplined by Richard Gere and Laura Linney, adapted from the Dutch novel of same name by Herman Koch about two couples with family issues. "3 Generations" got a six-theater limited release from the Weinstein Company, and made $20,000. The drama about identity and acceptance stars Naomi Watts, Susan Sarandon, and Elle Fanning as a transgender teen.
Get used to seeing "Guardians 2" on top. The big-budget superhero flick should coast past Warner Bros.' "King Arthur: Legend of the Sword" next weekend, and possibly the following frame as well when it will face the long-awaited reboot from Fox, "Alien: Covenant."
Before You Go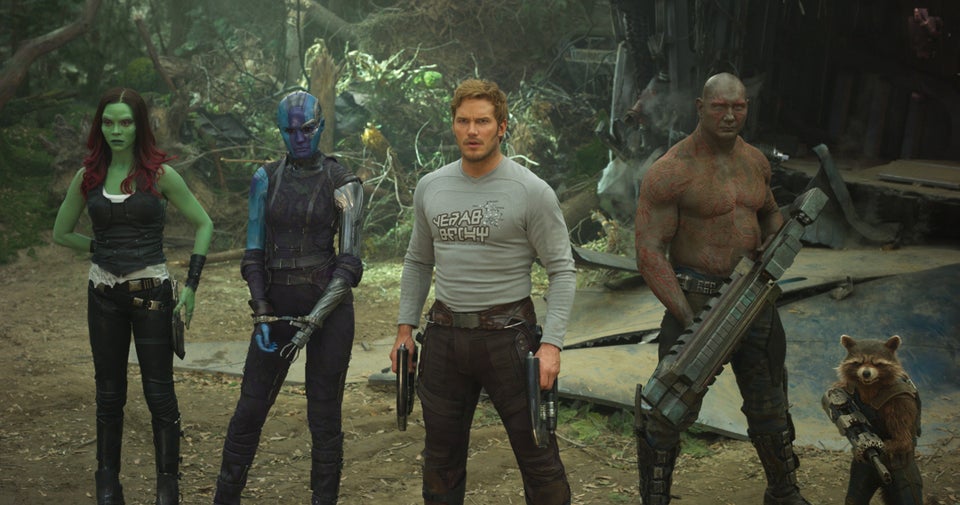 2017 Summer Movie Preview
Popular in the Community