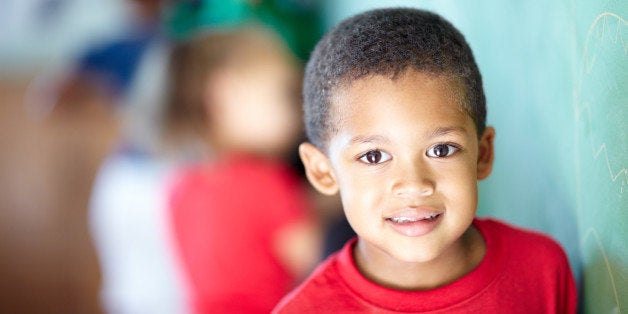 In 2014, California author and mother Tunette Powell wrotea piece for TheWashington Post that as an educator and parent continues to shock.
In it, the African-American mother of two recounted the details of her sons' preschool experiences.
Both boys -- ages 3 and 4 at the time -- had been suspended from preschool, multiple times, for inappropriate behavior such as throwing a chair and hitting a staff member on the arm.
If the idea of suspending a preschooler -- so young as to be unable to tie his shoes or brush his own teeth -- is baffling, wait until you hear the rest of her story.
Powell and her husband wondered what they were doing wrong, until they brought the subject up at a child's birthday party. Mostly White parents of her sons' classmates were in attendance.
One after another, White mothers confessed the trouble their children had gotten into. "Some of the behavior was similar to [Powell's oldest son]; some was much worse," Powell said in her Post commentary. "Most startling: None of their children had been suspended."
Powell was startled by that revelation. Maybe you are too.

Uneven treatment of Black and Brown children has a long history.

But the sad fact is that this kind of uneven treatment of Black and Brown children has a long history -- and is more than just anecdotal. It continues to be proven by unassailable research.
The research used high-tech eye-tracking technology and found that preschool teachers "show a tendency to more closely observe Blacks and especially Black boys when challenging behaviors are expected." Moreover, Black teachers, the study said, were even more likely to hold Black students to a higher standard of behavior.
The study explores many reasons why this might be the case: Black educators are trying to prepare Black children for a harsh world, is one hypothesis.
Whatever the impetus, this kind of implicit bias is detrimental to the growth and well-being of Black children, whether the discriminators share their skin color or not. What we believe about a person -- or a group of people -- translates into how we act toward them, and, worse, what those people start to believe about themselves. That translation of beliefs into actions, and guiding thoughts, is pervasive in our society and it is dangerous. And many of us are painfully aware of the reasons the Black Lives Movement became a salient part of the American narrative.

This kind of implicit bias is detrimental to the growth and well-being of Black children, whether the discriminators share their skin color or not.

This narrative for the very young was captured, for instance, in the doll preference studies from the 1940s. Psychologists Kenneth and Mamie Clark conducted a now famous series of experiments to study the psychological effects of segregation on African-American children. The study became an important basis for the 1954 Brown v. Board of Education Supreme Court decision.
Using four dolls, identical except for color, children between the ages of three to seven were asked to identify both the race of the dolls and which color doll they preferred. A majority of the children preferred the white doll and assigned positive characteristics to it. The researchers concluded then that "prejudice, discrimination, and segregation" created a feeling of inferiority among African-American children and damaged their self-esteem. In other words, Black children internalized the stereotypes they gleaned from growing up in a society that devalued them, discriminated against them and dismissed them as inferior.
Sadly it would seem, the more things change, the more they stay the same. Implicit bias is the tendency for our subconscious selves to feel or exhibit a bias toward certain groups of, or characteristics in, people -- in part because we've been bombarded by negative images and messages. It was as prevalent in the 1940s as it is now -- even in our preschools.
But the good news is, it doesn't have to be this way.
"We know that implicit bias can be reduced through proper training and should be a core component of early childhood teacher education," said one of the Yale study's authors, Dr. Walter S. Gilliam, director of The Edward Zigler Center in Child Development and Social Policy and Associate Professor of Child Psychiatry and Psychology at the Yale Child Study Center.
That's exactly what we know to be true at NUA. And it's precisely why we partner with school-based educators to do what we do in school systems across the country.
Working with teachers in a true partnership, we check, challenge and change deep-seated beliefs that can be barriers to effective teaching and learning. We model and demonstrate effective best practice in classrooms led by educators -- with science, data and meaningful interactions with students and communities -- that all students have the capacity to think and achieve at high levels, extend beyond their current boundaries and reach their full potential.
We establish with teachers that neuroscience continues to suggest that all students have 86 to 100 billion neurons capable of adjusting to the environmental challenges that poverty, segregation and discrimination have on learning.
We should be nurturing our youngest members of society, not harshly punishing them. When we increase opportunities for teachers to confront their biases, learn culturally responsive pedagogies and begin to appreciate the strengths and capabilities of all their students, we increase self-esteem, academic performance and upward mobility.

We should be nurturing our youngest members of society, not harshly punishing them.

Implicit bias is a dangerous weapon. It can come to dominate and damage a national socio-cultural-psychological and political discourse. Used appropriately, education can establish a shield for Black, Brown, White, Asian and Indigenous peoples, so that life trajectories can be improved and sustained.
There is no more important national priority for our diverse nation than that.
Popular in the Community