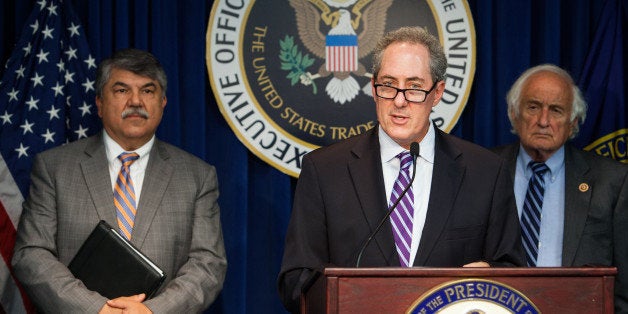 WASHINGTON -- The United States accused Guatemala this week of failing to live up to the labor standards spelled out in the countries' trade agreement, pursuing a case that could lead to fines if Guatemala doesn't move to better protect its workers.
U.S. Trade Representative Michael Froman said he was moving ahead with the case in hopes that Guatemala, a partner of the U.S. in the Dominican Republic-Central America Free Trade Agreement (CAFTA), would make "concrete improvements" in enforcing labor laws already on its books.
"Our goal is to raise standards," Froman said at a press conference Thursday.
The case is being filed at a time when the U.S.-Mexican border is being overwhelmed by young immigrants, many of them Guatemalan children and teens fleeing violence in their home country. Froman said the complaint was aimed at helping to make Guatemala a safer place to live and work, so that its citizens don't feel compelled to "embark on a dangerous journey of migration."
According to the American AFL-CIO labor federation, Guatemala is the "most dangerous country in the world for trade unionists." Activists are regularly fired from their jobs and even kidnapped and murdered for organizing workers in the agriculture and construction industries. By the AFL-CIO's count, 72 unionists have been murdered since the trade agreement went into effect in 2006.
The Guatemalan government agreed last year to follow a plan to address the country's labor law violations. Froman, who traveled to Guatemala this summer, said the country had taken "significant steps" since then.
But Guatemalan union leaders insist the government hasn't made sufficient progress in addressing the violence. Those unions first raised their concerns back in 2008, when they filed a joint petition with the AFL-CIO calling on Guatemala to make good on its commitments.
The case announced by the trade representative's office Thursday will create an arbitration panel to determine whether or not Guatemala is failing on its obligations.
The AFL-CIO has long criticized what it says are weak remedies to protect workers written into trade agreements. The union federation and its allies abroad have tried to use the agreements as a way to leverage stronger collective bargaining and workplace safety enforcement in countries known for weak labor rights.
On Thursday, Richard Trumka, the president of the AFL-CIO, praised Froman and the White House for bringing the case against Guatemala.
"When CAFTA was signed, both parties promised to enforce their own labor laws and respect international labor standards," Trumka said. "Unfortunately, this has not been the reality for Guatemala's workers."
The Obama administration has been pursuing other trade agreements -- the Trans-Pacific Partnership and the Transatlantic Trade and Investment Partnership -- and Trumka said a strong arbitration process with Guatemala was critical in conveying to new trading partners that "enforcing core labor rights are fundamental" in the relationship.
Rep. Xavier Becerra (D-Cal.) applauded the move by the White House as "historic," but cautioned that the situation in Guatemala signifies a larger problem with some of the trade agreements that the U.S. enters into.
"There is of course some bad news," Becerra said. "The bad news is, we're having to take action with a trading partner on an agreement where the terms of that agreement said that all you have to do is enforce whatever your existing laws are. The fact that we're having to file an action against Guatemala because it isn't enforcing a law that's on its books -- that's distressing."
Calling all HuffPost superfans!
Sign up for membership to become a founding member and help shape HuffPost's next chapter
BEFORE YOU GO
PHOTO GALLERY
Obama's Handshakes Around The World