Fans for months have been delighted by Lady Gaga and Adam Driver's throwback (and meme-worthy) fashions as seen on the set of "House of Gucci," set to be in theaters this fall. The movie, however, has already received a less-than-enthusiastic response from members of the family it portrays.
Patrizia Gucci, Maurizio's second cousin, told The Associated Press this week that she and her relatives are "truly disappointed" by Scott's film ― at least based on what heavily circulated paparazzi photos have revealed thus far.
"They are stealing the identity of a family to make a profit, to increase the income of the Hollywood system," Gucci said Wednesday. "Our family has an identity, privacy. We can talk about everything, but there is a borderline that cannot be crossed."
"My grandfather was a very handsome man, like all the Guccis, and very tall, blue eyes and very elegant," she said. "He is being played by Al Pacino, who is not very tall already, and this photo shows him as fat, short, with sideburns, really ugly. Shameful, because he doesn't resemble him at all."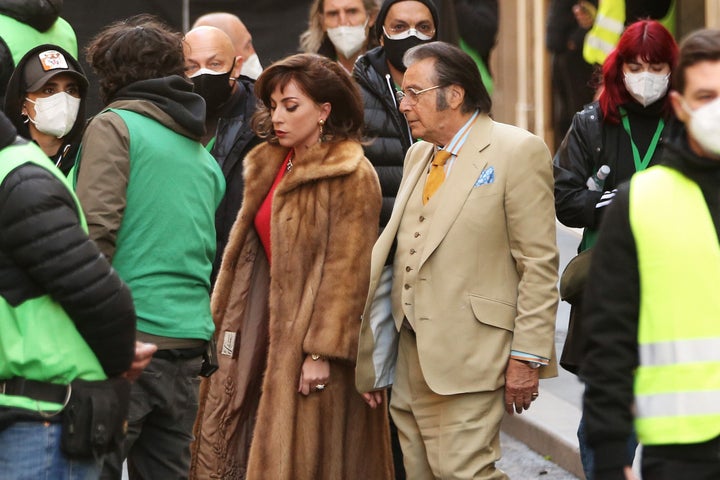 "Horrible, horrible," she added of Leto. "I still feel offended."
It seems unlikely that Gucci's assessments will be taken into account, at least in any official capacity. The Gucci family has not been involved with the fashion house that bears its name since 1993. Currently, it's owned by Kering, a French company.
Due out in November, "House of Gucci" is Gaga's first movie since 2018's "A Star Is Born," which netted her an Oscar nomination for Best Actress and a win for Best Song.
Support HuffPost
The Stakes Have Never Been Higher
Popular in the Community