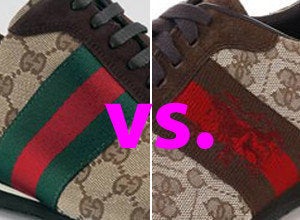 Things are heating up in the Guess vs. Gucci Battle of the G's.
Now Guess has hit back. On Wednesday Paul Marciano, Guess Inc. CEO, took the stand for a four-hour long examination by Ederer. He defended his company's actions, acknowledging some design similarities but denying any wrongdoing.
"What I understand here, which is very frequent [in fashion], is an inspiration to create an original bag of G's with the same components," Marciano stated, according to Women's Wear Daily. "That's what design is."
Marciano admitted, as he has done before, that a pair of Guess sneakers featuring a red stripe over an interlocking "G" print was so similar to Gucci that he was "embarrassed." Yet that was one instance that the company has since repented for, Marciano argued; overall, Guess and its footwear licensee, Marc Fisher Footwear, have been following the rules.
"You interpret your own way with your own brand," he said.
The trial continues this morning. In the meantime, check out a few Guess and Gucci products below. Do you think Guess has been ripping off the Italian luxury brand?