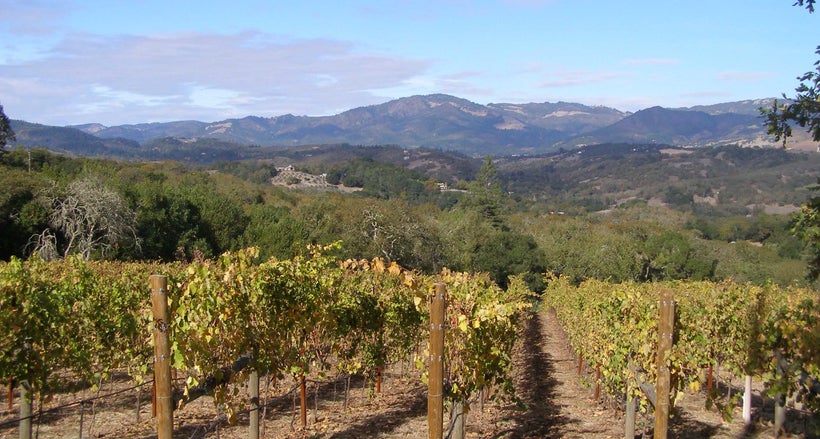 My day began on a quiet, cold morning, with the chirps of birds and the whisper of the wind through the forest. I craned my neck back as far as it could go, looking up into the canopy & trying to spot the top of Parson Jones. "Hello." I called happily into the sky. I didn't get a response unsurprisingly, as Parson Jones is a tree, a redwood tree to be precise. At more than 300 feet tall and an estimated 1300 years old, it is one of the oldest trees in Armstrong Redwood State park. I had been waiting most of my life to see Redwood trees, who knew my first chance would be on a trip to Northern California's wine region and a little town called Guerneville.
I traveled up from San Francisco on a cool star filled evening as a guest of the Applewood Inn and Spa in Guerneville. To give you a little history Guerneville has been a popular resort town since the late nineteenth century, when well-off San Franciscans began flocking to the area to enjoy the Redwood lined riverbanks. In the '70's it started attracting a primarily gay and lesbian crowd, and today is still a very popular weekend destination for people of all orientations. With a perfect location along the Russian River, in the Sonoma valley wine region, Guerneville is the perfect combination of all my favorite things. Staying at an eco-friendly Inn was icing on the cake.
The Applewood Inn & Spa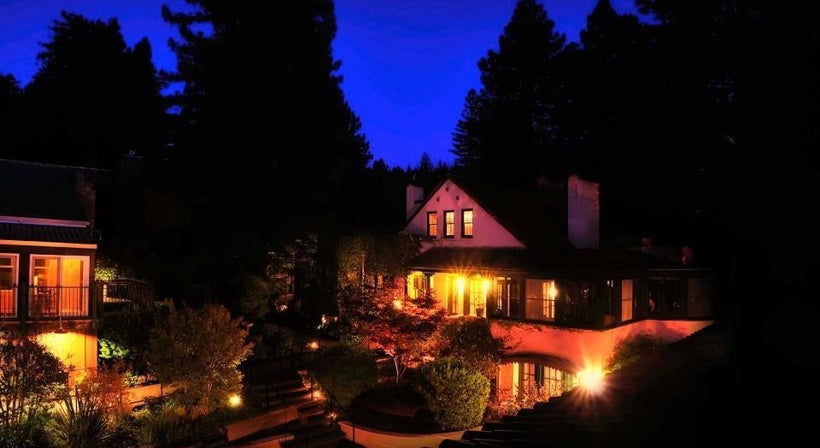 The Applewood Inn & Spa is tucked away on several acres of redwood lined forest just a stone's throw from downtown Guerneville. The fog from the nearby forests had just begun to roll in when I arrived that evening. After snagging my keys from the office I walked into my room, just one of 20, to see the glimmering light of a lit fireplace. The small exterior patio had its own fire pit, and the room itself featured an oversized king bed, in room jacuzzi and walk in closet. Excited for what looked like would be a fantastic night's rest, but hungry from a long day I set out off to town for a bite to eat before it got too late.
I was pointed to the nearby and newly opened Seaside Metal Oyster Bar after asking around at a nearby bar where I could get some grub. After a fantastic meal of Octopus, banana cake and Pinot Noir, I slipped into my bed for a great night's sleep and awoke to the faint morning light.
The Applewood Inn includes breakfast in your stay and in the winter months when I visited it is reserved exclusively for hotel guests. Breakfast at The Applewood Inn is a two course farm to table experience. One that transported me back in time, to when I was a little girl pressing fresh apple juice, with my childhood friends. That is what happened when I tasted the local gravenstein apple juice that accompanies your breakfast. Coupled with a hibiscus mimosa and organic coffee, you could say that my day was off to a fantastic start. After stuffing myself on a delicious crumb cake, with strawberries and greek yogurt followed by an asparagus and vegetable omelet made of local ingredients I took a tour of the grounds.
Pink cherry blossoms livened up their courtyard and the smell of flowers lingered as I followed the budding fruit trees into their on site garden.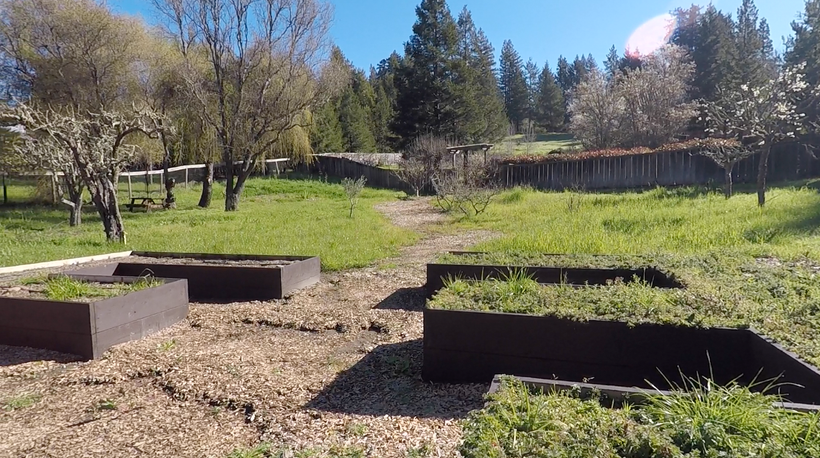 In the summer these gardens provide them with most of the herbs and vegetables they use in the kitchen, and the orchards they have on their 6 acres include apple, peach, fig, olive and other varieties. The organic garden is also home to chickens for fresh eggs and bees for fresh honey, as well as a solar array that provides them with almost all of their electricity needs.
Wine and Redwoods
Over the next two days I indulged in the beauty of my surroundings, explored the forests, tasted amazing wines and met new friends. I started my day at the Armstrong Redwoods State Park. Located just 10 minutes from the Applewood it has redwood trees that are well over 200 feet tall. As a New Englander redwood trees are something I had yet to see in my lifetime. Stumbling into Armstrong State Park for a morning stroll took my breath away. There were few people around on the numerous walking trails and the cool morning air with the sounds of birds chirping was just what I needed to invigorate me for a full day of exploring.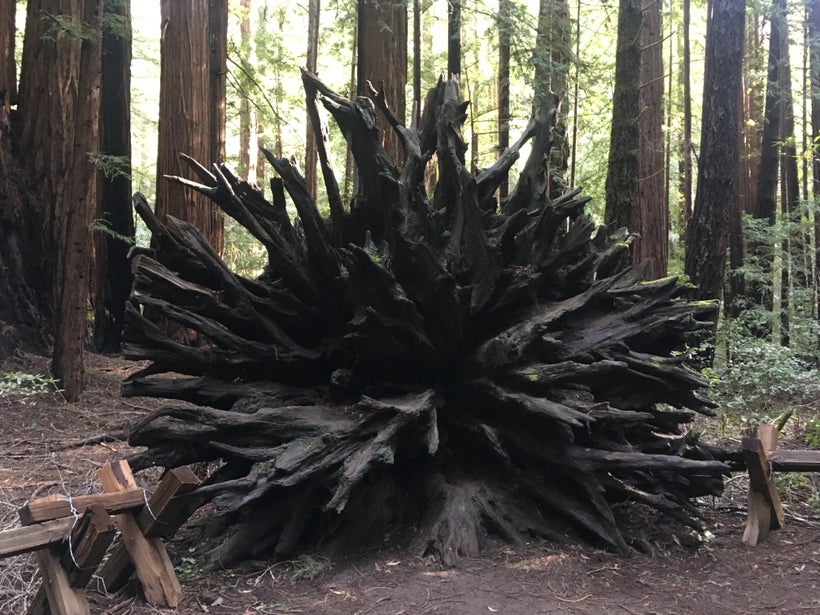 Within 30 minutes of the Applewood in either direction are dozens of wineries. There are more than 400 in Sonoma County and I had a lot of favorites.
Some of the most memorable were Moshin Vineyards, which has a great selection of Pinot's, Syrahs and whites. Nearby is family owned Porter Creek with grapes from Burgundy and the Rhone Valley. This father and son owned vineyard focuses on organic grown pinot noir's and runs right along the Russian River.
For some inexpensive bubblies make sure to stop at Korbel, makers of champagnes and brandies. They also have a fantastic deli on site where you can grab an artisan picnic lunch or have a coffee on their outdoor patio.
Heading North to the town of Geyserville I experienced breathtaking views of wine country and delicious cheese. Trattore Farms features locally milled olive oils and fine estate wines. Stay for a vineyard and orchard tour or try some of their olive oils paired with a charcuterie cheese from local dairies and farms nearby. Down the road is Cast Wines, a seat on their terrace will reward you with amazing views of the vineyards while you sip on a selection of their old world reds and refreshing whites .
Making New Friends
After pampering myself with wine and cheese I returned to The Applewood Inn for an amazing massage at their on site spa. A dip in the hot tub would soon be needed, but first it was time for a little fun. I headed to town for dinner at Betty Spaghetti and to meet up with some new friends from the R3 Hotel.
Betty Spaghetti is a newer restaurant featuring local ingredients and made from scratch pastas and desserts. I indulged in some Angel hair pasta with crab and herbs. Cooked perfectly with large lumps of crabmeat and not overly saucy with the perfect amount of parmesan cheese it was absolutely delightful. Thanks to the chef I also tried all of their desserts. The mint chocolate chip ice cream was delicious, and so was the lemon arancini- Which was like a lemon filled gourmet donut hole. But the winner, was the chocolate tarte. Rich, creamy and fudge like it was heaven in my mouth.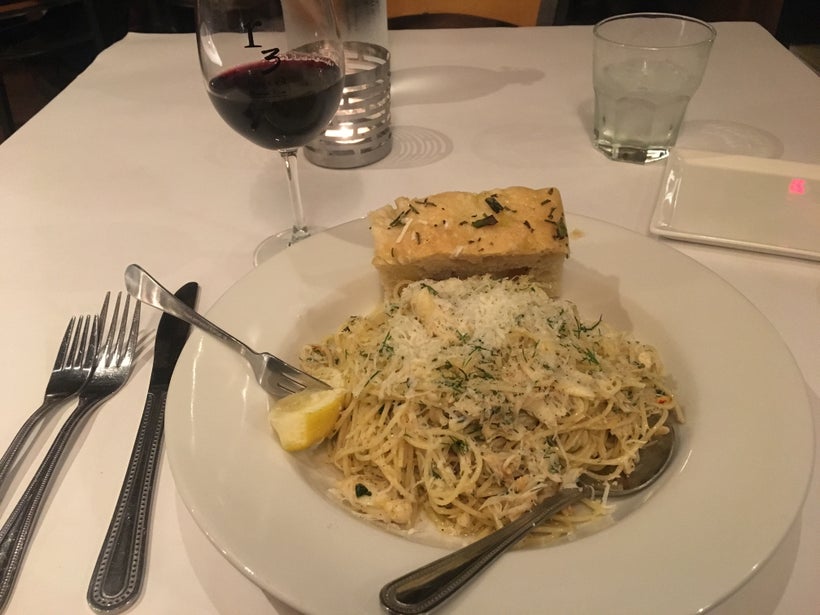 After dinner, Greg, the Owner of Betty Spaghetti told me I should pop into the neighboring bar at the R3. The R3 is the hub for Guernevilles colorful side and you are sure to find people here having fun at any time of the day. Rodger the event manager and bartender at the R3 bar is one of the most flamboyant, fun and spunky people I had met in a while. After a big bear hug I settled in at a stool and relished in the amazing energy. Having fun overly flirtatious men around is usually a sign for trouble, but at the R3 I had nothing to worry about because the men here were gay. It couldn't have been more perfect for me. Feeling safe and energized, I met new friends while sipping on a fresh squeezed margarita- one of Rodger's specialities.
I met amazing people in Guerneville and during my stay at The Applewood Inn & Spa. I had delightful farm to table cuisine, spent my mornings walking in the woods and my afternoons tasting amazing Pinot Noir's. With its laid back attitude and unpretentious people Guerneville is very different than its Easterly neighbor Napa Valley and I quickly fell in love with the landscape and colorful residents.
The byline of my entire trip to the Guerneville area was the people. Everyone I met along the way I will remember forever. They were the type of people you meet and feel like you have known for your whole life. From the fabulous staff at The Applewood to my new friends at the R3 and all the others I met along the way. For a nature loving, wine drinking northeastern girl, Guerneville was the perfect place for me and I've definitely found my new favorite spot in wine country.
Follow along as I journey to more amazing destinations around the world.
REAL LIFE. REAL NEWS. REAL VOICES.
Help us tell more of the stories that matter from voices that too often remain unheard.
This post was published on the now-closed HuffPost Contributor platform. Contributors control their own work and posted freely to our site. If you need to flag this entry as abusive,
send us an email
.