Secretly crossing the Thailand-Myanmar border, sneaking past military checkpoints and landmines, is not something most people would call a vacation. But Dr. Pierre-Louise Olland and Serge Israel make the trip whenever they have time off work.
The two Frenchmen travel into Myanmar's Shan State illegally, into territory controlled by a faction of the insurgent Shan State Army (SSA), one of the many ethnic rebel groups that has been fighting Myanmar's government for autonomy. It is a dangerous endeavor given that it is a restricted zone where foreigners, especially journalists and aid workers, are not welcome.
In December 2011, the SSA signed a ceasefire with Myanmar's newly elected civilian government, but fighting still breaks out between the two groups. Travel restrictions imposed by Myanmar's government have severely limited the ability of foreign aid agencies to work in the country. If aid workers are caught in restricted zones, such as outer Shan State, they can be imprisoned or shot dead.
"For Serge and me, the major risk lies in possible surprise attacks by Myanmar troops, for example helicopter action because the Myanmar junta recently received Chinese anti-guerrilla warfare helicopters ... We know what we risk: long years in prison or a bullet in the skin," said Olland.
When asked what NGO they work for, Israel replied, "No NGO." A religious mission, then? "Lord, no. We are not a 'real' organization," says Israel. "We don't go to Shan State because we have a mission or because we have been sent by somebody."
Olland and Israel begin each trip in northern Thailand, where they load an SUV with prescription drugs and medical supplies that they bring from France. They drive through the jungle mountains on a bumpy dirt path that barely resembles a road. Teetering over cliffs, they cross the border and head towards the Myanmar village of Loi Tai Laeng, the headquarters of the SSA.
When their SUV cannot take them any further, the SSA transfers the supplies into an army pick-up truck that is better suited to handle the rough terrain, and Olland and Israel climb into the back with the bags. The truck struggles up the muddy mountain road, sometimes losing momentum and sliding backwards towards the edge of the cliff.
The history of Shan State is almost as rocky as the road leading up to it. Plagued by a civil war buried deep in its jungles, Shan State garnered little international attention until insurgent groups in the region began funding their armies with drug trafficking. Suddenly the U.S. Drug Enforcement Agency took notice, going so far as to pressure neighboring Thailand to assassinate the drug lord Khun Sa.
The U.S. had good reason to worry: from 1974 to 1994, under Khun Sa's leadership, so much opium was produced and exported that the share of New York street heroin coming from the Golden Triangle of Myanmar, Thailand and Laos rose from five to 80 percent. Eventually Khun Sa fell, and Yawd Serk took his place, bringing with him a change in policy: eradicating drugs instead of producing them and opening the region up to foreign aid where it is badly needed.
But while the SSA may be trying to reform, the impoverished area in which it operates still has a long way to go. The clinic Olland and Israel finally arrive at -- a dark, musty cabin -- has no electricity or running water, not to mention a doctor. The beds are made of bamboo and topped with a thin bamboo mat. No pillows, no bed tables. A stained wooden table with two metal bars sticking out for footrests serves as a maternity table on which women give birth. Some parts of eastern Myanmar are so impoverished that they use empty soda bottles as IV bags.
Olland, a general practitioner who works in France, spends his time in Loi Tai Laeng training the local staff, who are young people from nearby villages. He teaches them to recognize disease symptoms, make diagnoses and properly administer the medication he brings. He demonstrates how to perform a malaria test and supervises as they take a prick of blood from each patient's finger.
Some cases are beyond the limited experience of the staff, some of whom are as young as 20 years old. Many patients have walked for days through the jungle to reach the clinic, only to arrive to find no doctor present. Olland finds them lying weakly on beds, looking dazed and emaciated.
Olland gives medical exams to several hundred civilians and SSA soldiers, but the small clinic does not have enough beds for all its patients, and many have to lie on the dirt floor for their check-ups. The sound of sniper fire and AK-47s going off can be heard from outside, where soldiers are training. A teenage soldier arrives to pick up medicine, wearing a leather jacket and an M16 on his back.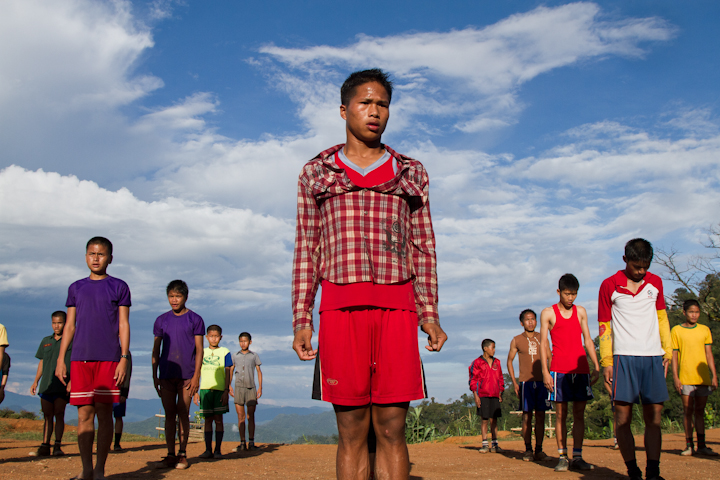 With few health professionals to teach the locals about prevention, HIV/AIDS, tuberculosis and malaria have become epidemic among the Shan people. The HIV/AIDS rate of the Shan population is 8.75 percent, the highest among all ethnic minority groups in the region, according to a report by AIDS Care.
In eastern Myanmar, one in 10 children dies before the age of one, and more than one in five die before their fifth birthday, according to the Burma Children Medical Fund. Myanmar has been rated by the UN as the most corrupt country in the world, and the government provides its people with little to no health care or education.
While a spate of recent reforms by Myanmar's government has attracted international praise and even drawn the first visit of a U.S. Secretary of State in 60 years, there is little evidence that any meaningful change has yet reached conflicted ethnic states, where aid and development is most desperately needed. Rebel forces are left with the responsibility of building schools and medical clinics, but according to SSA officials, these are usually the first structures to be burned down when the Myanmar military raids a village.
"For people living in the border area and in Loi Tai Laeng, the biggest risk is multiple types of infections due to poor living standards and health education," said Olland. "Additionally, there is the risk of malaria for the soldiers who stay in the jungle."
While Olland is performing medical exams, Israel is busy taking inventory of the supplies to know what is needed at the clinic and a nearby orphanage and how much they will cost. Back in Bangkok where he lives and works, Israel raises enough money from friends and family to buy these supplies.
But Israel and Olland's friends and family cannot fund Myanmar's health care system, which is ranked as the world's worst out of 191 countries by the World Health Organization (WHO). Myanmar spends an estimated "three percent of national expenditure on health, while the military ... consumes 40 percent," according to a Johns Hopkins School of Public Health report.
Olland and Israel's aid reaches only the fringes of Myanmar -- and of the problem itself. Myanmar's failure to provide its people with health care is a systemic issue, stemming from the government's prioritization of the military over social services. The best Israel and Olland can do is to treat the symptoms, not the disease itself.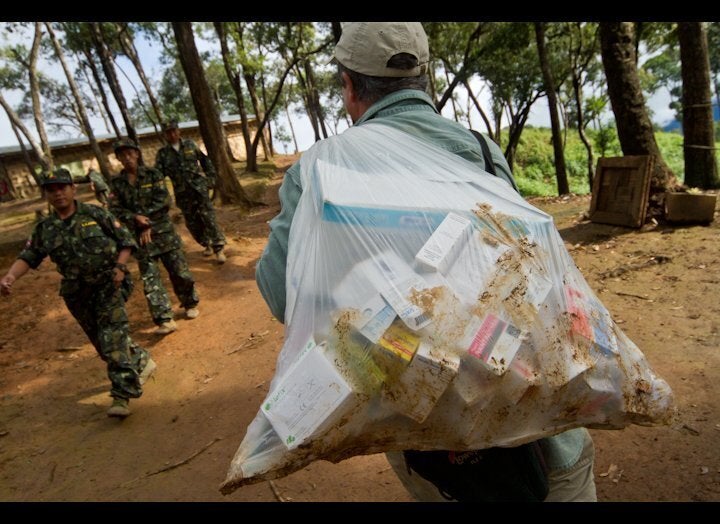 In Shan State
Related
Popular in the Community