NEW YORK -- The very continued existence of the Guerrilla Girls is a reminder that the art world still has some growing to do. Last Thursday night, the feminist art activists and self-proclaimed masked avengers continued their 27-year call to action at the Brooklyn Museum. Over the course of the evening, the Girls refreshed the audience's memory about their career as advocates for women and people of color, and offered a guided tour of the paltry representation of women in American art museums with their revised and updated "Guerrilla Girls Art Museum Activity Book."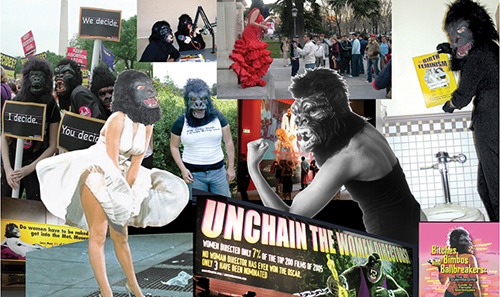 The Guerrilla Girls / Copyright © by Guerrilla Girls, courtesy www.guerrillagirls.com.
After nearly three decades of organizing as an anonymous group of women bringing attention to discrimination in the art world, it's unsettling to hear that the results of their updated research are not so different from the original figures they made public in 1989, with an aggressive street poster campaign touting the single digit percentages of women's work at the Metropolitan Museum of Art. The Guerrilla Girls may not be straying far from their roots, but maybe that's the point. Things haven't changed that much.
With their new "Activity Book," a parody of the participatory pamphlets many institutions provide to children as educational guides, the group takes jabs at offensive museum practices through satirical quizzes and games. As always, it wouldn't be a Guerrilla Girls event if the women didn't put the host museum itself in the hot seat, making an example of the fact that the group was selected to participate in the museum's lecture series, rather than being offered an exhibition, and proposing a "sex change operation" for the solely male names inscribed on the building. Before starting their presentation -- during which they declared "Give us the Brooklyn Museum façade!" -- founding members Frida Kahlo and Kathe Kollwitz spoke with ARTINFO about the additions to their book, how the issues they confront have changed, and where their mode of activism fits in the age of Occupy Wall Street.
When did your work shift from being aimed at museums to working with museums? Has it become easier to say what you want in a museum-sanctioned program?

Kathe Kollwitz: In the past five to ten years we've been busier than ever, but we've been faced with this real dilemma, which is: What do you do when the system you've spent your lives criticizing embraces you? We've been doing things at museums all over the world, and the question for us as a group was always, "Oh god, what do we do now?" We try very hard not to let the fact that we're inside a museum co-opt our edge. It's also been important for us to get our work out to as large an audience as possible. It's irresistible to be in museums and criticize them on their own walls and in their own auditoriums.
Frida Kahlo: Our anonymity really helps us. It really enables us to say whatever we want about museums. But, in terms of museums themselves, they are becoming more corporate. They appear to be more democratic, more populist, but the fact is that they are run by art collectors who become trustees. Art collectors - let's face it - they are art investors. People who are interested in making art they purchase and invest in appreciate in value - and then the museums, of course, help that. It doesn't take a rocket scientist to realize it's a pretty corrupt system. It would not be tolerated in any other form of commerce. The idea that art collectors (mostly white males) are deciding what museums collect, and what becomes part of our art history, is not populist at all. It's really letting power determine what our history is.
What inspired a revision to the "Art Museum Activity Book" now? What current events have inspired the revision of your research? What trends and statistics did you notice in your revised research?
KK: One thing we've been doing over the years is going back and redoing statistics. In the last bunch of years we've done a lot of new projects about the system, art, and artists. We also go back every once in a while and recount at the Metropolitan Museum of Art. One of our most well known posters is "Do Women Have to Be Naked to Get Into the Metropolitan Museum?" When we did it first in 1989 there were five percent women artists on display. We did it again in 2004, in the first edition of the "Art Activity" book, and then there were three percent women artists. And now, we did it again, just a few months ago, and five percent. Museums are still lagging behind.
Were there any museum shows that have come up in the past couple years that have inspired you to tackle the book again, to go back and revise?
KK: Well one thing that's happened in the last few years are feminist shows in spades, which again made people feel like, "Oh, I guess everything's O.K. now!" The way you'll talk to a lot of people and they'll say, "Oh yeah, feminism, that's all over. That's all done, right?" As soon as the feminist shows ended, things are probably better than they've ever been at the entry level for women and people of color -- but there's still a long way to go. It's irresistible to go back and look at it, particularly in terms of the 1 percent and the 99 percent. Museums are run by the one percent, but the viewers probably count in the 99 percent, or the 90 percent. We always try to deepen our critique of the system and say more and more about it.
FK: One thing that made it important to go back and look at the material in this book was the recession. In 2008 there were hard times, unemployment, and the economy was in the toilet, but the art market was not in the toilet. The art market was really robust. Something is going on that makes art museums different, and it's that they really are run by billionaires. Art becomes a great place to park some money, to launder money, and to make gigantic donations to museums and get big tax write offs - all under the guise of being non-profit and dealing with a greater good. We would like to strip away the veil, take a look at that, and examine art museums. Are they really serving the public, and are they really preserving everyone's history?
Have the issues that you confront changed? If so, how?

FK: When we first started, it was an atmosphere of disbelief; no one wanted to admit that there was conscious and unconscious discrimination against women and artists of color. We weren't even sure, we didn't have all the pieces of the puzzle together at the time. Our early posters were just asking questions, and when we started putting things together we realized there was institutional discrimination - that women were being educated by art schools and then professional opportunities would somehow disappear for them.
But now after 27 years of complaining, it's a no brainer. I don't think anyone could say that you could write the history of our culture without all the voices of the culture included in the history. That wasn't the case 27 years ago. There was this idea that art had its own trajectory, its own history, and that the art world and museums were a meritocracy, and that whatever they wrote history as had to be what was most significant. I don't think that's accepted anymore. But, in the meantime, other things have come up: issues of multiculturalism, and the tokenism that multiculturalism often produces.
KK: We've talked a lot about the negative, negative, negative. I mean, we are complainers.
FK: Professional complainers!
KK: Can we have one second just to say a few positive things? We think we've helped make this happen, but we're not the only ones. There are lots of other people, including people who work in these institutions, who believe the way we do. There are initiatives at some museums in the world to collect more work by women. They realize that they've done them wrong and they are trying to address the situation by upping the percentages of their collections.
That includes the Tate Modern, Pompidou, and the Moderna Museet in Stockholm, which has long had this initiative but is just trying to reinvigorate it. And it also includes places like the entire country of Spain, which has a law for equal funding of women, after all these years of it being really hard for women. The Museum of Modern Art has an initiative as well. So while there is still a long way to go, some institutions are trying.
"Interview Magazine" recently framed your work within the context of Occupy Wall Street. Do you agree? How have the events of OWS over the past months impacted your work? Do you identify with their causes? Has your work changed as a result?

FK: We'd like to be doing more. We are involved with it, and we'd like to be doing a lot more stuff, so we definitely support it in every way.
KK: What I think is fascinating is that the idea of the 1 percent and the 99 percent is probably the most brilliant creative idea of framing what's going on in the country right now that I have ever heard. It was amazing. That has changed the dialogue in this country totally. That was thought up by a person. That just shows you how a creative idea can transform the dialogue about something, and that's our goal.
FK: And we've been complaining about the hierarchy of the art world and corruption in the art world for a long time, and to see the Occupy people analyze the political system the same way makes us feel really powerful. I personally have taken part in a number of Occupy protests, but I have not gotten arrested yet. I am looking for the right day and the right moment.
What's next on the horizon for the Guerrilla Girls?

KK: Our next couple of projects, we definitely want to do more stuff about politics, we're working on it, but we definitely don't put stuff out there unless we feel they really add to the dialogue. We just don't do it just to do it. So we're not quite there yet. But in the next couple of months we're going to be doing a project in Krakow, Poland, and we're going to be in Melbourne doing gigs and workshops, and we're in a whole bunch of exhibitions. We just opened this big exhibition at Columbia College in Chicago, which has a lot of our work over the past 10 years. That was pretty interesting to see all in one place. More of the same and hopefully better than the same!
More of Today's News from BLOUIN ARTINFO:
REAL LIFE. REAL NEWS. REAL VOICES.
Help us tell more of the stories that matter from voices that too often remain unheard.