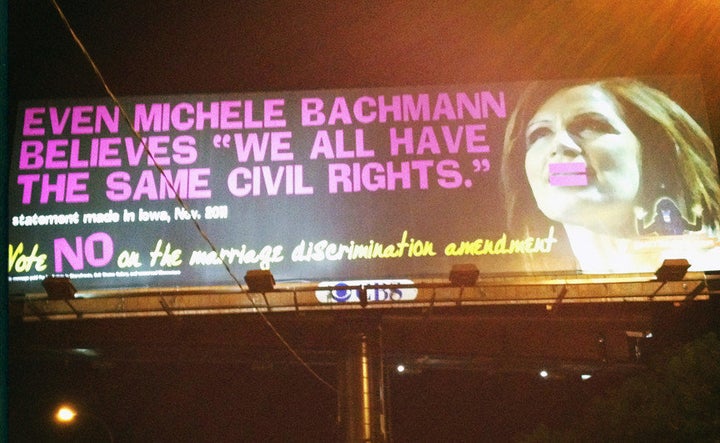 It's not every day you get to enjoy a phone conversation with Frida Kahlo and Käthe Kollowitz. We're not talking about the late Mexican surrealist and German expressionist, however, but the artist-activists who have assumed their legacies as alter egos. The Guerrilla Girls have remained anonymous since 1985 when they banded together to protest sexism and lack of diversity in the art world.
The New York rabble rousers originally spoke out against MOMA's exhibition "An International Survey of Recent Painting and Sculpture," which featured 169 artists -- only 17 of which were female. The Guerrilla Girls embarked on a series of funny yet earnest protests involving exposing the embarrassingly homogenous statistics of American museums. Donning an iconic disguise of high heels, mini skirts and gorilla masks, the women toy with the ideas of girls and feminists, conflating the two often disparate female categories.
We spoke to the duo on the phone regarding their current exhibition at the Montserrat Gallery and we have to say we've never felt so close to conversing with superheroes in disguise. Read on to hear them discuss their ideology, sense of humor and why both are vital to their mission. Scroll down for photos.


Poster made from the Met's 1989 statistics... Not much has changed

HP: Are women represented more in contemporary galleries than in older art museums? In other words, is the contemporary art scene more equalized?
GG: Galleries that plug into the art market are pretty much focused on selling art. The art market is run by the 1%. We think there is a huge difference between art collectors and the art public. The art public is the 99%. We think it is a really crazy way to write art history by collecting the most valuable art in the world. Imagine if you wrote the history of cinema based on blockbusters, or literature based on only bestsellers.
HP: Do you have anything planned for election season?
GG: Yes we do! We have a pro-same sex marriage billboard in Minneapolis in which Michelle Bachmann helps support same sex marriage. About a year ago Michelle Bachmann in an election rally made the proclamation that everyone had the same civil rights. When she was questioned as to whether gay people could get married she said "Yes, they have the same civil rights as everyone else... To get married to someone of the opposite sex." So we use part of that statement along with Michelle Bachmann's picture with an equals sign on her lips. It says: "Even Michelle Bachmann believes 'We all have the same civil rights.' Vote NO on the Marriage Discrimination Amendment."

We also have a big poster kind of about the Koch brothers. People have been asking us what we've been doing to address the war on terror. We've been working on a weapon, an estrogen bomb. If you drop it the men will drop their guns and start hugging each other. They'll say, "Why don't we clean this place up?" In the end we encourage people to send their extra estrogen pills to Karl Rove; he needs a little more estrogen.
We feel so lucky to be able to do this work. We love to work with people on issues they care about, even if they feel opposite about an issue. There is another alternative than to join the commercial art world. You can use your skills as an artist to try and change the world.
HP: You have also been on a mission to debunk the myth that feminists are dry and over-serious. Have you seen the popular understanding of what is a feminist change over time?
GG: What pisses us off is that feminism is one of the great human rights movements of our time and it still doesn't get taken seriously. Our goal is to try to twist issues around, we always combine humor and facts. We don't always succeed but we want to do something unforgettable and transformative; we don't want to be preaching to the choir. Humor helps when you're talking to someone who doesn't agree with you -- it's way of communicating. When you make someone laugh they are on your side for a second.
GG: I like germinal as opposed to seminal. I mean seminal is an adjective for semen! We were at a feminist conference once and the New York Times reviewer called it seminal. Are they part of our humor conspiracy? What else... how about femoral? We should remove gender bound words… and masterpiece too. We should wipe the word master out completely given its history with slavery.
HP: How are you making an effort to raise awareness of overlooked female artists?
GG: American museums need to have ethical standards. Feminist art historians started the ball rolling and so many women are being rediscovered. We do take the names of these dead women artists, but what we're worried about is what is happening now and what is going to happen in the future. In 100 years from now, how are they going to tell the story of what's going on now?
We did write an art history book, though! It doesn't talk so much about what art history lacks but that there were so many great women in history and nobody tells their stories. Everything was stacked against women artists. They weren't allowed to join academies... All of those rules were set up to limit women. There were really adventuresome women who learned to get around those rules. We wanted to focus on their stories, not bemoan. We wanted to show we are not alone. It is also exciting to think about history as this rich tapestry of many many things instead of this Olympic race of who is the greatest. We are always asking, how can we tell a history of a culture and not a history of power?
HP: What stats did you find at the Museum of Fine Arts, Boston?
GG: There were only 11% female artists in the painting and sculpture collection on display. We went into the museum with students, just like we've done in so many museums -- you never know what you are going to find out. Whenever we go back to The Met we always assume things have gotten better, but our latest count was only 4%.
But we don't just collect statistics. We're working project by project. We just did a big poster condemning the Art Institute of Chicago and also MCA Chicago. There have always been people inside museums that really care about the issues and people that don't give a shit.
HP: How many Guerrilla Girls have there been over the years?
There are some lifers, two of whom you are talking to [now]. We have so many women who come to us with interest and we wish they all would be guerrilla girls.
We're a group of artists that does a very particular kind of work; to craft it and put it all together you really need a small group. The good news is there are people who want to do activism they don't need us! It is a golden age of activism. We haven't solved all the problems but people are really using their creativity, their talents, their passions to try to make a difference.
See the Guerrilla Girls in the slideshow below. Let us know what your GG pseudonym would be in the comments.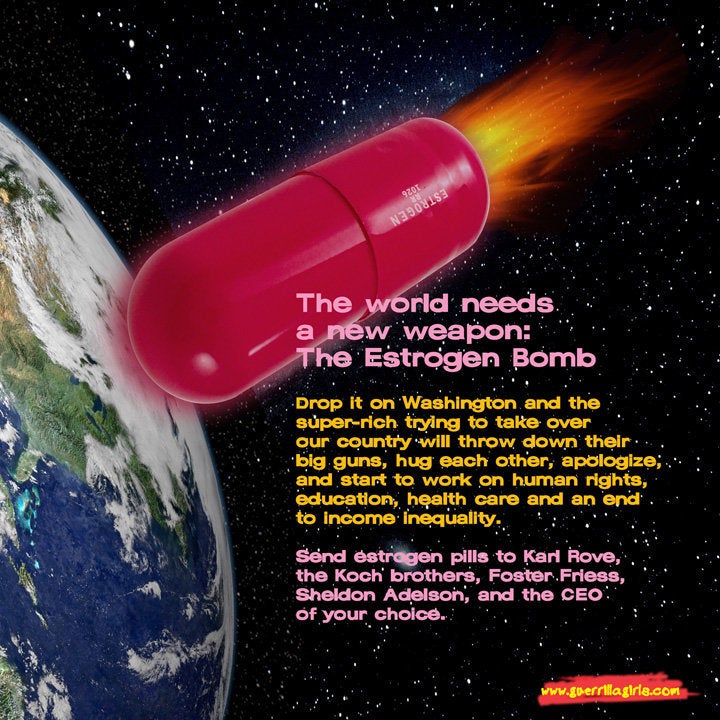 Guerrilla Girls
The Guerrilla Girls' exhibition is on view at the Montserrat Gallery in Massachusetts until December 15, 2012. If you'd like to see them in action, they are headlining a symposium titled, "Agents of Change: Art As Activism" on October 26 and 27.

Related
Popular in the Community