If you're already thinking about what you need to do to prepare for the new year, kudos to you. Doing so now will keep you from feeling the time crunch at year's end. Planning your business budget is just one thing on your long, long list.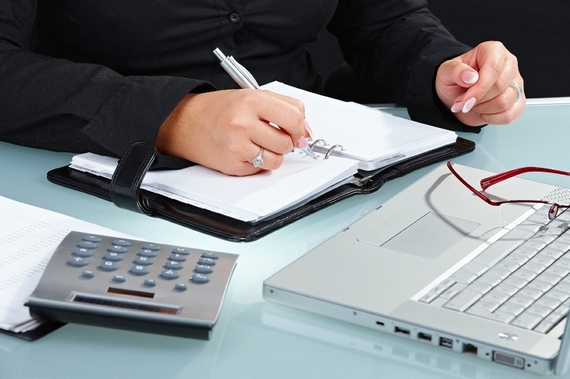 Your budget is one of the big to-dos to tackle for 2016. Here's why:
It gives you time to plan big expenses that you need to set aside funds for
You won't be surprised when a big ticket item comes up if you plan appropriately
You can plan to take advantage of business expenses you can write off on your taxes
Having a budget can help you grow your business
Now that we're on the same page about why you need a budget, let's look at some strategies.
Even if you've never created a business budget, you probably can look back over the past few years of running your business and see very similar expenses year after year. You've got your email marketing software subscription. Your accounting service. Your employees. Inventory. Marketing. Use these to create the bare bones structure for your budget.
Once you pay for these customary expenses, do you have money left over? Hopefully you've steadily increased what you earn over the past several years, so you've got a nest egg for savings or other investments that will grow your business. Next, you'll decide what to do with that excess. Sure, putting it in your pocket is always fun, but reinvesting it in your business can help you make even more for your pocket!
Get Rid of What's Not Working
Cull any expenses that aren't bringing you results. If you never use your email software because no one buys from your emails, cancel it. If you're still paying for a service you don't use anymore, dump it. This frees up your budget to put more attention and dollars on new things that can bring you better results.
Budget More Where You Need It
Now that you know your usual expenses, get creative. Where would you like to put more money in 2016? Marketing is always a good investment that nets a solid ROI. Maybe you can budget to hire a marketing consultant, or invest in more advertising this year. Maybe you need a new computer, so you can plan for that purchase in the new year.
Finally: Create Your Formal Budget
Now that you've sketched out what your budget looks like, make it more formal with line items for each type of expense. Don't forget both your business income and sales taxes, since they'll be a big chunk of what you put your revenues toward each year.
Now, break the annual budget you've created down into quarterly budgets. This is more manageable, and you'll be able to keep your eye on what you're spending and curb it if you hit the quarterly limit. Your quarters might not be identical in terms of spend. For example, if Q4 is a big one for you, you'll probably need to increase your marketing and advertising spend, as well as payroll, to fit your needs. That means you'll need to spend less on these items in the other quarters.
Your small business budget will keep you accountable for your expenses and help keep cash flowing.
Melinda F. Emerson, SmallBizLady is America's #1 small business expert. She is an author, speaker and small business coach whose areas of expertise include small business start-up, business development and social media marketing. She writes a weekly column for the New York Times, publishes a resource blog, www.succeedasyourownboss.com, which is syndicated through The Huffington Post. She also hosts a weekly talk show on Twitter called #SmallBizChat for small business owners. As a brand, she reaches 1.5 million entrepreneurs a week on the internet. As CEO of Quintessence Multimedia, Melinda develops audio, video and written content to fulfill her mission to end small business failure. Forbes Magazine named Melinda Emerson one of the #1 Woman for Entrepreneurs to follow on Twitter. Melinda has been featured on MSNBC, Fox News, NBC Nightly News and in Fortune, The Washington Post, USA Today, Wall Street Journal and Black Enterprise. She is the bestselling author of "Become Your Own Boss in 12 months; A Month-by-Month Guide to a Business That Works," and the ebook How to Become a Social Media Ninja; 101 Ways to Dominate Your Competition Online.
Popular in the Community