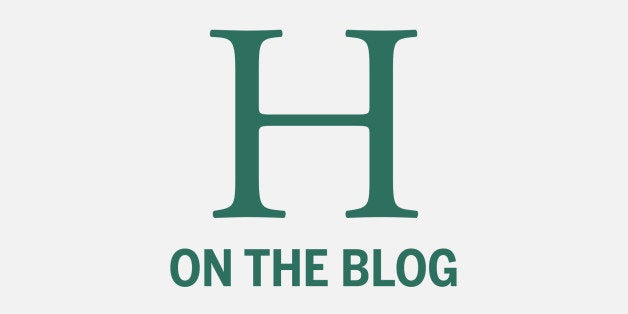 Recent new home sales figures raised concerns about a housing market slowdown, but one thing is clear: The fastest-growing industries in the U.S. over the past 12 months have been dominated by fields tied to construction.
Twelve of the top 20 fastest-growing industries of the last 12 months are linked to construction, according to a financial statement analysis of privately held companies by Sageworks, a financial information company.
The top 6 industries include real-estate agents and brokers, residential builders, foundation contractors and lumber wholesalers. Commercial construction industries -- nonresidential builders, engineering firms and heavy-construction (non-highway) firms -- are ranked 9th through 11th, respectively.
"The economy is just improving in general, and these industries are indicators that things are moving in the right direction," said Sageworks analyst Chuck Nwokocha.
All of the industries in the list that are tied to construction experienced sales growth over the last 12 months that is anywhere from 2 to 15 percentage points higher than the average sales growth among all privately held companies in Sageworks' database.
And while there's no guarantee these industries will continue growing at a strong pace, Nwokocha said, they may have been creating opportunities for other industries that provide supplies, distribution or back-office services.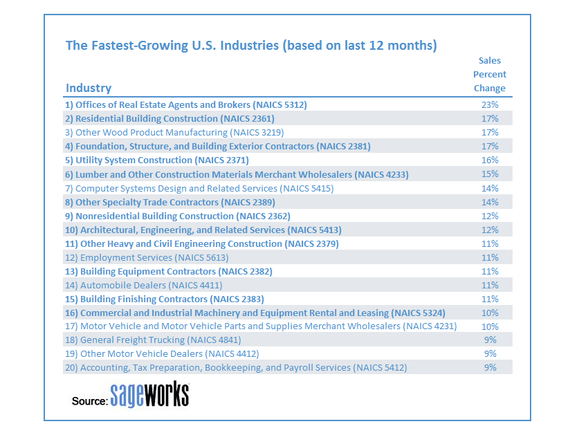 Through its cooperative data model, Sageworks collects financial statements for private companies from accounting firms, banks and credit unions, and aggregates the data at an approximate rate of 1,000 statements a day. Sales growth among private companies is an important metric to monitor because, while Wall Street gets most of the headlines, nearly all of the 27 million firms in the U.S. are privately held. Even among firms with employees, less than 1 percent of them have shares listed on a U.S. exchange. Privately held companies drive more than half of private GDP and since 2010 have generated more than half of the net job gains in the private-sector economy.
Non-construction-related industries that made the top 20 fastest-growing industries on Sageworks' list include computer systems design and related services (NAICS 5415) and several categories related to transportation:
• General freight trucking (NAICS 4841)
• Automobile dealers (NAICS 4411)
• Motor vehicle parts and supplies wholesalers (NAICS 4231)
Nwokocha said the growth in transportation-related industries isn't surprising considering recent experiences he had when traveling in North Dakota and Texas, where the mining and energy industries have experienced booms in recent years. "There was a constant hum of movement with the big trucks moving supplies and goods related to those industries across the country," he said. He also noticed that people with commercial driver's licenses (CDLs) seemed virtually guaranteed of a job in those areas. "If you were working at McDonald's or Burger King and went and got a CDL, you could get a job."
Growth in computer systems design is also understandable, given the expansion of cloud computing and its effect on so many industries, he said. Sales grew 14 percent over the last 12 months at private firms offering computer systems design and related services, Sageworks' data show.
For more information on what kinds of businesses are included in these industry categories to give you ideas for how your business may benefit, visit the U.S. Census Bureau website, which has information on firms, occupational outlooks and recent trends.
Sageworks, a financial information company, provides financial analysis and risk management solutions.

Calling all HuffPost superfans!
Sign up for membership to become a founding member and help shape HuffPost's next chapter