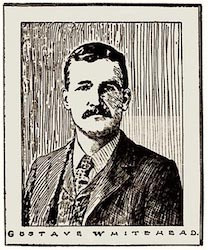 For the past two years, an old storm has raged yet again within the aviation community, as advocates for Gustave Whitehead (born "Gustav Weisskopf" - a Bavarian immigrant who settled in Bridgeport, Connecticut, in 1900) have relentlessly and aggressively pressed their case that Whitehead flew in 1901, prior to Wilbur and Orville Wright's flights in December of 1903.
Stella Randolph & Gustave Whitehead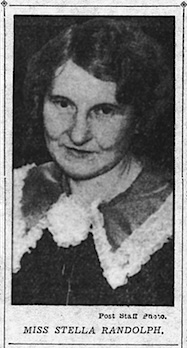 In 1937, Randolph's book Lost Flights Of Gustave Whitehead presented the evidence she'd gathered, including affidavits, that Whitehead had flown in 1901. It was a neat and tidy little book that put forth in reasonably convincing fashion the notion that Gustave Whitehead had flown a heavier-than-air, powered, controlled machine of his own construction in 1901. Ms. Randolph and her sister, Clara, found and interviewed people who had known Whitehead and/or had stated they'd been present 30+ years earlier when one or more of his supposed "flights" had taken place, and she included reproductions of 13 "eyewitness" affidavits in her book.
Stella Randolph said that she first heard about Gustave Whitehead when her friend Harvey Phillips (whom she called the "The Phillips Aeronautic Library") told her of a letter by Whitehead published in the April 1, 1901, American Inventor and urged Randolph to pursue the matter.
It was a simple tale of how she discovered Whitehead, but it wasn't the whole story.
Stella Randolph & Albert F. Zahm
Randolph looked askance at John Crane's approaches to her because of his association with Albert F. Zahm, then head of the Library of Congress Aeronautics Branch. Crane was an associate professor of economics at Harvard who became interested in Whitehead after reading Randolph and Phillips' 1935 article.
Zahm had a long and ultimately antagonistic relationship with the Wrights - so much so that Orville Wright saw Zahm's fingerprints on almost every article or book which depicted the Wrights in an unflattering light - whether or not it was true - often it was true.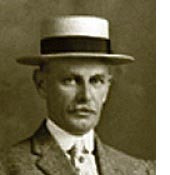 Zahm was centrally involved in the 1914 Hammondsport, New York, trials ("The Hammondsport Hoax") of the significantly modified and rebuilt Langley Large Aerodrome "A" by Glenn H. Curtiss, the Wrights' arch-rival. The purpose of those trials was to establish that Langley's Large Aerodrome "A" had been capable of flight in 1903. That, it was thought, would provide evidence of "prior use" in the on-going patent war between the Wrights and Curtiss. As things turned out, it became a mess for all involved and made for bad blood between Orville Wright and the Smithsonian, which had loaned the Langley Large Aerodrome "A" to Curtiss.
Randolph had a bad reaction to meeting Zahm...
"Call it woman's intuition if you wish, I knew at my first meeting with Zahm that I must never release anything to him. And I never did. Whether as a result of this, or whether my visitors came from other sources, I never knew, but during the three years of the 1930's research I was constantly harrassed. I tried to stave off efforts of others to induce me to release the results of my work, which included affidavits of witnesses to Whitehead's work, photographs and memorabilia from his home, and information secured by my efforts."
Considering how hostile current-day Whitehead advocates have been towards Wilbur and Orville Wright, it's interesting that Stella Randolph said she published her 1937 Whitehead book "... to prevent another from using it [her research re: Whitehead] to aid in denigrating the Wrights." "Actually, I was protecting the Wright interests by resisting Zahm."
And what was Stella Randolph's view of Whitehead ? She wrote...
"Regarding your skepticism -- I can only say that I am trying to maintain a proper scientific attitude toward this research and expect to leave the ultimate decisions concerning Whitehead to the reader. I was skeptical too in the beginning and there are still many points that require absolute proof before the public will accept them, I know. But whether this man was a colossal genius or a consummate liar, his life and work are interesting."
Stella Randolph & John B. Crane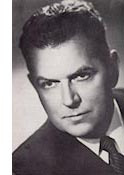 One of the skirmishes in the battles between Stella Randolph and John Crane concerned whether or not Stella Randolph possessed a photo of Whitehead in flight. On July 14, 1936, the day after she had an unexpected evening visit at her home from Crane (with two unidentified others), Randolph wrote a multi-page remembrance of their conversation, during which Crane probed her about her information and whether she might work with him. Crane told Randolph that he had come across information which was (in Randolph's recollection of his comments) "... quite new and startling." Randolph noted the discussion became heated and abruptly ended.
Two weeks later, Crane phoned Randolph to tell her that he had spoken with Junius Harworth, the person Randolph called her "leading witness" for Whitehead and who had signed an exclusive contract "to supply information about Whitehead" to Randolph. Junius Harworth stood to profit from Randolph's book - he was to receive 5% of the proceeds from her book.
Crane said Harworth (despite the contract with Randolph) told him that Randolph had pictures of Whitehead in flight in his machine, and Crane wanted to see the photos - in Randolph's words - "... to satisfy himself that they existed, so that he might say so in his book that is forthcoming." After refusing, more than once, to admit or deny that she had the photos of Whitehead in flight, Randolph said "If you and Mr. Zahm are so eager for this material I have collected why don't you make me a business offer ?"
After that, approaches by Crane and Zahm to Randolph ceased.
The Agreement & The Not-So-Secret Deal
The Whitehead story has erupted several times over the past 80 years. Whitehead advocates these days have attacked Wilbur and Orville Wright and the Smithsonian Institution in a rancorous attempt to clear the field for their chosen one, Gustave Whitehead.
The attacks on Wilbur and Orville Wright have included assaults on their characters and personalities, as well as assaults on the Wrights' ultimate success at powered, controlled, heavier-than-air human flight.
The continuing blast of bitter hostility directed at the Smithsonian by Whitehead advocates has been fueled by a fundamental misunderstanding of an agreement between the estate of Orville Wright and the Smithsonian and by the erroneous belief that a "conspiratorial" "secret deal" had been struck to suppress Whitehead's accomplishments.
The alleged "conspiracy" is premised on the "secret agreement" transferring possession of the Wright 1903 Flyer to the Smithsonian, under specific terms and conditions, including how the machine was to be labeled and displayed.
In the course of settling that estate, The Agreement was signed on November 23, 1948, by the estate's two executors, Harold S. Miller and Harold W. Steeper, and by Smithsonian Secretary Alexander Wetmore, under order of Judge Love of Dayton, Ohio.
There was no secrecy. The Agreement was public knowledge from the moment it was approved by the Montgomery County Probate Court and signed by the parties, one of the documents in the public record settling Orville Wright's estate.
The Agreement received very little attention until O'Dwyer and Randolph's 1978 book on Whitehead appeared - "History By Contract." O'Dwyer excoriated the Smithsonian for entering into what he called a "secret contract" in order to prevent Whitehead from receiving his due.
He was wrong on both counts.
The agreement was not focused on eliminating Whitehead, but on removing a label from the Langley Large Aerodrome "A" which stated, incorrectly, that the Langley machine had been the first human-carrying flying machine capable of flight.
Soon after The Agreement was signed, the '03 Flyer was returned to the US from London and was placed on public display on December 17, 1948 (the 45th anniversary of the 1903 Flyer's historic flights), in the Science and Industry Building of the Smithsonian's National Museum, displayed and labeled as stipulated in The Agreement.
The Rest Of The Story
The Smithsonian, not Stella Randolph, Discovered Gustave Whitehead
It will probably come as a profound shock to those still spewing venom in the direction of the Smithsonian, that the Smithsonian - specifically aviation historian Paul Edward Garber - discovered Gustave Whitehead.
In a memo dated December 13, 1935, after Randolph and Phillips had generated attention for Whitehead with their Popular Aviation article, Paul Garber wrote to the Assistant Secretary of the Smithsonian, Dr. Alexander Wetmore...
"Miss Randolph claims rather complete credit for this 'discovery.' Actually it originated here in connection with my examination of newspaper clippings originally collected by Alexander Graham Bell and deposited in our library. These are a wonderful source of information and whenever opportunity permits, I examine them and take notes of statements embodied therein. They are, however, in very poor shape for the research worker and when we were offered the assistance of persons on relief I sought for and obtained the temporary help of a Mr. Harvey Phillips who was in need of employment and had some experience in preparing aeronautic data. Mr. Phillip's work was very worthwhile in re-arranging this material and in fact this re-arrangement is still going forward under other workers. Mr. Phillips work in preparing this aeronautic data aroused the interest of his friend, Miss Stella Randolph, a writer, and she came to the office and was interested in going through these old news clippings in search of a feature. She saw the clippings concerning Whitehead and said that she intended to trace the matter down and would go to Bridgeport, Conn., the source of the original work. Of course, it has always been the function of the Institution to extend its facilities and information to research workers and writers, but I asked her particularly that she not mention the Museum as the source of her material because I foresaw that any story which tended to upset the claim of the Wright brothers might react unfavorably to the Museum if its source were traced back here."
To her credit, Randolph kept her word and didn't mentioned that Garber had been her source on the Whitehead story. It appears, from the available record, that she also never told Maj. O'Dwyer, her 1978 co-author, because in O'Dwyer's view, Garber was dead-set in opposition to Whitehead - and O'Dwyer's view was, obviously, wrong. Garber concluded that "I have yet to learn of any information which can be accepted as positive evidence [for the Whitehead claim]. It is universally agreed that the Wright brothers' evidence is positive." Garber also wrote that he was "... of course, anxious to learn all I can of aeronautical history and our exhibits reveal that we are very glad to give every credit to every person..."
Historian, NASM Senior Curator for Aeronautics, and preeminent Wright biographer ("The Bishop's Boys") Tom Crouch has said, "You can't argue with that conclusion."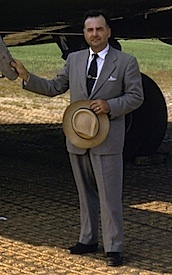 It's time for those who have expressed hostility to the Smithsonian, NASM and eminent historians, to cease their wrong-headed and erroneous attacks and come to grips with the truth.
Were it not for Paul Garber of the Smithsonian's National Museum, Section of Aeronautics (the predecessor of the National Air & Space Museum), Gustave Whitehead would likely have remained a relatively unknown aeronautical tinkerer.
(Paul E. Garber Image Credit: National Air and Space Museum Archives
Smithsonian Institution, Image Number: WEB12514-2012 - cropped)
Other Huffington Post articles in this series include
Calling all HuffPost superfans!
Sign up for membership to become a founding member and help shape HuffPost's next chapter