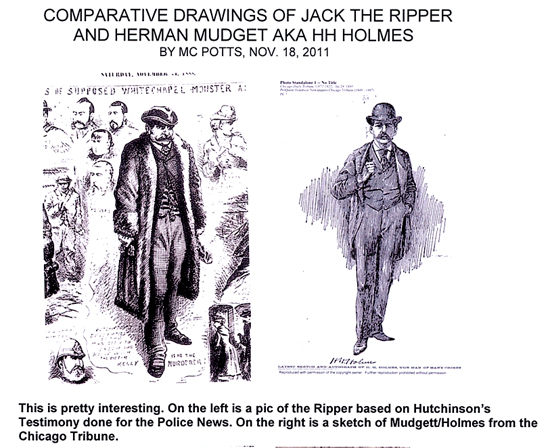 Illustration: With permission by MC Potts.
Jeff Mudgett spent early family life with a disjointed series of characters who invented lineage instead of talking about the truth. But the horrible news that befell Jeff over a family dinner at age 40 -- is the bloody fact that he's a direct descendant from possibly the most despicable American criminal who ever lived.
Herman Mudgett's insane 19th-century pastimes as H.H. Holmes may have taken the lives of more than 400 people. I doubt the family stuck around for dessert and party favors after that punch. But fifteen years later, the book Bloodstains was born -- great, great grandson Jeff methodically researched the family secret and lived to write about how one guy dealt with the hidden close-knit association with the devil himself.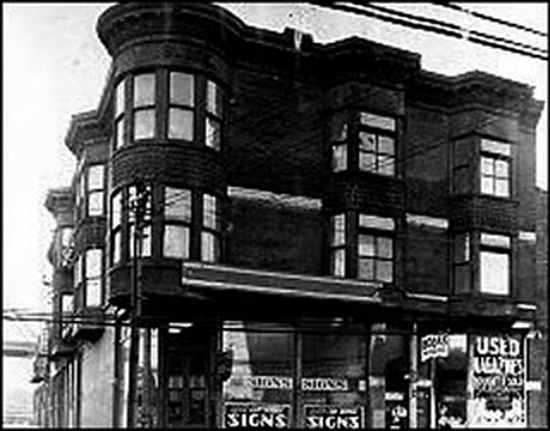 Photo: Chicago's Murder Castle where H.H. Holmes committed many of his atrocities.
Chicago conveniently built a post office over what locals called the Murder Castle -- the three-story monstrosity with hidden doors and convenient "body" shoots to the basement dissection laboratory. Dr. Holmes wasted nothing while selling in the organs and skeletons university medical market. Insurance fraud was a secondary business and very lucrative. It was surprising what this handsome and educated man could get away with.
Herman is actually a good suspect for pulling off the Jack the Ripper crimes where his availability was there and he was a top practitioner of the advanced techniques used on the victims' bodies. Thirteen people actually claimed they'd got a look at the Ripper and a composite sketch was made. Take a look at the main image with this blog and you see the similarities between the sketch and Herman Mudgett himself. It's an uncanny match.
The living Mudgetts I'm sure were thrilled to see the connection.
And if all of that wasn't enough to make you cough up the complete family dinner, there was quiet speculation that H. H. Holmes was so good at manipulating people -- as was seen with the array of advantages he was given over average prisoners -- he may have actually faked his own hanging.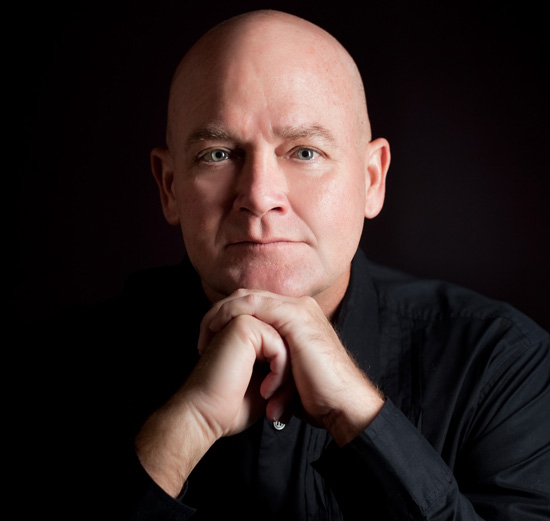 Photo: Author Jeff Mudgett
Now enter the fictional world of Bloodstains -- although based on well-researched facts.
I was already well-versed in the Mudgett-Holmes history, having read The Holmes-Pitezel Case written by Detective Frank P. Geyer, who tracked Mudgett across the country and set up his final arrest; a book written by Mudgett himself while in prison shortly before he was hanged; and had seen the excellent docu-drama, H.H. Holmes: America's First Serial Killer, from Chicago filmmaker John Borowski.
But the very real Jeff Mudgett becomes obsessed with learning more about his serial killer counterpart and what connection, if any, his own grandfather might have had with the chap. The book mixes actual facts and locations with a growing and haunting sense of realism as the author follows a trail of diary entries. First there were the documents hidden inside boxes left to Jeff after his grandfather's death, and a second set neatly waiting for him in a cavernous spot once reserved for Herman's serial rampage.
The real Herman Mudgett history we now know as H.H. Holmes eventually comes to life in Jeff's mind as he struggles between blaming a medical diagnosis or the devil himself. The story seamlessly moves between the killer's living actions where he has mastered mind control, and the author's mind as new crimes are conceived.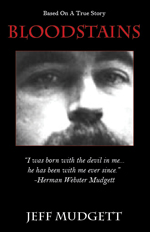 Jeff Mudgett takes his readers to the bowels of the Murder Castle today, inside the prison where Holmes awaits his 1896 hanging, and through a mixed journey where one senses that pure evil has somehow survived and is able to manipulate the living.
The steady effect of imagination and imagery as fact and fiction blended into one becomes a Stephen King-like horror that builds into a shocking reality late one night on a rainy hillside as Jeff Mudgett and the devil duel it out -- each seeking their own survival, their own self and their own reality.
Bloodstains is highly recommended. But read it with a few extra lights on. And oh, that voice in your head -- it's nothing really.
Calling all HuffPost superfans!
Sign up for membership to become a founding member and help shape HuffPost's next chapter