Women in developing countries are often disproportionately affected by environmental degradation. Beth Kaplin, a tropical ecologist, has seen this time and again while conducting field work in North Africa and other developing areas.
Here, she relates how the health of the natural world affects day-to-day life in developing countries. Having developed educational conservation programs at universities in Rwanda and other countries, she connects the important role women have played in conservation, and how they can help in the future.
Guest Post: Helping women, and the planet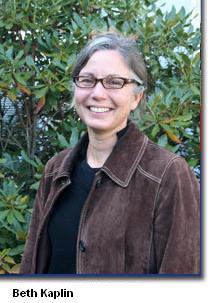 Over the past 20 years, I have spent considerable time in some of the world's most beautiful countries, working as a tropical ecologist.
In my travels I have seen the effects of forests destroyed and species threatened with extinction, all the while observing the people -- particularly women and children — harmed by environmental degradation.
Now, the Global Conservation Act, legislation aimed at strengthening U.S. international conservation work, would help women in developing countries while helping to save critical areas and species.
And because women are often also at the core of solutions to environmental problems, they stand to benefit many times over from projects made possible by this legislation.
In Nepal, for example, it is the women elders who are able to identify the greatest number of wild edible foods in their surroundings.
And in many impoverished rural areas worldwide, women take the lead in agriculture, fostering knowledge of plants and traditional farming systems while often valuing diversity in crops. However, their work is made infinitely harder by the environmental destruction of the lands where they live and labor.
Given opportunity, women can make significant contributions to stabilizing our environment and protecting our global wealth, while drastically improving their own lives.
Consider Wangari Maathai in Kenya, mobilizing women to plant thousands of trees and restore landscapes or, closer to home, Majora Carter spearheading urban sustainability and restoration projects in the Bronx.
Their stories are inspirational, but not all rise to such lofty heights. For many, just the labor of daily life is a thorny challenge. In Africa, where I've spent most of my time in the field, I saw women struggle daily with their direct reliance on the environment. I vividly recall a very pregnant woman hiking hours to gather the food she needed to feed her family that day, and a mother juggling a baby on her back and a load of firewood on her head so she could cook the evening meal.
Despite this dependence on the natural world, I found early on that many students in the biology program at Rwanda's national university never had stepped foot in their national parks.
Most were uncertain how to distinguish a gorilla from a chimpanzee, both symbols of their country's biodiversity, whereas many children here in the U.S. can make that distinction by grade school.
Gaps in knowledge like this have motivated me to dedicate much of my professional work to stopping environmental destruction and loss of species, by working to develop environmental conservation programs at universities in Rwanda and other African countries.
My goal has been to help them offer the same kind of great educational opportunities we receive here in the U.S. — programs that train future environmental leaders.
I also aspire to serve as a role model for the young women in Rwanda who want to pursue careers in environmental conservation and ecology. In this way, those most affected by environmental problems can overcome the obstacles for themselves, while helping to minimize similar struggles for others.
The Global Conservation Act would streamline the way funds from our government are spent which could lead to even more effective initiatives. The bill would position the U.S. as a global leader in international conservation while establishing, for the first time, a national global conservation strategy.
A coordinated strategy that helps curb the loss of natural resources, improves health and supports women is a boon for everyone.
Such coordinated efforts will help ensure we continue to have a safe, healthy and beautiful world in which to live. Improved global conservation outreach can lead the way in improving women's lives internationally — lives that are intimately linked to the health of the environment.
Beth A. Kaplin is the director of the doctoral program in environmental studies at Antioch University New England.



Become a fan of Alliance for Global Conservation on Facebook:
www.facebook.com/Allianceforglobalconservation