UPDATE: Aug. 26 ― The Guggenheim will not be showing the three animal-related works that have sparked protests, the museum announced Monday.
New York City's Solomon R. Guggenheim Museum, commonly called The Guggenheim, is facing accusations of animal cruelty over an upcoming show that includes an arena where live reptiles and insects will "devour each other" and a video of dogs strapped to treadmills.
Those exhibits are slated to be part of the museum's October show, "Art and China After 1989: Theater of the World." The exhibit features more than 150 pieces of art by more than 70 artists, the vast majority of which are not sparking any backlash. However, three pieces in particular are attracting criticism from animal welfare activists.
The Guggenheim's exhibit will not involve live dogs in the flesh — it's a video of the 2003 performance, the museum emphasized in a statement. The Guggenheim described the piece as "an intentionally challenging and provocative artwork that seeks to examine and critique systems of power and control."
Animal welfare activists say that the video itself is unethical because of how it was created, and the way it depicts pit bulls.
"[The American Society for the Prevention of Cruelty to Animals] opposes the use of animals in art if such practices produce pain, injury or distress to the animals," said ASPCA president Matt Bershadker in a statement to Pix 11. "The video perpetuates the false stereotype that pit bulls are only purposeful as vicious dog fighting instruments, not as what they are at their core: affectionate and loyal animals who crave our attention and deserve safe and loving homes."
Two other exhibits under fire include a video featuring mating pigs covered in ink, and the show's titular piece ― an installation involving live reptiles and insects, some of which will die during the show. The Guggenheim describes "Theater of the World" by artist Huang Yong Ping as "a caged arena shaped like a mythological tortoise, hundreds of live reptiles and insects devour each other over the course of the show."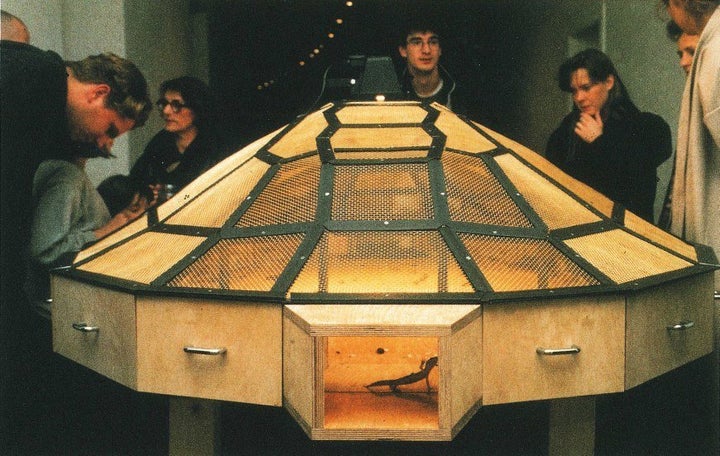 A Guggenheim spokeswoman told HuffPost that one section of the installation will house leopard geckos, Italian wall lizards, millipedes, crickets, cockroaches, grasshoppers, and two types of beetles. A second will contain corn snakes and sulcata tortoises.
"The Museum staff worked closely with the artist as well as with an entomologist and reptile and insect care experts," she said in an email. "The insects were sourced in consultation with local experts; all are non-venomous. The reptiles have been selected and are cared for by trained professionals, including regular observation by a veterinarian."
She added that lighting will be appropriate to help the animals acclimate to their environment, and that their feeding is managed by "trained experts."
It was not immediately clear what the museum's initial press release meant when it said the reptiles and insects would "devour each other."
Versions of the piece have been shown all over the world, and it has sparked controversy multiple times, including when the Vancouver Art Gallery removed the installation in 2007 after Huang refused to let them make some alterations at the recommendation of a veterinarian.
Huang argued in a 2015 interview that the installation isn't cruel, saying it's no different from pet stores selling bugs as food for other animals:
I was trying to present a metaphor through these creatures, not to emphasize their cruelty. I was presenting a case in which the bugs represented different kinds of people who supposedly cannot exist together, and raising the question—what would it be like if they coexisted? Hence the metaphoric title Theater of the World. I believe that this artwork is about raising such meaningful questions, not illustrating so-called cruelty.
An online petition calling for the removal of the exhibits involving animals had garnered more than 160,000 signatures as of Saturday afternoon.
This article has been updated with comments from a Guggenheim spokeswoman.
Popular in the Community