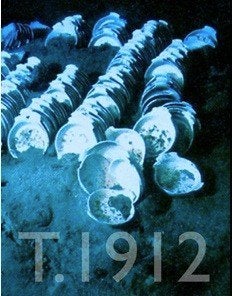 Marking 99 years since the Titanic sank, the Guggenheim presents 'T.1912,' a site-specific staged audience experience conceived by artist Dominique Gonzalez-Foerster. The show will unfold in two performances on April 14th, the anniversary of this historic tragedy occurred.
Gonzalez-Foerster's experiential work uses the museum as a space to create alternate universes. With 'T.1912,' Gonzalez-Foerster invites her audience to experience the feeling of a sinking Titanic. She has chosen the Guggenheim Rotunda as her 'vessel;' the night of the performance, audience members will 'board' the ship through the Peter B. Lewis Theater, before reaching the rotunda, where they will be assigned decks, and encouraged to move within the ramps, as passengers aboard the Titanic would have moved while the ship sank. All the while, The Worldless Music Orchestra will play Gavin Bryars' 'The Sinking of the Titanic,' a piece inspired by reports that while the Titanic sank, the band played a hymn. The audience will also experience changes in light, perhaps mimicking the feel of underwater light effects.
Performances are at 8:40 pm and 10:40 pm on April 14. (Visit guggenheim.org/t1912). On Friday, April 15, at 2:00pm, the Guggenheim hosts a screening of the 1912 Titanic film In Nacht und Eis (In Night and Ice) in the New Media Theater of the Sackler Center for Arts Education, followed by a conversation with the artist Dominique Gonzalez-Foerster and Joan Young, Associate Curator of Contemporary Art at the Guggenheim Museum, at 2:45pm. The film and conversation are free with museum admission.
REAL LIFE. REAL NEWS. REAL VOICES.
Help us tell more of the stories that matter from voices that too often remain unheard.