Over 40 protesters took over The Guggenheim Saturday night, leading loud chants and unfurling banners over the museum's iconic balconies. The intervention -- staged by a coalition of groups called the Gulf Ultra Luxury Faction (G.U.L.F.) -- lasted 20 minutes, Hyperallergic reports, and was meant to draw attention to labor conditions at the construction of the Guggenheim Abu Dhabi in the United Arab Emirates.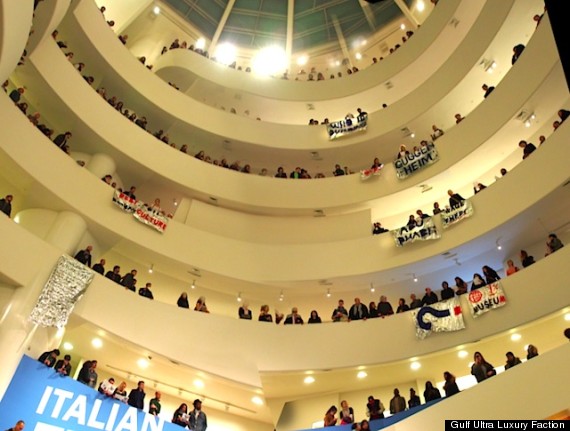 Courtesy of the Gulf Ultra Luxury Faction, a composite image of two photographs from Saturday night's protest.
A "manifesto for the action" was hung on the wall next to curatorial text for the museum's new Italian Futurism exhibit. "Is this the future of art?" reads the manifesto. "Guggenheim is expanding its museum empire to a luxury island in Abu Dhabi. The migrant workers labor in 130 degree heat and essentially debt bondage conditions. Human Rights Watch and Call Labor are investigating this exploitation. Culture is not a debt spiral. Art should not violate human rights. Art is not a luxury asset of the 1%. Art is an act of freedom not bondage. Exploitation is not the future of art."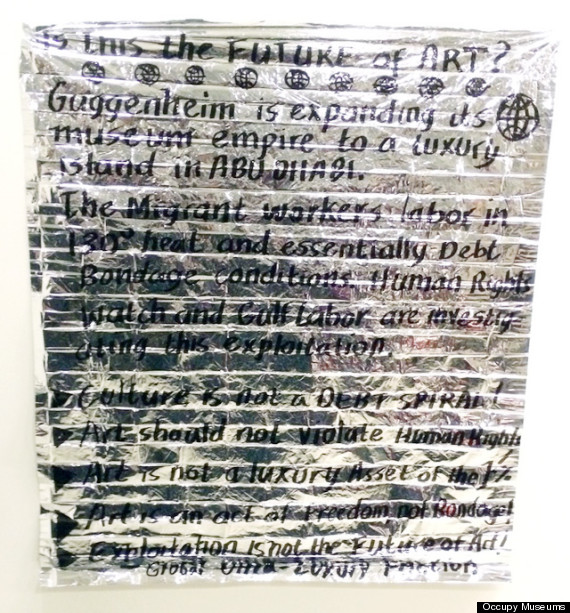 Image via Occupy Museums.
A slew of Western cultural institutions and museums are constructing new branches on Abu Dhabi's Saadiyat Island ("Happiness Island" in Arabic), including The Louvre and New York University. According to multiple reports, migrant workers from South Asia are allegedly tricked into signing dubious contracts that lead to indentured servitude on the island. The Guardian reported workers work long hours on low wages, have no bargaining rights, and aren't even allowed to leave the country. They live in cramped, windowless rooms. And if they complain to authorities about working conditions, they're threatened with violence.
For one protester on Saturday, it was fitting that the action occurred during the museum's Futurist exhibition. "I think the context is really appropriate, because [the Futurists] talked about restructuring the universe, so clearly the museum is giving that some thought at this moment, and we want to talk about restructuring the universe without fascism and without slave labor," artist Amin Husain told Hyperallergic.
Hundreds of visitors were at the museum Saturday for its pay-what-you-wish admission night. The Guggenheim has yet to comment on the protest.
Related
Popular in the Community