Protesters dropped thousands of pieces of paper from the Guggenheim rotunda this weekend. Hyperallergic reports that 9,000 "1 percent" bills of a satirical currency rained down on visitors Saturday evening in an act to draw attention to the Guggenheim's alleged use of "slave labor" to build a satellite site in Abu Dhabi.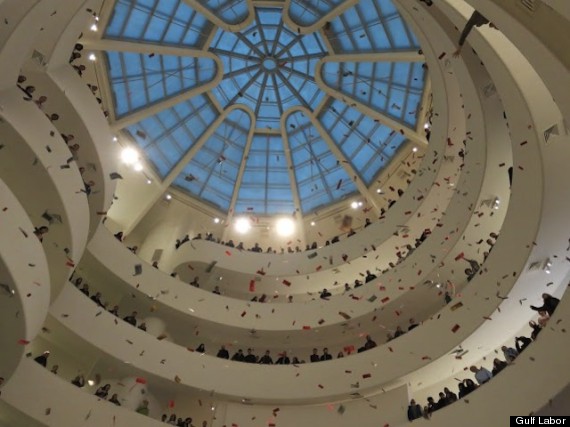 A protester on the ground floor rung a bell at about 6:45 p.m., signaling protesters on the upper balconies to release the bills -- written over with phrases like "By the authority of shit is fucked up & bullshit," and "No sustainable cultural value" and "What does an ethical global museum look like?" -- onto people below. The action was coordinated by the Global Ultra Luxury Faction (GULF), which is a spinoff of another group called Gulf Labor. Both groups organized a similar protest at the Guggenheim last month.
According to Gothamist, the protest caused the museum to shut down its "pay what you wish" admission night while the NYPD arrived on the scene. Gothamist reporter Christopher Robbins says he was interviewing visitors about the protest when he was abruptly escorted off the premises by security guards.
The protest came a day after The New York Times published an op-ed by Andrew Ross, a NYU professor and member of Gulf Labor. Ross described the conditions under which workers on Abu Dhabi's Saadyiat Island -- where the Gugenheim, the Louvre, British Museum, and New York University are all building satellite sites -- have to work:
On Saadiyat, and throughout the gleaming cityscapes of Abu Dhabi and Dubai, the construction work force is almost entirely made up of Indian, Pakistani, Bangladeshi Sri Lankan and Nepalese migrant laborers. Bound to an employer by the kafala sponsorship system, they arrive heavily indebted from recruitment and transit fees, only to find that their gulf dream has been a mirage. Typically, in the United Arab Emirates, the sponsoring employer takes their passports, houses the workers in substandard labor camps, pays much less than they were promised and enforces a punishing regimen under the desert sun.
The Guggenheim maintains that, despite protesters' claims, construction on its Abu Dhabi museum has yet to begin. Here's a statement emailed to The Huffington Post:
The Solomon R. Guggenheim Foundation has been and is currently engaged in ongoing, serious discussions with our most senior colleagues in Abu Dhabi and TDIC, the authority responsible for building the Guggenheim Abu Dhabi museum, regarding workers' rights. Our chairman of the board of trustees and director have just recently returned from meetings in Abu Dhabi where this issue was a top priority for discussion.

As global citizens, we share the concerns about human rights and fair labor practices and continue to be committed to making progress on these issues. At the same time, it is important to clarify that the Guggenheim Abu Dhabi is not currently under construction, despite erroneous claims by certain protesters. The building foundations and pilings were completed in 2011.

While in Abu Dhabi in mid-March 2014, our director revisited the workers village to ensure that living conditions for workers who will work on the Guggenheim Abu Dhabi will set new and respected standards for workers engaged in building other projects on Saadiyat Island.
Earlier this year, The Guardian reported on the dismal working conditions on Saadiyat Island, which means "Happiness Island" in Arabic. The paper reported that laborers there work long hours on low wages, do not have bargaining rights, and aren't even permitted to leave the country, all while living in cramped, windowless rooms. If the workers complain to authorities about working conditions, they're threatened with violence.
During Gulf Labor's last major protest at the museum, a "manifesto for the action" was hung on the wall next to curatorial text for the Italian Futurism exhibit. "Is this the future of art?" it read. "Guggenheim is expanding its museum empire to a luxury island in Abu Dhabi. The migrant workers labor in 130 degree heat and essentially debt bondage conditions. Human Rights Watch and Call Labor are investigating this exploitation. Culture is not a debt spiral. Art should not violate human rights. Art is not a luxury asset of the 1 percent. Art is an act of freedom not bondage. Exploitation is not the future of art."
On March 24, protesters projected this onto the Guggenheim for 40 minutes: