"I am beyond disappointed in the Guggenheim's willingness to share the appalling treatment of animals," one read. "These artists felt China was willing to toss them aside, but they are quite willing to throw animals aside. We are all in this life together, man and beast."
"Art and China After 1989" features avant-garde pieces from 150 Chinese artists working between the end of the Cold War and 2008. Themes of globalization, utopia, oppression, authority, violence, competition and control are prevalent throughout the show, with animals often symbolizing the debased human condition many endured during this transformative period in Chinese history.
One piece no longer included in the show is "Dogs That Cannot Touch Each Other," originally staged in 2003 by married couple Peng Yu and Sun Yuan. In the performance, four pairs of pit bull-like dogs were strapped to non-motorized treadmills, facing each other. When the dogs attempted to run towards each other, they could not physically meet, mirroring a setup sometimes used to train dogs to fight. A seven-minute video of the 2003 performance was slated to be included in the Guggenheim's exhibition.
PETA president Ingrid Newkirk spoke out against the work. "People who find entertainment in watching animals try to fight each other are sick individuals whose twisted whims the Guggenheim should refuse to cater to," she said. The American Kennel Club also released a statement, declaring, "Depictions of animal cruelty are not art."
Another contested work, the title piece of the show, is Huang Yong Ping's 1993 "Theater of the World." The work is a wood, steel and mesh dome equipped with heating lamps that can house hundreds of insects and reptiles inside, including locusts, crickets, beetles, centipedes, grasshoppers, geckos and cockroaches. The piece is arranged so that viewers gazing upon the work from above can watch as the creatures "devour" one another, as an initial press release from the museum outlined. A similar version of the work was also removed from view in Vancouver, British Columbia, in 2007, when the artist chose to pull the piece rather than comply with requests for him to remove scorpions and tarantulas from the mix.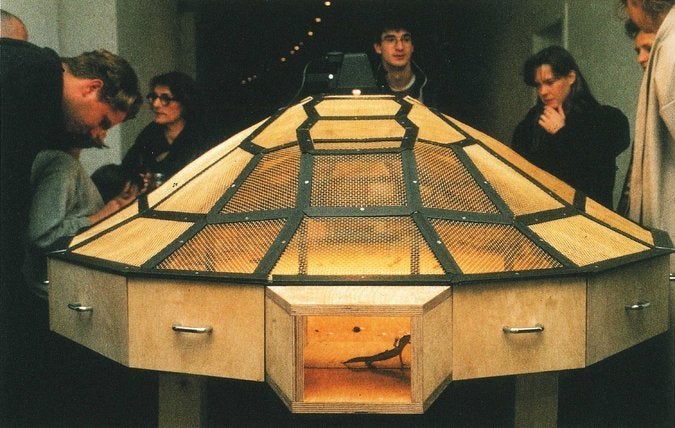 "A lot of artists work with animals, and they have for a long time," Alexandra Munroe, senior curator of Asian art at the Guggenheim, told Artnet. (She curated the "Art and China After 1989" exhibition alongside Philip Tinari and Hou Hanru.) "We are privileged to be in New York City, where we have the best of the best animal handlers. But these animals [in 'Theater of the World'] were bred for pet consumption, and they are used to living in somewhat artificial environments."
A Guggenheim spokesperson previously reiterated to HuffPost that the museum staff worked closely with an entomologist, as well as reptile and insect care experts. "The insects were sourced in consultation with local experts; all are non-venomous," she explained. "The reptiles have been selected and are cared for by trained professionals, including regular observation by a veterinarian."
The final piece on the chopping block is Xu Bing's "A Case Study of Transference," staged in Beijing in 1994. In the original piece, a live boar and sow had sex in front of an audience. The animals appeared covered in temporary tattoos comprised of nonsensical text in Roman lettering and invented Chinese characters. At the Guggenheim, the museum planned to omit the live performance element, and instead show a video of the Beijing performance.
"As an arts institution committed to presenting a multiplicity of voices, we are dismayed that we must withhold works of art. Freedom of expression has always been and will remain a paramount value of the Guggenheim."
It's unclear what the recurring threats of violence against the museum entailed, or who is behind them. Sarah Eaton, a Guggenheim spokesperson, declined to give specific details to The New York Times, noting only that "the tone in both the petition comments and the social media postings, calls and emails was markedly different from what we've seen before and required us to take the threats very seriously."
"It's just surprising that there was no call to see the side of the artists," Mohini Dutta, a transmedia designer at Syracuse University, told the Times. "It's sad, but not surprising that a populist institution like the Guggenheim caved, instead of using it as an opportunity to have a larger dialogue about consent, living props and uncomfortable art."
Representatives for the Guggenheim did not immediately respond to HuffPost's request for comment.
UPDATE: Sept. 28 ― The National Coalition Against Censorship released a statement condemning the Guggenheim's decision to remove the works, as well as the violent threats that led to the decision. The statement reads in part:
The Guggenheim's alarming action continues a growing worldwide trend in which threats of violent protest are silencing artistic expression and posing a danger to free speech in general. Whether or not the provocations of artists are defensible or morally unacceptable, we need to take an uncompromising position against threats of violence. When cultural institutions cave in to such threats, others who are convinced of the moral rectitude of their cause are encouraged to embrace similar tactics. This time it is animal rights activists. Next time it could be religious or political extremists.

Cultural institutions need to work with law enforcement to protect their staff, the public, and the works on view and to ensure that the right to protest does not override the right to free expression. Every time threats of violence succeed in silencing expression, fear's stranglehold on the imagination tightens, stifling our ability to fully explore the world and our place in it.
Support HuffPost
The Stakes Have Never Been Higher
Popular in the Community