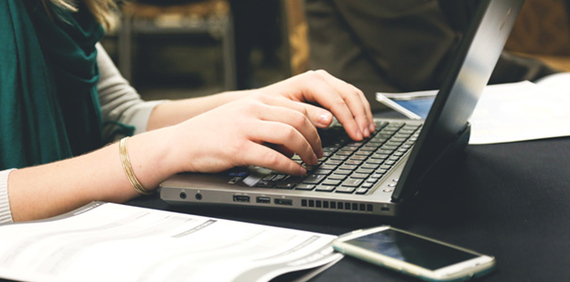 As a small business owner, you may know about the importance of blogging for your business. It's been touted as one of the best ways to bring in new customers through the Internet. But where do you start?
Launching your business's blog can be confusing. That's why, in this post, I will identify and explain the six steps you need to follow to get your blog off the ground...
1. Identify the "theme" of your blog.
A blog is a medium in which you can publish your thoughts in an organized way. Think of it as a niche newspaper or magazine. In order for your blog to be successful, you need to first identify what your blog should be about. You don't want to be too specific or you'll quickly run out of ideas for content. And you don't want to be too broad or you'll turn off your target demographic. It's important to find a nice balance. Take, for example, the SalesForce blog. Although they sell CRM software, the content on their blog ranges from customer service to marketing to sales techniques.
2. Research your target audience.
Understanding your audience is not only key to a successful blog, but to a successful marketing campaign in general. Here are a few simple tips to better learn your audience:
Create a survey asking your current customers what more they want to learn about your business.
Research what your competitors are doing on their blogs. Are they getting any engagement with their posts? What is their audience saying?
Analyze your website and social media analytics. Where is the majority of your traffic coming from? Is it being referred to you by another website?
Understanding your audience is important because blogging (and content marketing in general) is a form of permission marketing. You are giving out free, valuable information in exchange for something you find just as valuable from your target audience (e.g. email address, form submission, etc.).
3. Create a goal.
Blogging without a goal is like going on a trip without a map - you'll never reach your destination.
The goal of your blog will depend on the type of business you run. If you're a restaurant, you may want the reader to make a reservation. If you're a marketing company, you may want the reader to sign up for your newsletter.
You shouldn't always expect your blog to drive immediate sales. Rather, you should focus on using it as a tool to attract new customers and bring them into your funnel.
Here's a great example of a marketing funnel that properly utilizes a blog:
You own a website that sells virus protection software. A user searches for "how to get rid of a computer virus." They find your blog post in the search results and it helps fix their computer.
In the blog post, you link to an ebook you wrote titled, "The Ultimate Guide to Protecting Your Computer from Viruses." Since the reader found your post helpful, they decide to download the free ebook in exchange for their email address.
You then add that email address to your email marketing software and send them periodical emails on how they can keep their computer safe. In the emails you mention the software you sell. Since the reader already trusts you and finds what you have to offer valuable, they decide to purchase your software.
4. Create a schedule.
When it comes to blogging, the question I'm asked most frequently is, "How often should I be posting to my blog?" Many people think that search engines will penalize you if you don't post at least once a week (or more). That's a big myth.
The frequency with which you post is completely up to you. It's more important to focus on quality over quantity when it comes to blogging. However, also realize that the more you blog, the more traffic you will get. And the more traffic you get, the more potential leads you could bring in.
5. Find great writers.
If you're thinking that you don't have time to blog or that you're not a good writer, don't worry. The best part about blogging is that you don't necessarily have to be the one who does the writing.
There are two options: you can hire someone to write for your blog under their name, or you can hire someone to ghostwrite under your name.
Whatever you decide, you'll need to find quality writers, which can be difficult. You'll want to look for writers who have a tone that fits well with your target audience. If your business specializes in something that is highly technical, you may want to find a writer who has experience with your industry.
Here are a few places to find great freelance writers:
One way to make finding a writer more manageable is to create an online questionnaire that serves as a digital interview. You could ask questions such as, "Where else have you written?" "Can you provide samples of your past work?" and "How much do you charge?" That way you don't need to ask the same questions to everyone who wants to apply.
6. Promote your content.
Many people start a blog, publish a few posts, and immediately quit because the traffic doesn't roll in. Why doesn't it? Because the majority of blogging isn't about publishing your post, it's about promoting it.
Promoting your content is usually the most time-consuming part of blogging. However, it's definitely the most rewarding.
There are many different strategies you can use to get people to read your post. Here are a few to get you started:
Grow your social media channels so that when you publish a post, you can reach out to that audience immediately.
Submit your post to the appropriate aggregate sites such as Reddit, Alltop, and Stumbleupon.
Grow your email list so that you can send your post to subscribers when it's live.
Do the appropriate keyword research prior to writing your blog post so that it will be picked up easier by search engines.
Conclusion
Progress may seem slow at first. Many businesses that rely on their blog to bring in new customers have said that it's taken years for them to see traffic and leads result from it. Stick to your schedule, track the progress toward your goals, make necessary adjustments, and you'll be able to turn your blog into a lead-generating machine.
Calling all HuffPost superfans!
Sign up for membership to become a founding member and help shape HuffPost's next chapter