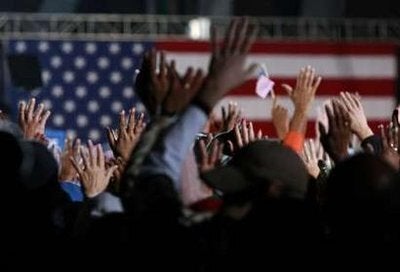 For those obsessed with the results on Tuesday night, here is a November 4 guide to watching television and searching exit poll data on the web.
There are three basic questions (with hundreds more to follow in the weeks ahead): 1) When can you feel confident about the outcome of the presidential contest?; 2) How well are Democrats progressing toward their goal of 60 seats in the Senate?; and 3) Will 2008 be another Democratic blowout, signaling the possibility that the party could establish a majority coalition in future elections?
The basic rule of thumb is to follow the poll closing times in each state. Once voting is stopped, the networks can start using detailed exit polling (HuffPost will post those polls here). If the networks are unwilling to call a given state, an examination of the exit poll data can often give you a clear signal of the ultimate results. The state-by-state exit polls released after poll closings will have large samples and should not suffer the defects that plagued the early findings in 2004 which pointed to a solid Kerry victory nationwide. (CNN and MSNBC have exit polls that are relatively easy to negotiate.)
For additional help, HuffPost has election night widgets from Google, CNN, and MSNBC that will allow you to watch the electoral vote count and the congressional balance of power with the national U.S. map or choose a state and see how individual counties are voting.
At 7:00 P.M. ETthe polls will close in Virginia, Kentucky, Georgia and Indiana.
Virginia is a crucial battleground state, and an Obama win there (without Georgia or Indiana) would suggest he is likely to take the oath of office on January 20. Turnout in the state is already reported to be off the charts. One person helping out the campaign there says that nearly half the expected electorate showed up by noon. The state also has a hot congressional battle being waged as well. Arch-conservative Rep. Virgil Goode, in a district that includes Charlottesville (UVA's home town) is in a tight fight with Democrat Tom Periello.
If Obama carries either Georgia or Indiana, look for a big Democratic night all around. If he carries both (along with Virginia), Republicans should consider turning on the gas and closing the windows. Conversely, if McCain carries Virginia, Indiana and Georgia, plan to stay up a little later.
There are Senate battles in these states as well.
The Kentucky Senate race, pitting Republican Minority Leader Mitch McConnell against Democratic challenger Bruce Lunsford, a businessman and U.S. Army veteran, is a crucial contest in the fight for filibuster-proof control of the Upper Chamber. McConnell has a 5.7 percent advantage according to RealClearPolitics and a Democratic victory would be a major upset.
Another upset could be in the making in Georgia, where Democrat Jim Martin has been closing the gap in his challenge to incumbent Saxby Chambliss, although Martin remains 2.7 points behind. If Georgia goes for Martin, it will indicate that black voters are turning out in droves, mobilized by the prospect of electing the first African American president.
At 7:30 P.M. ET, polls will close in the Big Enchilada of 2008: Ohio -- as well as another important state, North Carolina, although officials there have the option of staying open until 8:30 if there are problems in completing the voting process.
Ohio has become the national battleground state and this year is no exception. Carried twice by George W. Bush, this year Obama is favored, with a 7 point edge, but neither side is taking it easy. The closing Ohio trend line has been in favor of McCain, who in recent days has cut in half what had been a double digit deficit.
The presidential race in North Carolina is a dead heat, and has been so for a month. The RCP average has Obama ahead by a statistically meaningless 0.3 percent. An Obama victory there would be another strong sign of a good night for the Democratic nominee and his party -- especially if combined with an Obama win in Virginia.
North Carolina Senator Elizabeth Dole (R) is fighting for her life against Kay Hagan (D) in the Tar Heel state. Hagan holds a 5.5 point advantage and appears likely to pull off an upset win, but the big question is whether Dole's last minute airing of highly controversial commercials linking Hagan to a "Godless" supporter gains traction.
At 8:00 P.M. ET, there will be a flood of voting results and poll data begins from key states, including Florida, Pennsylvania, Missouri, and New Hampshire. In addition, there are two crucial Senate races: Sen. John Sununu (R) v. Jeanne Shaheen (D) in New Hampshire, and Senator Roger Wicker (R) v. Ronnie Musgrove (D) in Mississippi.
Of the presidential states with 8 pm poll closings, Florida is by far the most important. RCP's 4-poll average in Florida gives Obama a 4.2 point edge over McCain. If that holds up, Obama would be well on his way to victory.
If, conversely, McCain wins Pennsylvania while holding Florida and other states carried by George W. Bush in 2004, it's a whole new ball game, and a late night: you will have to wait for returns from Colorado, New Mexico (both 9 PM ET closings) and Nevada (10 PM), to have any real confidence in the outcome.
In Connecticut, meanwhile, Rep. Chris Shay's - a perennial endangered GOPer - is hoping to be the lone House Republic left in New England. He could be hurt by Obama's appeal in the New York City suburbs - where he is a bit more popular than the average Democrat - but mainly by minority turnout in Bridgeport.
As a side note: The networks will not go anywhere near calling the presidential race until the polls close on the West Coast at 11 PM. Barring the Pennsylvania-McCain scenario, the odds are that the winner will be known to anyone following the results once the states with 8 PM closings are in.
At 9:00 P.M. ET, polls will close in a host of important states, including Wisconsin, Minnesota, New Mexico, Colorado, Louisiana and Arizona. Obama is looking strong in the first four. And in a surreal Democratic landslide, he could take McCain's home state - though that is incredibly unlikely.
Minnesota, New Mexico, Colorado all have big Senate races. Al Franken's hopes of knocking of Norm Coleman seems destined for a too-close-to-call finish, with third party candidate Dean Barkley likely to take somewhere between 13-18 percent of the vote. The Udall brothers are expected to win in New Mexico and Colorado, both open seats. One of the few hopes for the GOP is for John Kennedy to win in Louisiana where polls have tightened. Though Mary Landrieux, the current Senator, seems likely to squeak out a win.
Minnesota also is hosting two interesting House races. Michelle Bachmann's rant about investigating un-American activity in the U.S. Congress catapulted her opponent into a nipping-at-her-heels position. Meanwhile, Ashwin Madia, a Marine vet and son of East Indian immigrants (who was subjected to political attack-ads that distorted his skin color) is poised to knock of Erik Paulson.
At 10 P.M. ET, the polls from Montana and Nevada will close. Montana will show the strength of Obama's mountain west appeal. His showing in Nevada will underscore how well his candidacy has done with Latino voters.
At 11:00 P.M. ET - the polls in California, Oregon and Washington will close. The gubernatorial race in the latter is the tightest in the country. In 2004, Republican Dino Rossi lost to incumbent Christine Gregoire by just 129 votes after a third recount. The two are at it again and it will likely, once more, be too close to call.
In California, it is a ballot initiative that is gathering all the headlines. Proposition 8 would eliminate the rights of same sex couples in the state. Early results show that a slight majority are against the initiative.
In Oregon, Democratic challenger Jeff Merkley leads incumbent Gordon Smith by 5.3 points. If Democrats are still on the cusp, with 59 seats, when Oregon's results are counted, it will take Alaska's results to be sure of the balance of power in the Senate.
At 1:00 A.M., polls will close in Alaska. Recently convicted incumbent Republican Ted Stevens looks like a probable loser to Democrat Mark Begich, who leads by 10.3 points -- although no one is going to state publicly that Stevens is politically dead until the results are officially declared. Rep. Don Young also hurt by ethical transgressions, seems likely to lose his post.
There is an even worse scenario for those with a desperate need to know: The Democrats could be at 59 Senate seats at 2 AM on November 5, but, when all the votes are counted in the Georgia race, a number of experts say that a reasonable expectation is that neither Chambliss nor Martin will reach the 50 percent required to win, and that Libertarian Allen Buckley will siphon off enough votes to force a run-off later in the month.
Popular in the Community