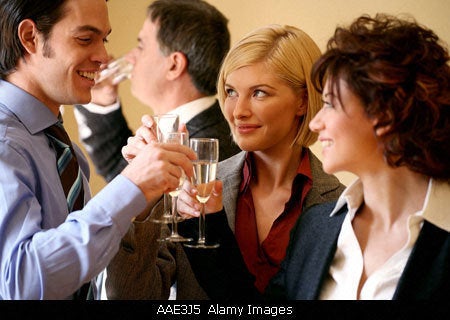 How many articles have you read this month cautioning you that the office holiday fete is something to navigate delicately? Every year the Internet abounds with guides on what not to say, what not to wear, and who not to hook up with (wait...are there co-workers you should hook up with?) -- and those are just the women's sites.
Are all those tutorials really necessary? Assuming Michael Scott isn't on the guest list, how much can really go wrong?
As it turns out, a lot. Despite the damper a feeble economy has placed on the once extravagant event that is the company yuletide fete, plenty of us will -- or have already -- attended one this season, according to a survey from Amrop Battalia Winston, an executive search firm. And that means that there is still plenty of opportunity for pre-recession-level debauchery.
"Everything from removing plants from hallways, to [stealing] signs, to people smashing cars coming out of the parking lot," said James A. Merklinger, vice president and general counsel for the Association of Corporate Counsel. "Guests don't always realize that other colleagues are there, unfortunately."
Merklinger recalled one party that featured a digital photo booth. It sounded like a good idea, he said, until people started taking explicit photos, which were then projected inside a conference hall filled with 1,000 people. "The people in the booths did not realize the images were going up on the screen," he said.
An open bar can also be dangerous for holiday parties. Merklinger said one company ended up with a $1,250 bill for five shots of liquor. At another party, which was held at a hotel, an employee went to what he thought was his room to retire for the night. He was actually on the wrong floor, so his key wouldn't work. He pounded on the door trying to get inside until the people staying in the room called security and had him arrested.
But those are the extremes. Bearing in mind that the majority of us don't have the tendency to be drunk and disorderly (or vandalize property), there are still holiday party pitfalls we can all fall victim to (or did).
How did you fair at this year's holiday party? Did it all go flawlessly, or were you or someone at the party who was not so lucky? To tell us about it, tweet @huffpostwomen with the hashtag #officepartyfail. We'll add your best tales of fetes-gone-wrong to the slideshow.
Calling all HuffPost superfans!
Sign up for membership to become a founding member and help shape HuffPost's next chapter
BEFORE YOU GO
PHOTO GALLERY
The 7 Most Common Office Holiday Party Gaffes