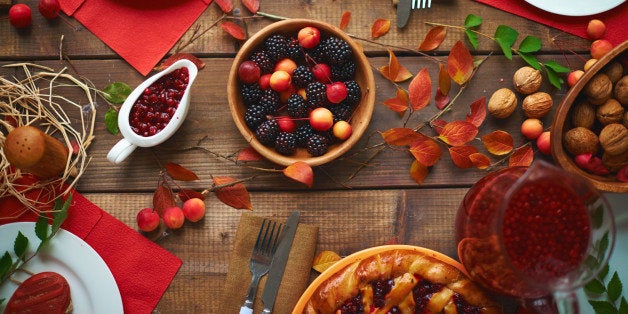 It's almost Thanksgiving! For those of you reading who don't have an autoimmune disease or food allergies, this is a time of abundance and celebration. You can eat ANYTHING you want without thinking twice! Yay!
But maybe you have a sister, uncle, cousin or parent with celiac disease. Maybe they have a nut allergy, or dairy intolerance. The holidays might not always feel the same for them, especially if they have celiac disease. Having an autoimmune disease that you can actually actively do something about (namely, avoiding gluten at all costs) is such an incredible gift, but that doesn't mean it is easy. There are times where it can be really really hard. And not because we want to eat gluten- trust me, I don't! It's because it can be a really tricky thing to navigate with the people you love. They want to help, want to accommodate you, and make your holiday fun! But if you're like me, you want to handle it yourself so that you have peace of mind. You want to know without a doubt that your food is safe, and that means doing it on your own.
It is nearly impossible to ensure that food made in a mixed space or messy kitchen is safe, and even if something is gluten free, that doesn't mean it is safe for someone with celiac. Trying to navigate kitchens, dishes, and conversations during the holidays is really challenging for people with celiac disease. They can often feel isolated, different, and guilty for not eating certain dishes.
Thankfully I'm lucky enough to have incredibly supportive family and friends. My network not only loves me, but they get me! They understand my nervousness and concerns about food that I don't prepare myself and they understand when I won't eat something and why. They take the time to learn and educate themselves, and for that I am eternally grateful.
As I prepare to go home for Thanksgiving, decked out with my own homemade Thanksgiving meal in my gluten free cooler, I realize how many people with celiac disease out there are not yet in a supportive environment, and maybe have not yet figured out how to ensure a safe and fun holiday for themselves. These days I am well prepared, but it took a long time, and a lot of trial and error, to figure out what works for me. No one should have to reinvent the wheel when it comes to something like this, so, with that, I would like to share my tips for a guilt free and gluten free holiday:
Be prepared! BYOF: Bring your own food!
Why stop at food? Also be mindful of the appliances you may need to prepare your food and if you should bring your own if contamination is an issue. (Think tinfoil, cutlery, pots, pans, etc.)
To remain guilt free this holiday season, learn how to explain your disease in a way the people around you can understand; develop your celiac disease elevator pitch! If it is fun and accessible you won't have to feel guilty for turning down food or being different. You will own it! Some questions to address in the pitch:
What is celiac disease?
Why do I have it?
What do I need to do to manage it?
What are the risks if I don't?
Be honest- it's okay to feel upset or sad about having celiac disease. It's also okay to have a really positive outlook on it. You may find that you alternate between the two feelings, which is okay too! Whatever is true to your experience, own it and take the time to vocalize your feelings in a safe space.
Have fun! Free of gluten doesn't mean free of fun!
If you are worried about feeling guilty for saying no to food this season- don't! It's like my mom always says, "it's not what you say it's how you say it." Say no in a way that is positive, educational, and grateful. Thank people for the effort they made, tell them how much you wish you could have it, but explain to them why you can't. Own your choices, needs, decisions and stand by them proudly. You can do that and still be a kind person. You're just a person with celiac disease looking out for your health, and that's amazing!
I am so grateful for my family and friends out there reading this- thank you for your support and unconditional love!
I hope that those of you reading with celiac disease feel the same way, and if you don't have a network like this, please reach out to me -- my email address is below. Consider joining a celiac meetup group, and talk openly about your feelings with a friend or relative. These communities take time to build and I want you to know that there are people who care about you and support you!
To those of you reading with celiac, I'd like to ask you if the holidays make you anxious. What makes you the most nervous or uncomfortable? What tips do you have for others? Feel free to post these in the comments below or reach out to me at hannah.crane@nyu.edu. It's important to have your concerns be heard and it's critical that you know that you are not alone! It's also really important to learn from others about how they avoid risks during the holidays while having fun and enjoying the season!
Popular in the Community