Las Vegas may be the go-to weekend getaway hotspot for couples and singles, but what if you have kids in tow? Is there any way to navigate Sin City with children? Yes...and no. Some of the er, more adult attractions and visitors of this city are unavoidable if you want to take in the most popular sights, but there are Las Vegas travel hacks which will make most of what you do and see during a Vegas vacation suited for all ages.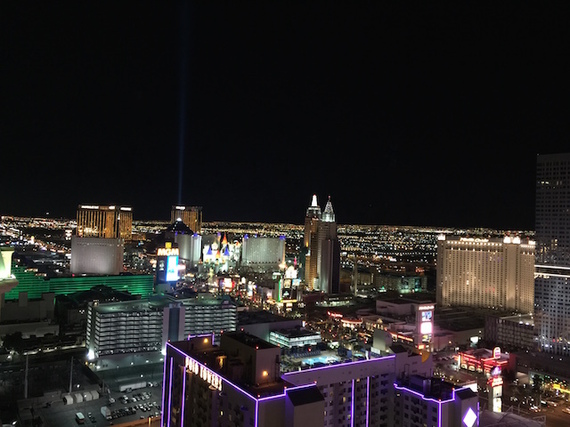 Vegas with kids travel hack #1:
Stay in a non-gaming hotel. Yes, they exist! Imagine walking into a Vegas hotel and not being accosted by the sound of slot machines, the sight of half-naked cocktail waitresses, and a wall of cigarette smoke. The Marriott Vacation Club Grand Chateau sits half a block off the Strip, and offers full suites for families in a non-gaming, non-smoking atmosphere. The lobby is light and airy, the service is excellent, and there's even free valet parking.
Off the Strip, the Desert Club Resort, operated by Holiday Inn Club Vacations, also offers full kitchens and suites for families, plus ample grounds to play with the kids.
Vegas with kids travel hack #2:
Stay off the Strip during the day. Counter-intuitive, isn't it? Parents make the mistake of thinking the Strip will be 'wilder' at night, but in fact, touring it during the day can be just as disturbing for kids, as they'll still see a lot of day drinking, skin, and those annoying fliers advertising adult venues. Instead, take a day trip outside the city during the day, such as to Red Rock Canyon, the Grand Canyon, or Death Valley National Park. Stay all day, and return at dinnertime.
Families who don't want to leave the city can spend a day at the hotel pool, and check out kid-friendly activities offered by the resort. Maybe mom or dad can head to the spa for a treatment, or everyone can play tennis or golf.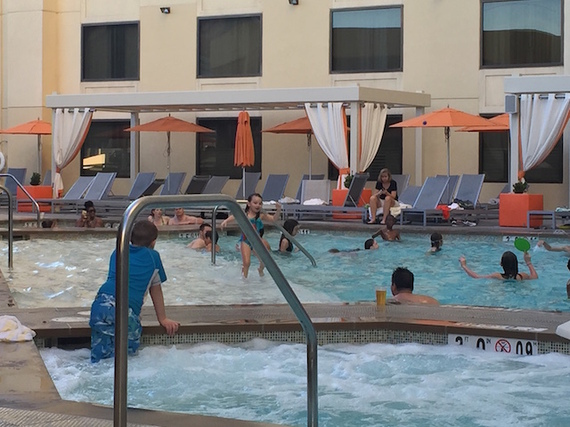 Check out the Strip during the hours of 5 pm to 8 pm. During every season but high summer, kids will get to see the lights and neon in full glory, but the true party crowd will not yet be out. Enjoy a nice dinner out, do some shopping--we recommend the World of M&M store, Hershey Chocolate World, and Adidas as good bets--and try a ride or two. Our ride pick: the Big Apple roller coaster at New York, New York.
Vegas with kids travel hack #3:
Find affordable meals in shopping areas. When not eating 'in' (remember, you have a family-friendly suite, right?), families can find kid-approved eateries in the Miracle Mile shops, located just off the Strip by the MGM Grand and Planet Hollywood. Air-conditioned and peaceful (compared to the Strip outside) this mall offers staples like Chipotle, and more unique fast food options like Earl of Sandwich.
Just outside and across the street by the Aria, popular Shake Shack is located outside, away from casino cigarette smoke. Bobby Fray's burger joint is located adjacent, which will make everyone in the family, from dad to the kids, happy.
Vegas with kids travel hack #4:
Leave the car parked while touring the Strip. It can take up to 20 minutes to drive one mile along the Strip (trust me, we've done it). And then parents still need to find parking. Instead, leave the car parked at the hotel, if staying close by, or park in a free casino lot along the Strip, and take the free or low-cost public transportation. Kids will think it's fun, and parents will feel more relaxed. The shuttle is free, but the monorail is affordable and more direct. When families traverse the Strip in public transit, they walk less, and therefore kids 'take in' less along the way...including those vulgar ads.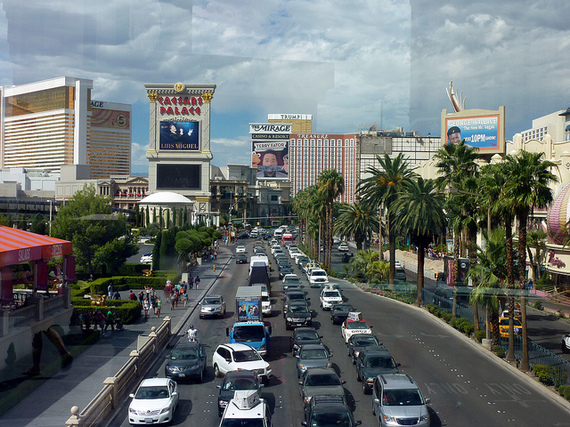 Vegas with kids travel hack #5:
Find plenty of free kid-friendly entertainment. Don't bother buying tickets to an expensive show. Trust me, you'll still drop a pretty penny on arcades and rides for kids in Vegas. When it comes to shows, head to the Bellagio to see the water lights show that appears outside every 30 minutes, or to Circus Circus to see the free acrobatic and magician acts. You'll have to carefully navigate around the midway and AdventureDome if you don't want to spend a lot of dough, however. The best paid shows for kids include the Tournament of Kings dinner theater at Excalibur and Shark Reef at Mandalay Bay.
Will your Vegas experience be different with kids in tow? Absolutely! But a Vegas vacation with kids can be just as relaxing and fun...and you'll save some money to boot!
Photo credit: Amy Whitley, Sean MacEntee