Guillermo del Toro is in the world-building business. The director of Hellboy, Pan's Labyrinth, Pacific Rim and the upcoming gothic tale Crimson Peak is known for signature visuals, and an ability to craft rich universes on the movie screen.
And beginning tonight at San Diego Comic-Con, he and film production company Legendary Pictures are bringing those universes to life with a new initiative that allows attendees the chance to immerse themselves in the movies through "experiential exhibits."
Before it was unveiled at "Preview Night" of the pop-culture mega-event, which officially opens tomorrow, Huffington Post received an early walkthrough with del Toro of the Legendary booth, which centers around a virtual reality Pacific Rim experience and a "gothic gallery" for next year's Crimson Peak.
"We are giving them a taste of the set, a physical representation of how elaborate the set can be," said del Toro of the custom environments. "For a moment, they will be in the world of the movie, even if it's a brief visit."
That visit includes the Pacific Rim: Jaeger Pilot "Drift With the Rift" Experience. Based on last year's blockbuster about giant monsters vs. giant robots (or kaiju vs. jaeger), the combat simulator utilizes Oculus Rift's virtual reality tech and original film assets from Industrial Light & Magic. After strapping on the Oculus Rift headset, users will enter a 250-story fighting machine and go head-to-head against a kaiju.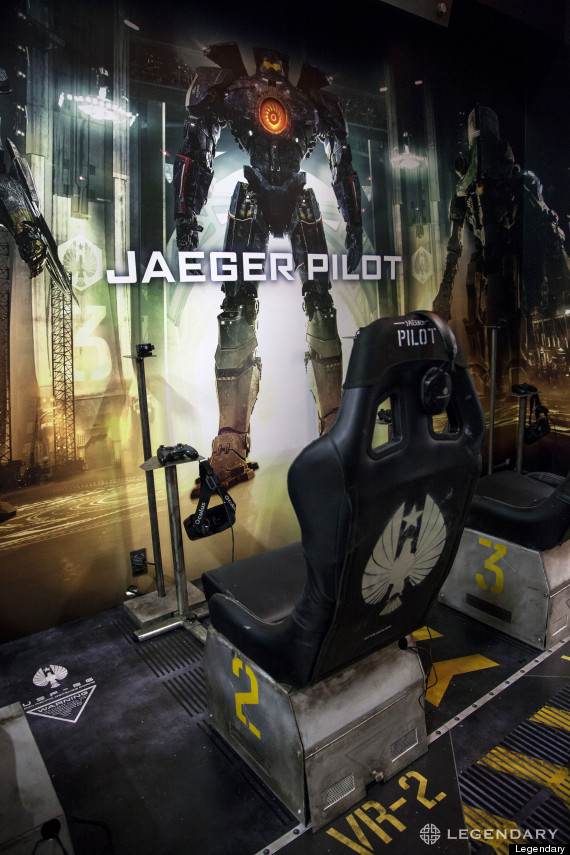 'Pacific Rim: Jaeger Pilot' is a cutting edge Oculus VR experience in which fans will engage in an epic battle between mech and kaiju as seen in the Legendary Pictures film.
Much like within the film, a pilot links with a co-pilot and "drifts" into an alternate state of being, where it feels like you're really operating at dizzying heights. As you turn your head, so does your VR character take a look around within the world. It is necessary to do so as well, since the kaiju Knifehead shows up to make wreak havoc. After getting lost within the Oculus VR world, users receive a personalized Jaeger Pilot badge for going through the adventure.
The exhibit, said del Toro, will allow visitors to immerse themselves and feel what it's like to be a jaeger pilot, and since he was involved in each step of the development, he "knows exactly the experience fans are going to get."
Even though the film came out last year, the Pacific Rim space at the Legendary booth exists because it is a universe del Toro and Legendary want to keep alive.
"So this is one stone in the building of a continuous bridge by expanding the experience and mythology," he said. "We create a world and we're keeping it alive."
Whereas the Pacific Rim presence is designed to promote an expanding brand that includes a comic, a 2017 sequel and planned animated series, the Crimson Peak Gothic Gallery is dedicated to welcoming fans into the world of the October 2015 film. A handcrafted tiny hallway set from del Toro, the gallery is like a cabinet of curiosities that includes props and costumes. It feels alive, and for a few moments, it is as if one is exploring a haunted house - but one that has so many more mysteries beyond ghosts. Accompanied by a soundscape designed by Academy Award winner Randy Thom, the brief tour allows one to touch rotted, peeling wallpaper; examine the portrait of character within the film; look through the simulated destroyed roof into a snowy sky and peer down a hallway where specters occasionally appear. It is intimate and personal, and serves to tease clues from the Crimson Peak tale. Everything attendees see is part of a larger story within the movie -- including a lot of butterflies, an obvious symbology del Toro will play with in the plot.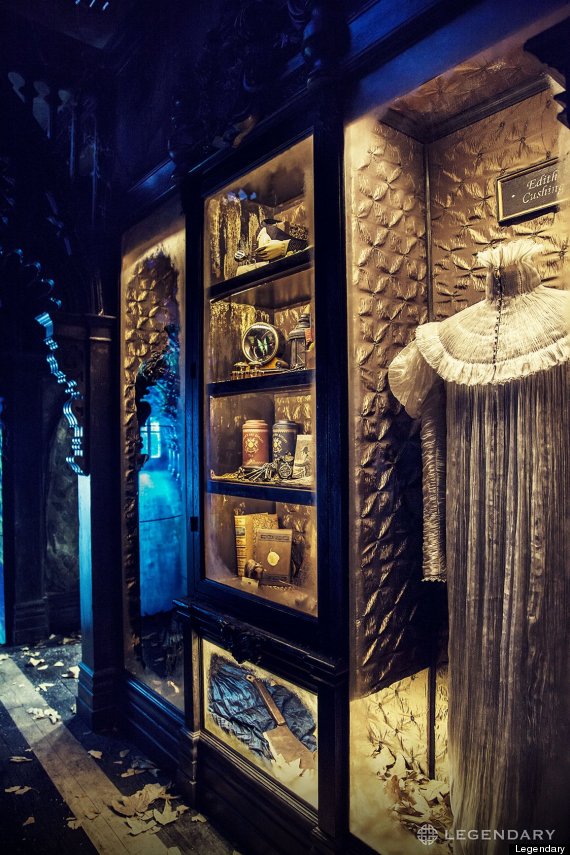 Comprising unique costumes, props and exhibits, The Gothic Gallery showcases the handcrafted artistry of Guillermo del Toro's 'Crimson Peak' to be released by Legendary and Universal in October, 2015
"It functions as a mini haunted attraction in a way, and has an eerie beauty that the movie has," said the director. "You're given a mini mini version of the set, and the atmosphere of what the film Crimson Peak is going to be."
"We wanted the atmosphere of the house to eke into you, to touch you," said Emily Castel, Chief Marketing Officer, Legendary Entertainment. "It is very layered like the film so you become have a vested interest in the journey [del Toro] is taking you on."
In fact, the two spaces at Comic Con this year sum up Castel's mission. A principal of the 533 Marketing Agency, a leading experiential marketing agency bought by Legendary two years ago, she is charged with crafting unique ways for fans to connect to movies.
"The best way is to immerse them into that and create natural extension to the world," she said. Moreover, she said del Toro is an ideal filmmaker to do just that.
"He's versed in worlds you want to live in and be in, and both these films are so rich and so ripe for this type of marketing experience"
For del Toro, these installments serve as the next step for a storyteller.
"The purpose is to share part of that storytelling in a very tangible way. It is more than a story or series of images but part of a memory to hold; it really is a beautiful effort to curate and build for their enjoyment."
"I'm a very big fan of attractions, rides and exhibits," he added. "They are by no means a whole attraction but it's a taste of the spirit of it."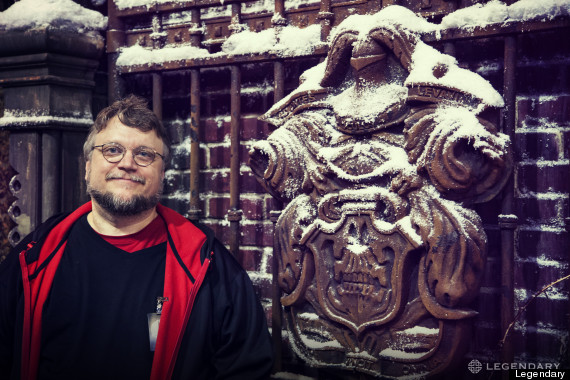 Director Guillermo del Toro presents The Gothic Gallery, offering a first glimpse at his upcoming Gothic Tale 'Crimson Peak' to be released by Legendary and Universal in October, 2015.
Although Legendary is evangelizing its mission that they are more than movie trailers and old-school marketing via del Toro's projects, it's not the first time the company has activated a large-scale experience.
It went with a monster-sized installment at last year's con with the Godzilla Experience. An enormous warehouse-sized environment, the attraction involved walking through Tokyo streets before a Gojira rampage. Attendees went from a busy marketplace into a simulated underground bunker to a Tokyo skyscraper, and were treated to glimpses of the creature. It was a highlight in San Diego in 2013 and was part of a goodwill campaign to reinsure fans that Gareth Edwards' Godzilla wouldn't be a repeat of the 1998 film disaster.
"We treated this icon with the demonstrative reverence worthy of the icon, and made him relevant to a whole new audience," said Castel. "We set the tone, then that tone was maintained."
While she admits it is difficult to measure marketing like the Godzilla or the Jaeger Pilot experiences, but said she believes it does correlate to box office receipts.
"These stay with you, it touches you. You feel something and therefore will react differently than if you're a passive recipient of a marketing message, such as a trailer."
As such, Castel said fans can expect more from Legendary, and even hopes to take the exhibits beyond the con. She said the plan is to work early and directly with filmmakers on future releases to become a "more immediate conduit between their vision and the experience of a consumer."
"It allows you to actually have a sensory experience within worlds that come to mean a huge amount to fans; the minute you can live it and experience it, you have a rapport with it, and live with it on a different level."
"For me, it's creating conversation," said del Toro. "There is no tangible, quantifiable upside that you can prove with the research and numbers -- but comic con is about celebrating the things we love."
Calling all HuffPost superfans!
Sign up for membership to become a founding member and help shape HuffPost's next chapter